The Ultimate Business Advantage. Boost Your Marketing &
Entrepreneurial Skills With Over 90 Marketing, Social Media,
Money, & Business Masterclasses
Ready To Make Marketing Easy? Join The Marketing Solved Academy
Activate Your Membership for Instant Access to:
Unlock over 90 Marketing, Entrepreneurial, & Technical Masterclasses That Accelerate Your Revenue
36 workbooks, checklists, slides and guides to help you implement what you learned
A supportive community of marketers & Entrepreneurs to answer any and all of your questions
PLUS, a business advantage leveraging the highest quality online marketing techniques
Instead of buying our marketing classes 1 at a time, with the Academy...
You can unlock over 90 masterclasses at once. Giving you the ultimate marketing advantage at an insanely affordable price.
Over 90 Business-
Changing Online Courses
THIS IS JUST A SMALL SAMPLE OF THE COURSES AVAILABLE TO YOU WHEN YOU
ACTIVE YOUR ACADEMY MEMBERSHIP
Join over 20,000 Marketers, Entrepreneurs, and Business Owners who trust Marketing Solved
For high-quality training, next level strategies, simple execution and extraordinary results.
The Academy Membership is for Business Owners & Entrepreneurs
who want to generate more revenue, learn all the latest marketing strategies, and want to level up in business…and life.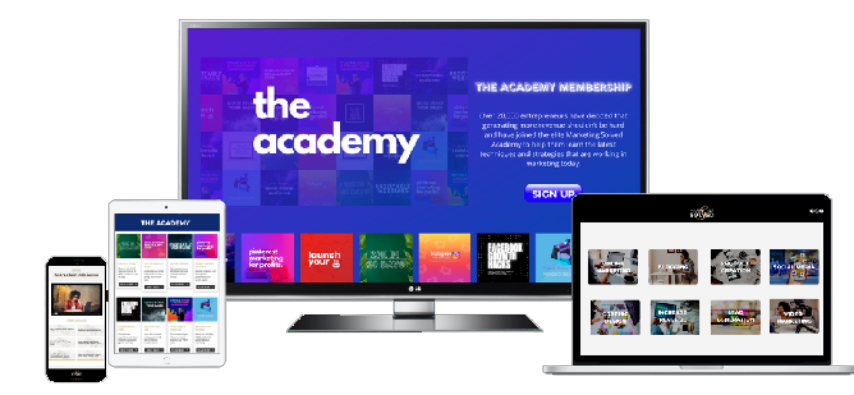 Over 90 courses available
New Courses Added Monthly
36 workbooks, checklists, slides, and guides are at your fingertips so you are never overwhelmed about what to do next
Access per course…or choose the all-inclusive membership
Support of an active and successful community to help you accelerate your learning and implementation
Get immediate Access to the Academy
For only $1.23/Day
MAKE AN INVESTMENT IN
YOURSELF TODAY
UNLOCK OUR ENTIRE LIBRARY OF OVER 90 VALUE PACKED MASTERCLASSES
WITH YOUR ACADEMY MEMBERSHIP
Get Over 90 Masterclasses
Over 90 Masterclasses
Downloadable Guides & Resources
New Content Monthly
COURSE +

ANNUAL MEMBERSHIP
Over 90 Masterclasses
Downloadable Guides & Resources
New Content Monthly