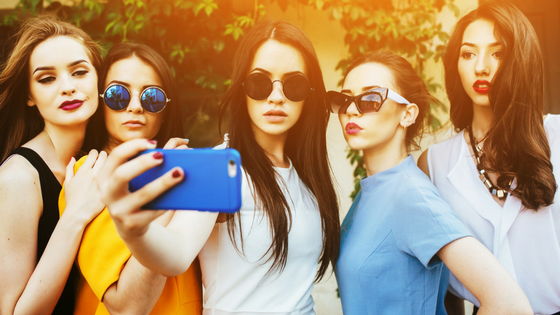 Social Media is a phenomenal tool to grow your  business. I'll be the first one to tell you to use social media, in fact, I built my business entirely with social media.
The problem…social media is distracting and overwhelming.
You can end up scrolling through a newsfeed only to find that 2 hours have passed! Social Media is fun, it's entertainment. Sometimes you may not want to create that Facebook post for your business, instead you want to see the vacation pictures that the Smith's just posted.  I get it, but the problem is usually this happens INSTEAD of you handling business and that's what I want you to get control over.
I've been there – and learned that lesson the hard way. I've spent countless hours "researching" on social media, getting distracted, and wasting time – instead of actually making moves in my business and when I finally stepped back and took control, guess what? My business started growing.
There's a misconception about social media that a lot of business owners haven't figured out yet – Social Media is a tool and you have to use it to your advantage. Don't let it suck you in – you can be in control and use it to your advantage.
I'm going to tell you exactly what to do so that you know how to take control of your social media time so it works FOR you and you get your time back.
Here's what you should be doing instead:
1) Create Goals – Sounds simple but you wouldn't believe how many people skip this important step! You need to know exactly what you want out of your social media efforts. Are you looking to get more fans? Sell more products? Drive more traffic?
Each of these goals and objectives will have different strategies. If you're trying to drive traffic – that's an entirely different strategy than if you're trying to get more fans.
Make sense?
One thing we do in Monthly Marketing Solved is to start our month with a Goal Sheet that breaks down our number one goals and the actions we are going to take to get there. This will keep your monthly social media efforts streamlined to hit your objectives.
You don't want to just throw mud at the wall and see what sticks, take the 5 minutes you need to create goals and a plan on how you're going to get there.
2) Planning– Another simple one but again, missed by most people.  What is your plan of attack for hitting your goals?
If you want to get more traffic, you'll need to strategically place more links socially that actually drive traffic. You might want to include running an advertisement that drives traffic.
Maybe you'll want to rotate all your existing bio links to direct traffic to a certain page – a webinar, a new product, or a training.
By knowing exactly what your goal is (step 1) you'll be able to plan your social strategy to achieve them.
Grab these FREE Weekly Done For You Social Media Planners to get you started! 
3) Create Content in Bulk – Once a month, I go in and create custom content, branded specifically to Marketing Solved. I create around 30 – 60 new graphics each time. This makes it easy to pull from and post for the month.
If you don't have time to create your content, I highly recommend you use a Done For You marketing service like Monthly Marketing Solved where you can get the content created for you and them you can customize all the graphics to your audience for the entire month. This will save you SO much time and give you more than enough content to post throughout the month to promote your business.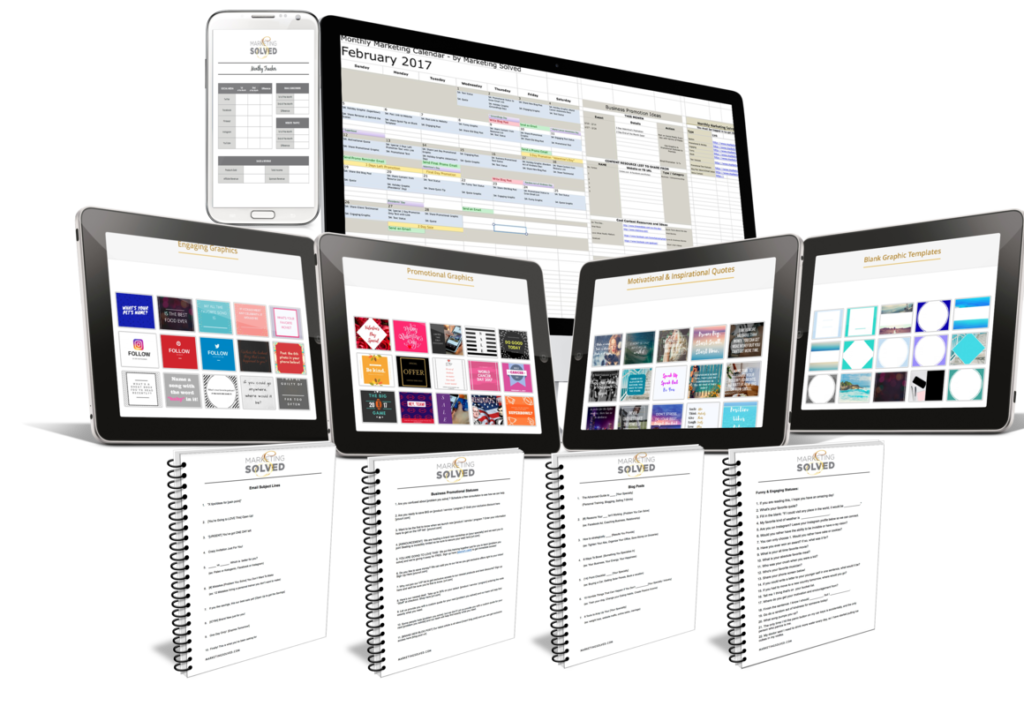 Use a free photo service like Canva or PicMonkey to easily add your logo or website url.
4) Schedule – Want to save a ton of time on social media? Pre-schedule your content. Take an hour (yes, an entire month's worth of content can be scheduled in an hour) and schedule all of your content. This ensures you have something posting every single day and you can customize your content to support your goals and objectives.
There are tons of social media schedulers you can use for this. A few that I've used are Hootsuite, Buffer, Edgar, and Facebook has a direct scheduler. You can see all the resources I recommend here.
Pre-scheduling your content is how you're going to get OFF social media so you don't get sucked into the vortex of baby pictures, click bait articles, and vacation photo's during business time. You'll have confidence that your social media is working for you, it's all set up and ready to post, and it's in full support of your monthly goals.
How does THAT sound?
5) Automate it – Here's  where you can set it and forget it. (I don't actually recommend you "forget it" but you won't have to spend a lot of time throughout the month managing it)
My favorite automation tools:
BoardBooster for Pinterest – I have a serious love for this program. You can recycle your content on Pinterest every month, delete pins that have low engagement, even schedule pins to post at optimized time. It's my favorite!
Instagress – This is an Instagram automation tool I use to interact with other profiles based on the hashtags they use. Now, I KNOW you're thinking maybe that's inauthentic but I firmly believe that if you can set something up to automatically get more engagement for your business, it's worth a try. It's not fool proof and sometimes you might engage with accounts that you wouldn't otherwise but I have found some great connections and accounts using this service.
IFTTT. If This, Then That.  – Here's my ultimate favorite resource. You can set this up to help you automate just about everything. Want a certain post on Facebook to be shared somewhere after posting? Use IFTTT.For example: I have a recipe (This is what IFTTT calls the actions) to pin every image after I post it to Instagram. Then I have boardbooster recycling the content throughout the month. I post ONCE on Instagram and can reuse the content multiple ways.Take some time and look at the great options IFTTT has for you to help you automate some of the processes in your business.

Facebook.com/Twitter – This is an easy way to link your Facebook posts to automatically share to Twitter. I really love this because I have 35k fans on Twitter and it helps me connect those fans to my Facebook page! Plus I only have to post once time in order to hit two platforms.
Watch this video training where you can learn a fairly simple strategy to link all of your accounts together and be everywhere on Social Media while saving time.
6) Control YOUR TIME – If your work involves being on social media throughout the day (like answering customer questions, engaging with comments which is a GREAT use of your time) then exercise discipline when you get online. This means get clear about why you're online and use your time dedicated to business tasks.
Block your time for scheduling and make that your only post time for the month.
Set up 15 minutes every morning monitoring your accounts and responding.
Spend the rest of the day working on your business.
7) Focus on Revenue Generating Activities – When you are deciding what to spend your time on, prioritize the activities that generate revenue.
If social media advertising is going to bring your more profit then spend time researching ad targeting and creating ads.
If getting leads from social media is your best source of new clients, focus on generating leads from social media to close new business.
Always focus your daily efforts on revenue generating activities. You need revenue to be in business – save the social media browsing for your off time.
8) Use Social Media to build your email list – This will help you get people OFF of social media and into a sales funnel or a more intimate relationship with you. By using Social Media to collect subscribers, you're able to connect with people in two separate places now instead of just relying on one.
Email is a phenomenal second step to take with your social media fans because once you convert them to your email list, they're more likely to buy from you. They've decided they trust you enough to give you their email address and this is a BIG step towards converting social fans into revenue. Use it to your advantage.
Now you know exactly what you should be doing with your social media time so you can avoid the distractions and REALLY focus on RESULTS.
Get control over your social media time by making sure your activities and your content match your objectives, you spend as little time posting online as possible by pre-scheduling and using content that's already created for you, use automation, and focus on revenue generating activities and converting subscribers.
If you're looking for an easy solution to getting the most out of your social media, consider using a done for you service like Monthly Marketing Solved where you can get a premade monthly marketing calendar, done for you graphics (You can even add your logo to brand them!) and use the trackers and worksheets to ensure you're hitting your monthly goals. Learn more about this service here.
Don't forget to grab the FREE Weekly Done For You Social Media Planners by clicking the link below!