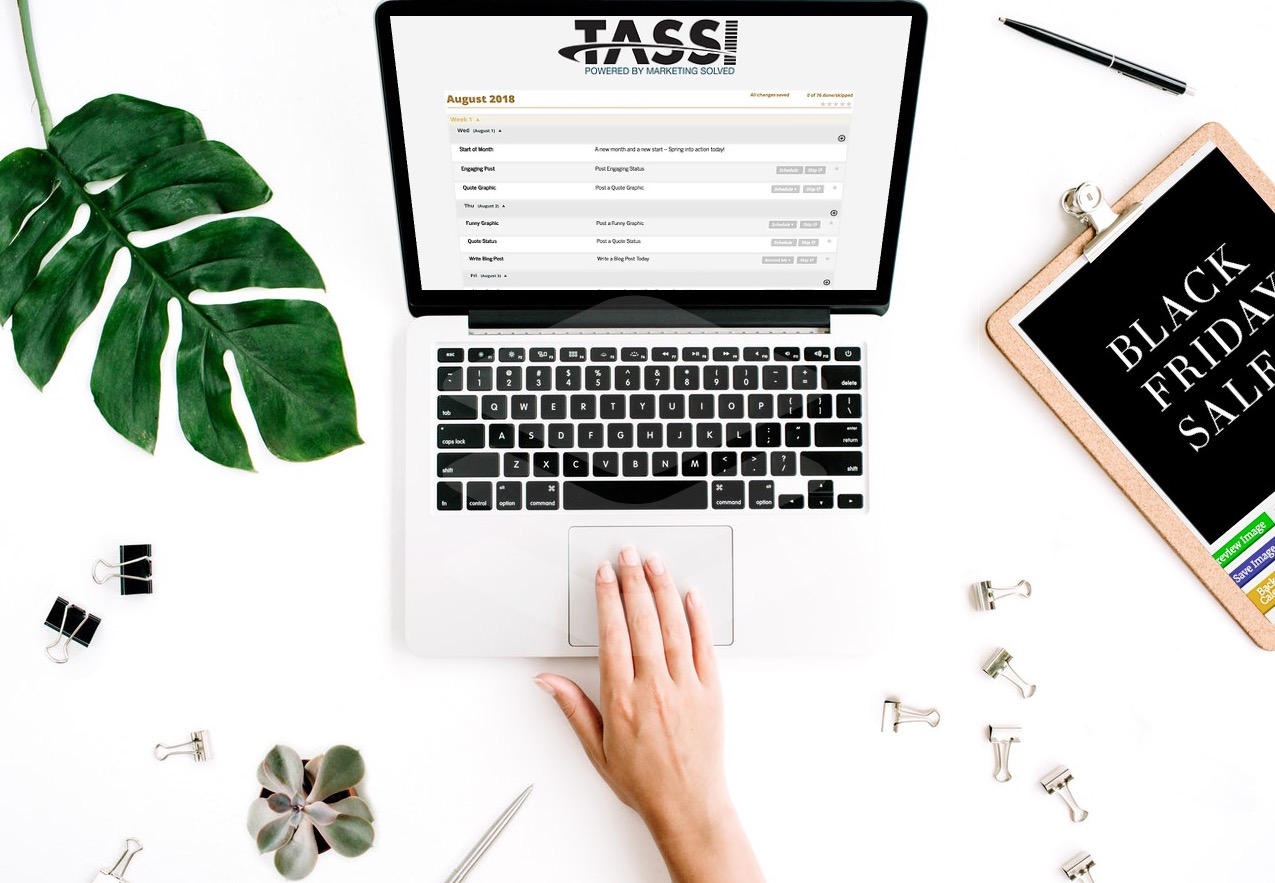 Social Media in 2019 is going to be more important than ever! Small Businesses HAVE to ensure they're posting consistently online to reach their audiences and really grow their brands on these popular marketing platforms. That means you need to be posting every, single, day. (Maybe even more!)
But since you're probably low on time and can't commit to being on social media every day – you have to use the tools that are out there to help you manage your social media.
When it comes to social media management software, let's face it – small business owners have A LOT of choices. Each offers a robust set of features that makes it a better option for you in your business.
However, there's one brand new tool that you might not have heard of yet that's taking the small business world by storm.
That new social media management software is called TASSI.
This is a not just a social media scheduler like many of the options out there, this is an all in one software that not only lets you preschedule your content like its alternatives, TASSI actually provides a whole lot more.
Let's break down The Social Media Management Tool You Need in 2019 and why you need it.
TASSI has a SMART MARKETING CALENDAR –
This is essentially one of the best solutions out there for business owners.
The smart marketing calendar suggests what a business owners should post each day and what they should post.
Solving the problem and confusion many business owners encounter with social media which is:
How do I start? What do I post? When do I post? When do I promote my business? How do I build a community? 
The calendar changes each month to give you a calendar that's specific to holiday's to help you really plan out promotions that make sense for your audience.
It's PRETTY COOL.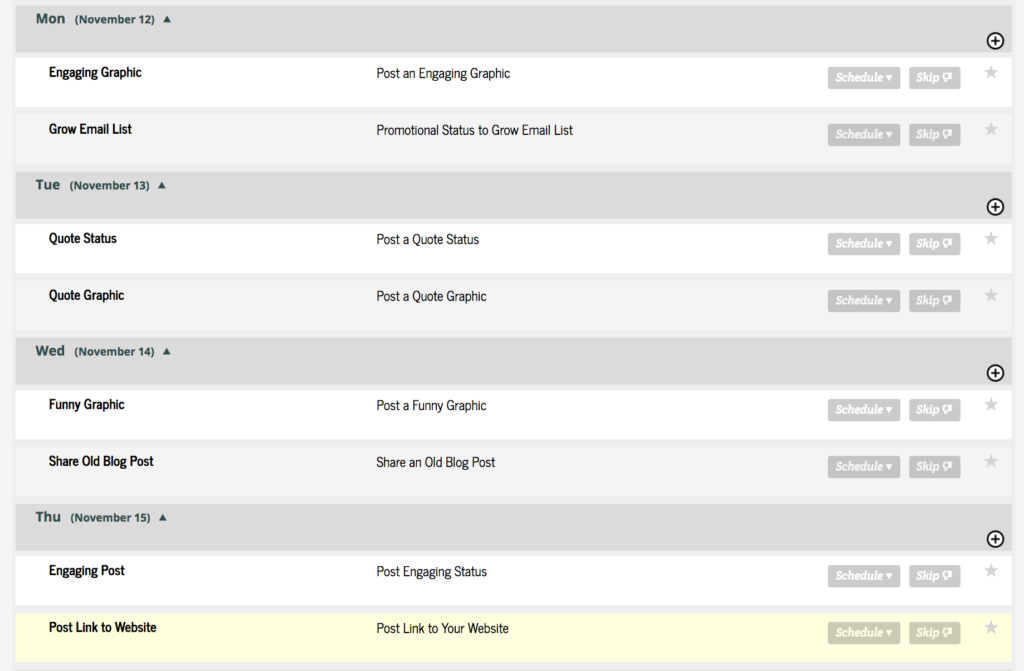 The Smart Marketing Calendar makes social media suggestion posts each day that are easy to follow.
The calendar also follows the traditional 80/20 rule about when to promote your business eliminating the feeling of promoting your business too much and solving the problem of not promoting your business enough.
This takes the guess work out of your entire marketing schedule each month.
The smart marketing calendar is also fully customizable. You can skip suggested posts or add your own posts to each day.
TASSI HAS UNLIMITED CONTENT LIBRARIES
Quite possibly one of the best solutions for business owners on social media are the content libraries. Imagine how much time you would save if you didn't have to create 30 days worth of content for your social media channels?
These libraries are filled with thousands of done for you pieces of content that you can easily choose and schedule to your social media – with a few clicks of a button.
The content libraries are general in nature to help you fill the content quota for your monthly posts. You are free to upload your own graphics or choose from the many libraries that are available that you can personalize.
You'll find a variety of libraries available including quotes, funny, engaging, holiday and promotional specific content as well.
The BEST part? There is new content added each month to keep your content new and fresh for your audience!
Take a peek below at the content so you can see how you would easily incorporate this content into your social media strategy.
QUOTE LIBRARIES: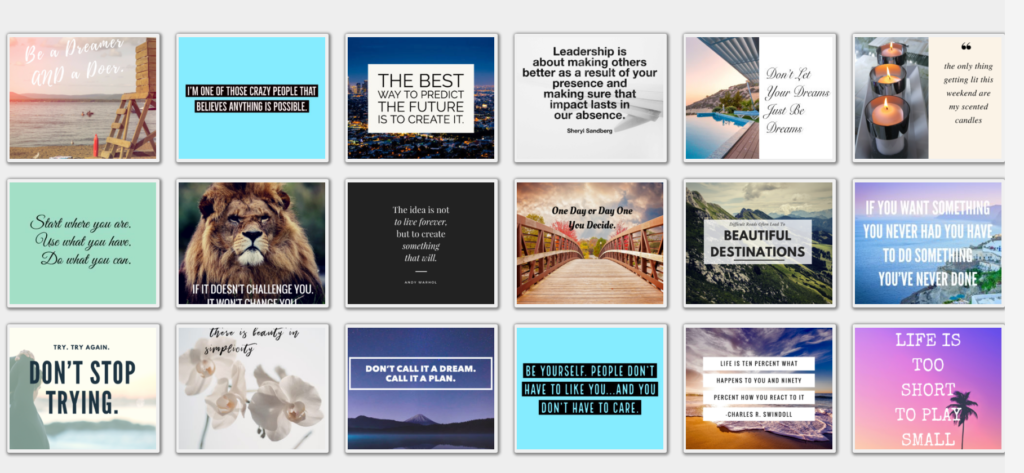 FUNNY CONTENT LIBRARY: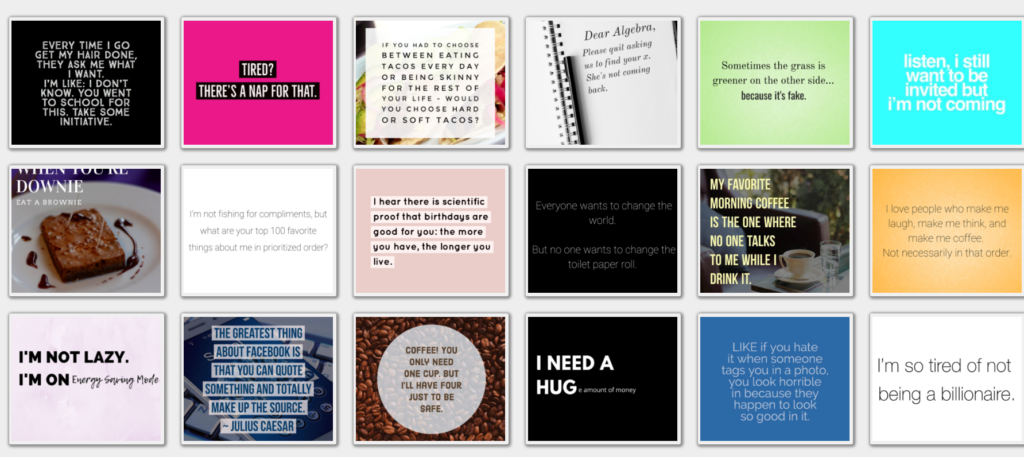 HOLIDAY CONTENT LIBRARY:
ENGAGING CONTENT LIBRARY: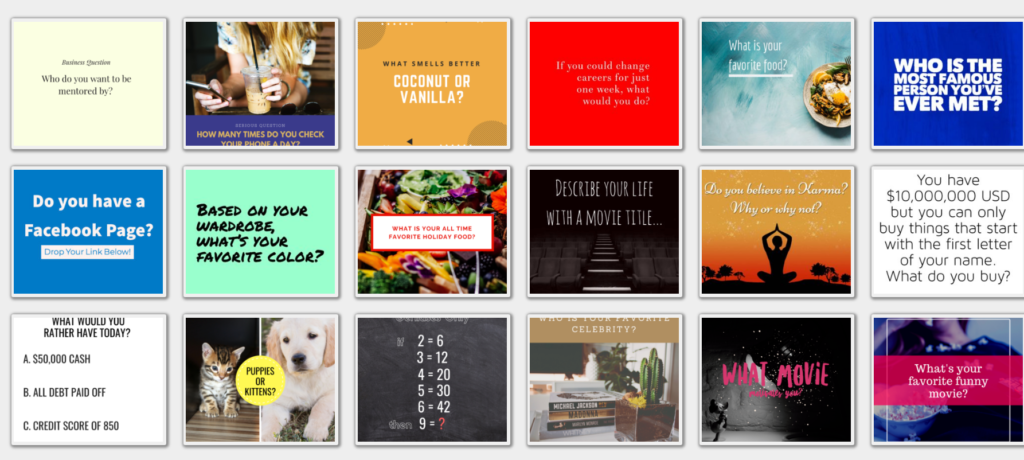 PROMOTIONAL CONTENT LIBRARY: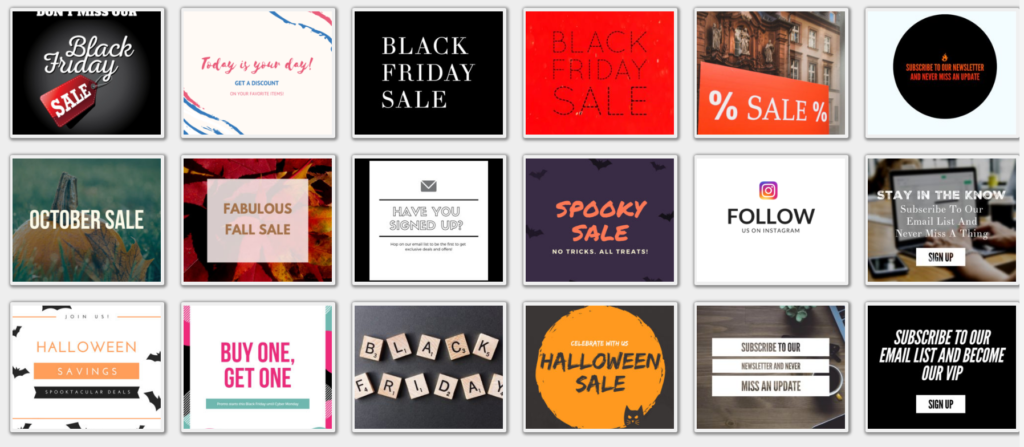 TASS MAKES IT EASY TO PERSONALIZE CONTENT
Branded content on social media is one of the smartest strategies to create brand recognition, brand awareness, and develop a strong Know, Like, and Trust factor with your audience.
TASSI makes personalizing the done for you social media content as easy as clicking a few buttons.
You can store your logo inside the software to make it simple and fast to personalize your content.
The process is as easy as:
Choose your Graphic from the graphic libraries
Edit to add your logo
Click Preview Image and your logo with automatically be placed on the location you choose
TASSI will add your logo to personalize the graphic
You can then save the image and schedule it to your social media channels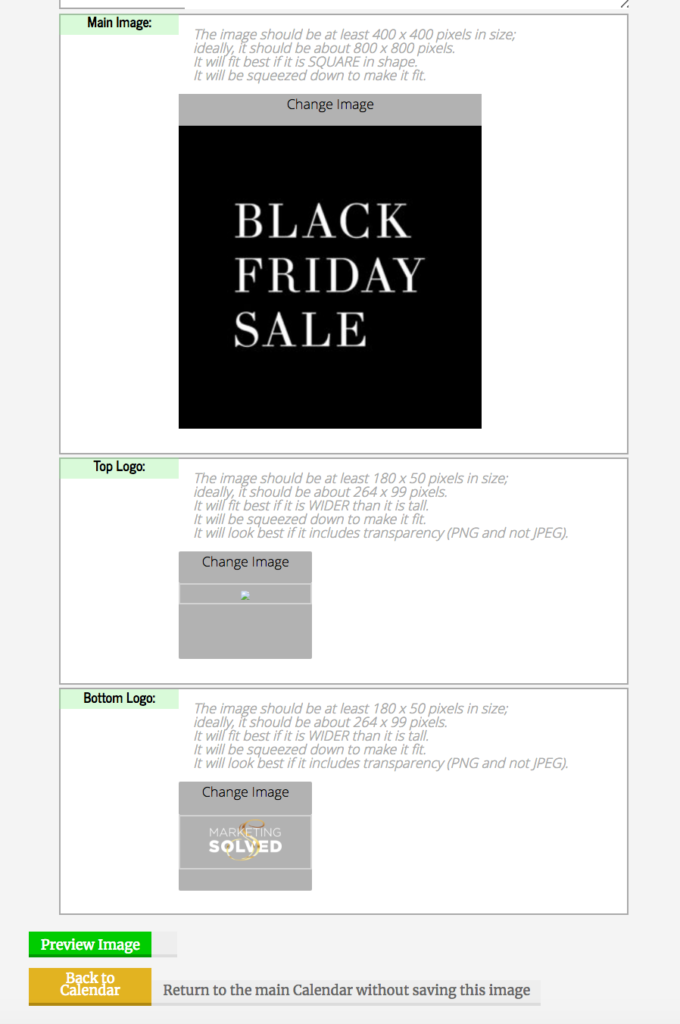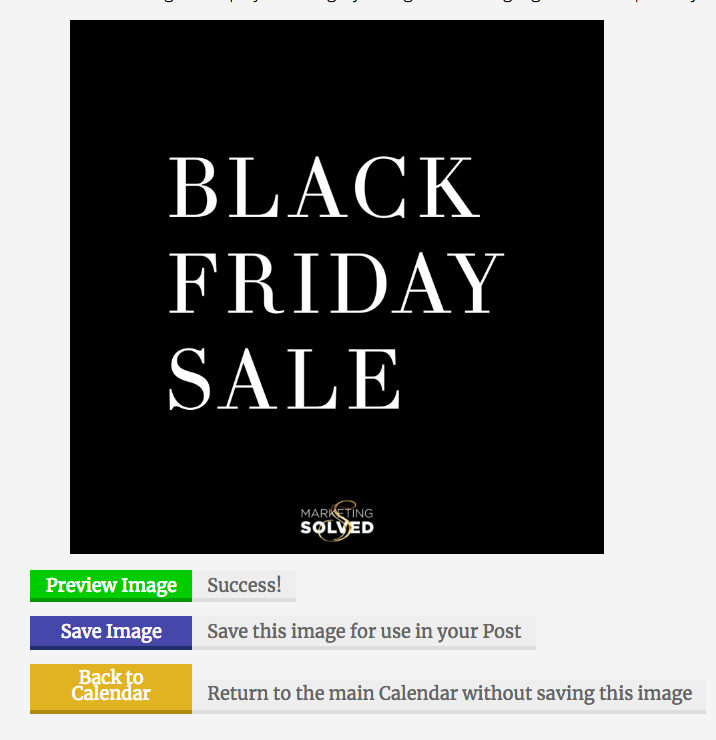 This feature, combined with the done for you graphics libraries puts TASSI way ahead of the other social media management tools out there.
Personalizable content that only takes you SECONDS to create…I'd say that's a win.
TASSI GIVES YOU UNLIMITED PREWRITTEN STATUSES
Sticking with the theme of giving you content to post to save you hours (and hours and hours) of time with your social media, TASSI is stacked with pre-written statuses that you can schedule in a matter of seconds.
You start by choosing from the variety of categories – there are some that are audience specific and some that are general. There's new categories and statuses being added each month which is great to make sure you're always sharing new content.
There are statuses for everything from Quotes, Engaging Questions, Promotional Statuses, Funny, and more…really, there's something for everyone.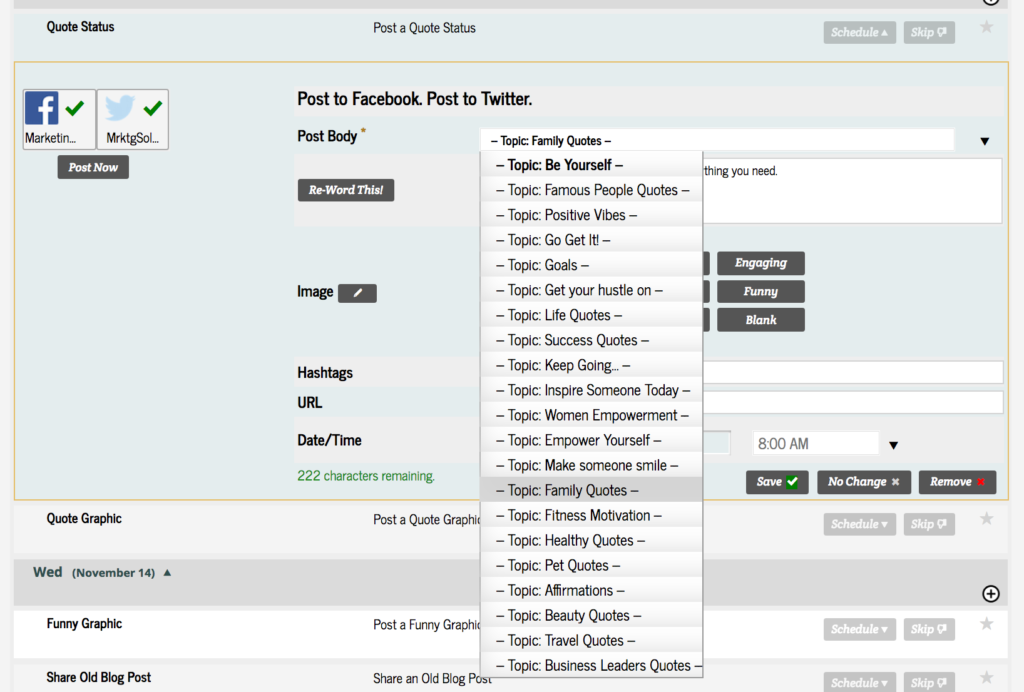 Once you choose your category, you can easily use the "Re-Word This" feature to cycle through the different pre-written statuses until you find one that you want to schedule.
You can always customize it, edit, or personalize it so it works for your specific audience. You can even upload images to go with the status.
Again, it's totally up to you but the libraries make it SO easy to share content every day.
 Now, THAT is awesome. 
COST AND COMPARISON
TASSI definitely stands out against its competitors by the simple fact that not only is it a social media management tool where you can schedule your own content, it comes with SO much more than traditional schedulers.
You Get:
The smart marketing calendar with suggested content to post and that's personalizable
Unlimited done for you graphics
Easy to personalize graphics with a click of a button
Unlimited Pre-written statuses
New Content and Calendar Each Month
If you could essentially have all of your social media content created for you by an agency or even a freelancer, that cost alone would be a minimum of $300 a month. Factor in having someone write your statuses, you'd be looking at another $200 dollars. Did I mention TASSI is only $47 per month? That's AFFORDABLE for ANY small business owner.
That makes TASSI a smart investment in your business that not only saves you money, it saves you hours of time.
And, when you get ONE client from social media that pays you $50 – the software pays for itself. Everything after that is profit in your pocket 😉 Can't beat that!
When you start looking at the Social Media Management Tool You Need in 2019 – make sure you put TASSI at the top of your list.
It's at least worth testing for a month to see how much time it can save you and how much it helps you grow your social media.