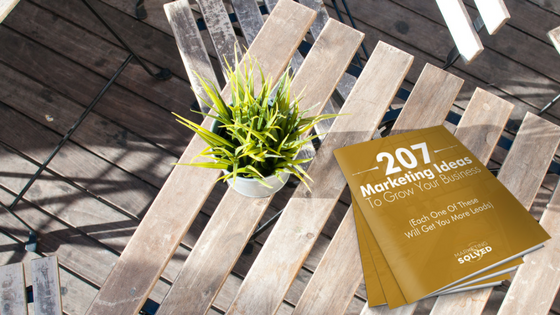 Looking for new marketing ideas to grow your business and get you leads?
We have you covered. We put together 207 Marketing Ideas for your small business!
Today, thousands of business owners are looking for new ways to market their business. As more businesses enter the marketplace, there is a need to think creatively with your marketing to capture as much visibility as you can. One thing about being a small business owner is – no two growth strategies are the same. What works for one business – might not work for the next. It's up to you to test different strategies until you find the right one that works for you.
If you've found yourself trying several ideas but haven't seen the results you've needed, it's time to try more.
Here's 207 Marketing Ideas you can use to grow your business. (Each one of these will get you leads!) 
Create Clear Marketing Goals
Develop and use a Marketing Calendar
Get and hand out business cards
Write blog posts weekly
Create videos sharing helpful tips
Research your target audience
Create an ideal customer profile
Keep an ongoing list of business ideas
Join Facebook Groups
Start a Facebook Group
Create a Facebook Page
Link your Facebook Page to your personal profile
Post articles on your Facebook Page
Use the notes feature on your Facebook business page to share content
Engage and respond to all comments on Facebook
Create a Pinterest Account
Create Pinterest boards and pin your website's content
Engage and respond to all comments on Pinterest
Create an Instagram Account
Use 30 relevant  hashtags on each post
Engage and respond to all comments on Instagram
Create a YouTube Account
Engage with all comments on YouTube
Create a SnapChat Account
Share valuable content on social media daily
Run a sale, promotion or discount
Host a giveaway
Give away a freebie to collect emails
Send email newsletters once a week
Ask customers for testimonials
Ask customers for referrals
Create a referral network with other business professionals
Optimize your site for SEO
Update titles, descriptions, images and bio's to be SEO friendly
Go to networking events
Join Twitter Chat's
Get Business Cards
Share valuable content in Facebook groups
Share content to your personal profile
Add your content to Pinterest
Use BoardBooster to automate your Pinterest account
Tweet your content weekly
Use Revive Old Post to share blog posts automatically
Use IFTTT to automatically share Facebook posts to Twitter
Update social media bio's to drive traffic and collect subscribers
Want the entire free guide with 207 ideas? Click here and we'll send it to your inbox right away. 

Pin it!