MONTHLY MARKETING SOLVED
Your Monthly Marketing Done For You
Get Access to a Monthly Service That Will Plan ALL of Your Monthly Marketing FOR YOU – We Even CREATE YOUR CONTENT at a Fraction of the Cost of Hiring Someone Else.
You don't need to be overwhelmed with social media, email marketing, blogging, graphic design and all the things you should do to market your business online. 
You don't have to spend a ton of money hiring someone to do your monthly marketing
You NEED a proven solution that tells you exactly what to focus on each month.
You NEED a system for marketing your business every day without spending hours creating content.
You see, online marketing is a way for us to communicate with our fans and you have to be online!  It's a way for you to
grow your business, provide value, build relationships, and yes – sell more products and services!
It's time to streamline your monthly marketing to make a BIG impact in the shortest amount of time.
What's Included...
Done For You Social Media Graphics - These graphics are ready for you to add your logo and post to your social media accounts. Choose from a huge library of quotes, motivation, famous quotes, funny, promotional, engaging, and more.
Monthly Marketing Schedule and Calendar - This takes the guesswork out of your marketing. This calendar tells you what to post, when to post, when to email, when to promote, and how to get the most out of your month. Plus an editable calendar for you to create your own.
Blank Graphic Templates - Have a special promotion or a blog post you want to share? Grab one of these blank graphic templates and add your text and logo to customize them completely.
Pre-written Social Media Statuses. Choose from engaging, funny, quotes, or promotional statuses to easily share with your audience.
Blogging Topics & Email Subjects: Use this pre-made list of topics to write to your audience and promote your business.
Worksheets & Trackers: These will keep you on top of your goals and your results. Monthly and Weekly Planners, Stats Trackers, Goal Sheets, Blog Post Brainstorm, Promotional Ideas, and more.
BONUSES - Extra Monthly Content, Curated Collection of Graphics, SOcial Media Strategy, Templates, Cheat Sheets and More!
Take a Peek at What You Get WIth Your Membership:
Monthly Marketing Solved is a total game changer for your business!
With your membership, you
will get access to a members area where you have easy access to all the content, tools, and training you need.
Each month the

content will change

and you will get new graphics, new content, and a brand new monthly calendar planned with all your marketing activities!
This means you get the exact schedule you need to do each month to market your business.
The monthly marketing calendar tells you what to do EVERY DAY
What to post on social media

When to post each day

When to promote your business

When to email your list and WHAT to email them

When to write blog posts, what to write, and when to share them with your audience

What to share with your audience
Even Better –
WE CREATE THE CONTENT FOR YOU.
You'll have access to a monthly library of graphics to make it easy to pull your monthly content and post it.
You'll get a variety of graphics that you can use to share with your audience.
Motivational & Inspirational Quotes

Funny & Engaging Graphics

Promotional Graphics for Sales, Discounts, & Special Offers

Blank Graphics for you to create your own announcements, quotes, blog posts, or promos.
These are ready for you to
add your logo

to them to create a strong and consistent brand online!
The graphics change monthly so you always have fresh new content to post each month. They even include holidays and promotional content for major holidays.
You'll also have access to worksheets and trackers to keep you
ORGANIZED

and

FOCUSED

.
These worksheets will help you measure what's working, keep you focused on your monthly goals, and organize your content. You'll get a new set of worksheets and trackers every month to start fresh.
Worksheets include a Monthly Calendar, Weekly Calendar, Blog Post Brainstorm, Stats Tracker, Goal Sheet, Notes and More!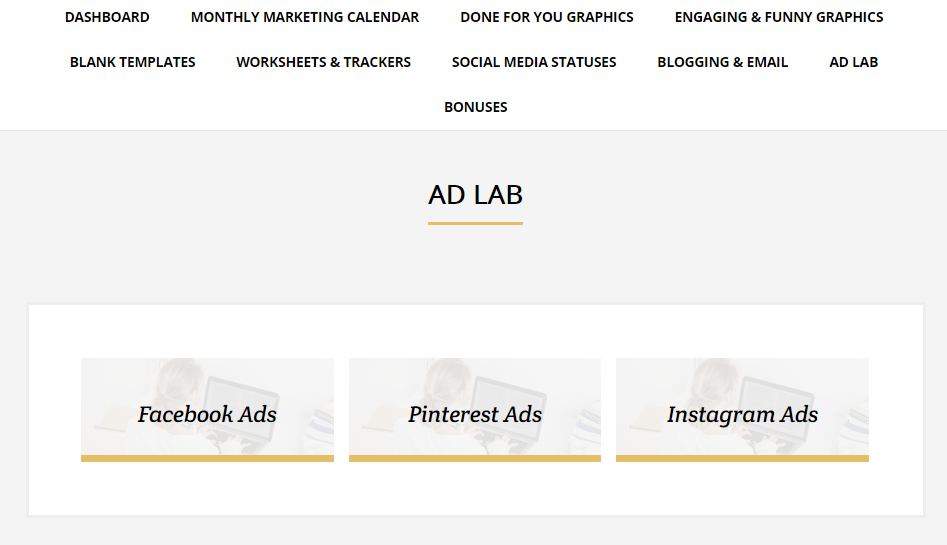 PLUS – Get
EXCLUSIVE

access to the

AD LAB

.
You'll get video training on Facebook Advertising, Pinterest Promoted Pins, and learn Instagram Ads. All in One place. This training alone is worth the monthly payment.
Quick recap…
Just to recap – you'll get your
monthly marketing calendar

 and planning completely done for you, you'll get

all the social media graphics you need

every month, plus you can customize them for your business!
You'll get
blank graphics

to use for announcements, blog posts, to share tips, or anything you want!
You'll get
promotional graphics and statuses

to promote your business with special offers, discounts, and holiday specials.
You'll get
prewritten social media statuses

that you can simply copy and paste into your social media pages, monthly blog post topics, monthly email subject lines, worksheets, guides, trackers, and templates.
You'll get video training in
Facebook Advertising, Pinterest Promoted Pins, and Instagram Advertising

– All in ONE place!
PLUS in the
bonus section

– you'll have access to a curated collection of graphics, stock photos, social media strategy, cheat sheets, and more surprises.
This is a $597 value that you'll get for $47 a month.
Seriously, have you ever seen a better offer than this?
Click the button below and let's get started!
Now, let's talk bonuses! 
BONUS 1: You'll get INSTANT access to the Marketing Solved Members Facebook Group
Stay Updated on the Latest Strategies, Network with other members, & Receive Support.
Value = PRICELESS

BONUS 2: Social Media Strategy Workbook
This 9 page workbook will show you how to create the PERFECT social media strategy  plus give you tips on how to grow your following, engage your fans, and hit your GOALS.
VALUE = $17
BONUS 3: Collection of Business Motivation & Famous Quotes  Social Media Graphics Collected from popular influencers
 Value = $7

That's a TON of Value for one program!
Sign up right now and you'll get instant access to the members area. You can start using the content calendar and graphics immediately. And all for $47 a month. You just can't beat having all of your marketing done for you – for only $47 a month.
Click the button below and join us now!
FAQ's
Will the content work for my business? Yes! The content is industry neutral and covers a variety of purposes: engaging, motivational, humor, empowering, business, and promotional. You can choose from hundreds of graphics in the library to make the content specific to your audience.
What kind of businesses is this for? This program is for ANY business. Products and Service based businesses Many popular industries are small businesses, coaches, product / ecommerce, network marketers, and online business owners.
Can I personalize the graphics and content? ABSOLUTELY. You can add your logo to the graphics to create brand awareness. You can use the blank templates to share personalized content with your audience (blog posts, tips, tricks, announcements) and you can choose the content so it's most relevant to your audience.
What results will I get? We can't guarantee any results because your results are highly dependent on  your execution of the program. However, we know if you implement the strategy and content as outlined, you will see an increase in engagement, fans, and sales.
Can I cancel my membership? Of course. You can cancel any time. See our cancellation policy for details.
Terms and Conditions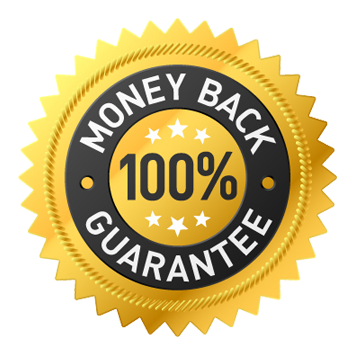 This is a Monthly Membership program – you can cancel any time.
Your month starts at the date of enrollment and your account will renew the following month using the date of enrollment as your start date. You must cancel your membership before it renews each month in order to avoid billing of the next month's membership fees to your Payment Method
Money Back Guarantee: I understand I have 30 Days To Put Monthly Marketing Solved  to The Test!
If Monthly Marketing Solved doesn't give me exactly what I need to market my business online… if it doesn't take me by the hand, step-by-step to marketing monthly… then I can get a refund.
***As long as you can show you've done the work, used the schedule, posted the graphics daily, if you do the work and if you don't get results – You will receive a refund.
Take advantage of this low price offer while it's still available!