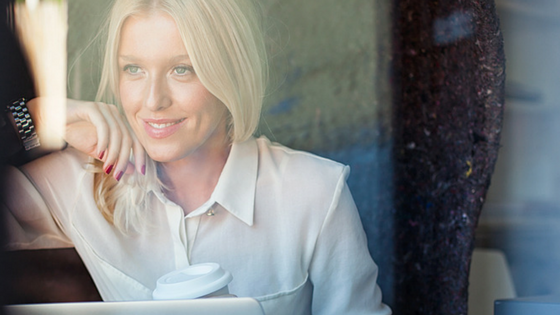 One of the reasons social media is so fascinating to me, is it allows people to create a following, generate massive exposure and make a lot of money, without needing to have a storefront or even a website!
I built my business entirely from social media. In fact, when I started offering services for social media management, I didn't even have a website. It wasn't even a thought because I was able to generate so much business without it.
While you're here, Grab these FREE Weekly Social Media Planners! 

What kind of results can you expect using social media?
Speaking from experience, I've built several profitable businesses and helped numerous others build theirs –  ALL using social media as the main marketing tool.
But real results? Ok, let's get real.
Social media can directly sell your products or services. (A LOT of products & services)
It can help you create a community of clients and fans who love your brand.
It can help you grow a subscriber list of potential buyers that you can reach at any time!
Social media can help you grow brand awareness. 1 viral post and you can be an online superstar!
Oh, did I mention that there's literally an endless supply of customers because it's the INTERNET and you can reach anyone, anywhere, at anytime?
Now, if you DO have a website, you're going to be able to take advantage of a lot of added benefits for your business. 
But for the sake of this post, let's talk about how we can focus on using social media as the primary method of building your business.
Now, if you're REALLY looking for help with a social media marketing and you want something that's DONE FOR YOU monthly marketing, TASSI will do that and so so much more.
---
Step 1) Determine who you are trying to reach.
This is the most important piece of establishing your online presence. Knowing who you want to get in front of and market to, can make or break your business. Your target market is going to be your perfect customer.
Who are you trying to reach – and you need to get deep down in the details here.
Let's say you are a Mom, who sells clean eating cookbooks. You focus on teaching other Moms how they can make simple and healthy recipes for themselves & their families.
A target market is not "Women" or "Moms" because that's too general.
You have to be specific…as specific as possible.
For example, your target market may look like this:
"Stay at home moms, age 25-45, who have kids and want healthy recipes to feed their families but struggle with not knowing the right types of foods and they don't have time for complicated dishes."
Do you see how when we connect OUR business goal to OUR target market, it's a match made in heaven?
When your product solves a problem or fills a need for your perfect customer, that's where the magic sets in.
Yesss! Ok, cruisin right along.
---
Step 2) Find out where they hang out!
Obviously, if you're going to hit it big on social media, you have to get your product in front of the audience who is MOST likely going to take action with your business. This means you have to put your business on the social networks that your customers are already on.
Thinking back to our target market, we need to do a little research.
The four main platforms Facebook, Twitter, Pinterest, & Instagram will be able to provide you with a ton of information about your perfect customer.
Start by searching these social networks. Check out influencers in your industry, they're a great source of information for you.Quick Note: If you see people selling products or services similar to yours, that is a GOOD thing. This means that it works. This means that people who are interested in your products are engaging with brands like yours.I know a lot of people experience fear or doubt when they see someone is already doing what they want to do. Don't let it bother you – there's plenty of business to go around 🙂 
You can also join online communities, forums, or groups and ask people where they like to spend their time online!

And of course, don't forget to check the stats. Each network has statistics published annually about the demographics that use the platform. Another excellent source for you. 
---
FREE GUIDE: The Ultimate Guide to An Automated Online Business

Step 3) Branding, Baby, Branding 
This is a biggie. This is something I figured out a few years into using social media and once I did, WOW, things just took off.
What exactly is branding?
Branding has a few components, first, it's all about who you are!
What do YOU want to be known for? What is your expertise? What makes you different. Why should people follow, trust, or buy from you?
Choose your expertise and the topics you are going to be covering.
Settle on a vision and mission statement.
Create a logo or short statement that defines who you are and what your business is about.
Ok, Moving on…
Next up, it's all about brand design.
When someone sees your brand, they should easily be able to identify it and connect it to you. Since social media has become such a visual marketing tool, branding is critical.
As I said, it took me a while to realize how important this part of branding was. I put a lot of thought into the Marketing Solved brand and made sure everything was cohesive before launching.
Soon after, I was getting pictures and texts sent to me from fans of things that were similar to my brand. People immediately saw Black and Gold and thought of me and Marketing Solved.
For me, that was like hitting the lotto!
So what designs are you branding?
You'll be branding your:
name
profile pics
photos
cover photos
blog graphics
social media graphics
(Click here for a checklist to download with the social elements you should brand)
To brand these items, you want to keep a couple of things in mind.
Keep your usernames the same. If your username is already taken on a network, pick something as close to it as possible. Ideally, this will be the name you want to brand and grow.

Choose the same images for your profile pictures. 

Fonts, Colors, & Imagery should all be the same style. 
• Quick Tip – Create a style guide for your business. This is something you can refer to for your design to ensure you're always in line with your brand.
• Create graphic templates to make staying on brand a breeze.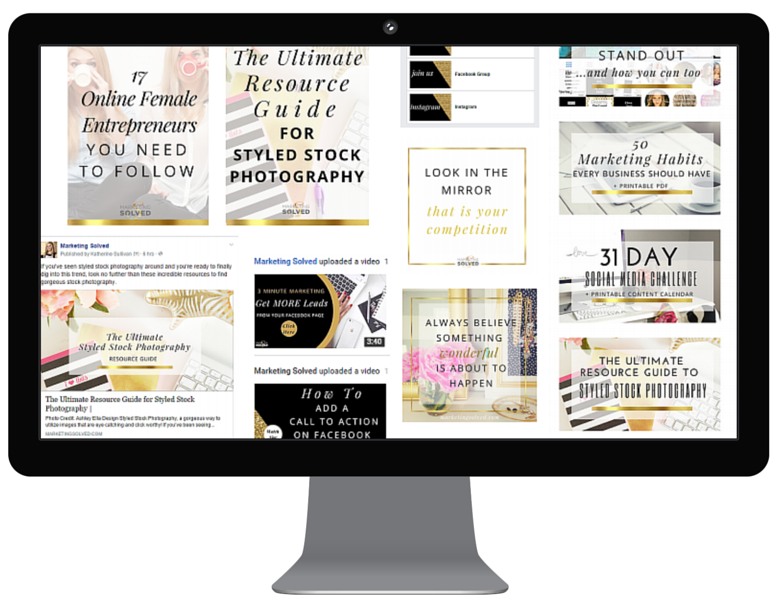 The goal of a cohesive & strong brand is to have everyone that visits your social networks feel the connection to you and your brand. You want them to have instant brand recognition so when they see your images, they immediately think of you.
Finally, You'll need to brand your content.
This is to ensure you are matching your content to your perfect customer.
Branding your content is basically keeping a consistent type of content among your social channels.
For example:
If you are a clean eating expert, but your Pinterest is filled with home decor and kids crafts, your target market is less likely to engage because it's not the content they're interested in (or the content they follow you for!)

If you're a personal trainer and you constantly share funny cat videos on Facebook, guess what…this is NOT ideal for your target market. You want to be the expert in fitness, NOT cat videos!
And if cat videos are your thing, I'm sure there's a market for that somewhere!
A few notes of caution:
When you go off brand with your content, be prepared to lose fans and potential clients.

If your networks aren't branded and cohesive – if your images, colors, and usernames are all different, people will get confused. They won't know if they're in the right place and they will leave your networks from confusion. (This is why it's SO important to create a rockstar brand!)
Here's an example of what you should do:
If you're in the fitness industry, share content about fitness, exercise, nutrition, & wellness. Share your own content around these topics and share relevant content from others who can support the value you provide.
If you're an expert interior designer, share tips about decorating, share home decor, or where to find design inspiration. When friends, family, or fans have questions about this topic, they're going to come to YOU!
Your content should be directly in line with what your fans find value in. Things that make them feel like the expert, Things that give them the "aha!" Most importantly, things they will want to share!
A final note about branding, make sure it reflects WHO you are. Authenticity wins, every time.
(Need more help with social media branding? This post lays it out all AND comes with a bonus reference guide for Free)
---
Step 4. It's ALL About Your Content
CREATE YOUR CONTENT IN ADVANCE OR USE A DONE FOR YOU SERVICE (LIKE, TASSI) THAT CREATES THE CONTENT FOR YOU AND YOU CAN SIMPLY SCHEDULE THE CONTENT TO POST EVERY DAY. HUGE TIMESAVER!
I can hear you now: "But HOW Kat, HOW?"
Let me break this down for you:
Every single person that comes to your network is essentially a lead. They're displaying interest in your business.
Think of them like shoppers, browsing your store to see if they like anything. If a person sees that you have a lot of items they like or are interested in, they're going to decide that they like your store – creating a relationship with you.
They might even come back a few more times to look around, getting to know you and establishing trust. When they are ready to buy, they're more likely to buy it from you when they're ready because they KNOW you have good stuff!
You've already proved to them your products are good and they like them so they know they'll be happy with their decision.
Instead of products like you'd see at a store, on social media, your content is what you put on your "shelves" to draw people in to your brand. When people come to your site, they decide whether or not they like your content. If they do, they give you the follow, engage, visit your website or subscribe to your newsletter – creating the relationship. Your content is what keeps them coming back. This is the exact formula that turns a browsing shopper / social media fan into a buyer.
Here is the cardinal rule of building a PROFITABLE business using Social Media.
People BUY from People they KNOW, LIKE, & TRUST.
I even made a fancy schmancy chart to break down the flow:

So how can your content earn trust and create relationships? Here's a free worksheet with 20 different types of content that you can share with your fans.
When you're posting, ask yourself, how is this helpful or valuable to my fans?
In my experience, the types of content that earn trust will be the posts:
that educate – tutorials, tips, how-to's, training, industry news
provide value – give them something they can use immediately
posts that makes them think – thought provoking questions or success stories
inspires or motivates them – people love this type of content + it's super easy to create
incentives – things they get for connecting or engaging with you – like freebies, discount or special offers
Test out content and see what works best for your business and your audience. If you need more info about how to set up a content plan, this social media strategy is packed with tons of info about how to get started.
---
Step 5 – Selling, in a non-salesy way
Once you've started attracting fans, it's time to start sharing your business. The first rule about sales and business promotions is to follow the 80/20 rule.
80% of the time you share valuable content, 20% of the time you promote your business.
When I first started out, my sales process for social media services was not very sophisticated.
In fact, I rarely posted about my services – only a simple call to action every now and then: "If you are interested in a social media manager, message me" – I laugh about it now, suuuuuuper professional right?
What I did do, was use my social media to connect with people. I had already laid the foundation with my profiles and had generated a fair amount of followers.
My sales process was to simply message local businesses through social media and offer my services. 
This attracted them back to my accounts where they would get to know more about me, see my content, my following, and if they wanted to talk further. I would schedule a call or send over a custom proposal to match their business.
I never had a website. I didn't know how to create PDF's. My proposals were bare bones!
But you know what? It really didn't matter, I generated a lot of clients with this method.
I tell you this so you can understand that it's not about having a fancy website that cost you thousands of dollars or tons of education in social media, it's about LOVING what you do, what you offer, and sharing that PASSION with the world…on social media.
As I promised, there are certainly some other strategies you can and should be using to make the sales.
Call to Action – Tell people to purchase, contact you, or learn more. Take initiative to move your relationship to the next level.

Create a Sense of Urgency – Time sensitive offers are a great way to get people to take action. 

Fan only offers – Creating a special offer, trial, or exclusive offer that's only for your Facebook fans. 
---
Step 6 – Amplify Your Results.
Now, while all of these strategies will provide results, the strategy that I've truly tripled my business growth with is: converting fans to email subscribers.
There's a few key reasons why you should REALLY consider investing in an email management system to grow your business.
You own your list. You don't own social media. IF social media were to shut down tomorrow or start charging for access, would you be able to access your fans or would you lose them foreverrrrr? Scary thought right? If you convert your fans to email subscribers, you can reach them when you need to.
Social Media doesn't guarantee all your fans see your content. Unlike Email, where you can guarantee the email was sent.For example, Facebook has an algorithm that determines how many of your fans see your post (It averages 2% of your fan base!)
With Twitter & Instagram – There is no guarantee your fans are online when you post your content. Not everyone checks their social media every day or at the exact time you're posting.
Email really allows you to cultivate a stronger relationship than social media. There's something special about someone inviting you into their inbox and reading your messages. It really is the most successful way to convert social fans into sales.
The process I found that works THE BEST for converting social media fans, is using LeadPages to create opt in pages and Active Campaign to collect emails and mail my list.
With social media and these TWO services, you don't even need a website. Seriously.
Here's exactly what I do:
I come up with a "free offer" or an incentive to offer my fans and I use that link on my social media profiles. This could be a resource, a checklist, a coupon, or a free training.
I sprinkle in my freebies throughout my weekly content sharing the link to my lead page.
I use LeadPages to create the opt ins because it's easy, they can be put up in a matter of minutes, they look good and THEY CONVERT!
I integrate Aweber, my email management service to collect the emails submitted through LeadPages. Aweber automatically sends the new subscriber their freebie.
Then, I continue to use email marketing to send emails to my subscribers, provide value, build relationships and offer my programs.
Here's an example of my highest converting LeadPage, it's simple, gives me somewhere to send my traffic, AND let's me connect with people after they've left my website: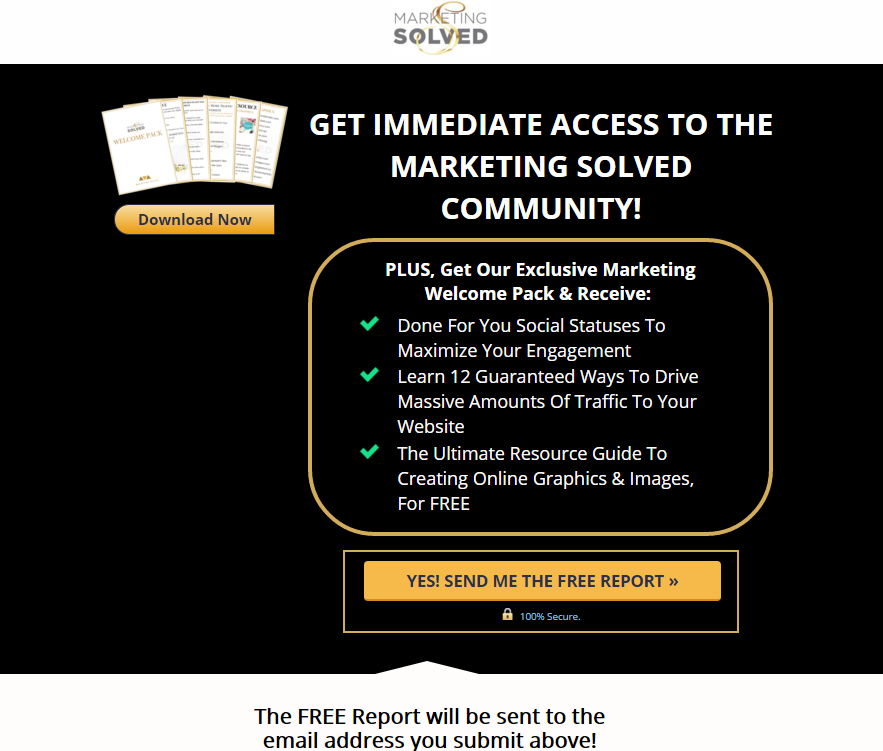 ---
And THAT my friends, is how I use social media to make sales.
Quick Recap:
Define Your Target Market & Who You Are Trying to Reach (Need help? Click Here)
Find Out Where They Are & Where You Need to Be
Brand Yourself. Your Message, Your Design, & Your Content (5 Day Social Media Jumpstart)
Make Social Media Posting EASY with a Done For You Social Media Marketing Service.
Create & Share Content That Sells – Provide Value, Become the Expert, Give Give Give + Promote Your Biz. (Power Players Has you covered!)
Sell, in a Non Salesy Way – Build Relationships!!
Laugh all the way to the bank! ha ha ha.
And if you want to know WHAT, HOW, WHEN, & HOW the heck to simplify all of this? This post will help (Plus there's a done for you social strategy to download, because I love you)
Phew! How ya feeling?
---
There's definitely a lot to digest and that's ok. In fact, you may want to read this twice to make sure you really understand the concepts before you start building a business using only social media.
 And if you've made it ALL the way down here and want to be a part of an awesome community of entrepreneurs who are all growing their business and pretty amazing, inclusive, supportive people? Join our Facebook group HERE.
FREE GUIDE: The Ultimate Guide to An Automated Online Business