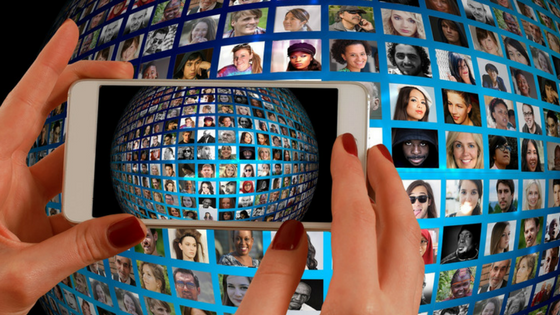 How to be everywhere on Social Media AND Save Time
I know what you're thinking – but YES, it's possible! I've developed a super simple strategy (I keep things REALLY simple around here) to help you get your content out on all your social channels in a few clicks.
I'll share the magic formula to make this all happen and you can catch the video replay from a Periscope where I explain in. If you want to skip the reading, scroll down to the video to watch now.
First things first, you've probably heard several people tell you to pick one or two social networks and focus ALL your efforts there.
This definitely works for some people but I've never been a fan of following the rules – I'm an Entrepreneur! I come from a different school of thought.
Being that social media has built my business entirely, my greatest success has been in being EVERYWHERE. Not just one platform here and there.
I get exposure, leads, subscribers, followers, clients and yes, I make money using Twitter, and Facebook, and Pinterest, Instagram, even YouTube.
If people don't know who you are – they can't buy your products or services.
You HAVE to put your content in front of people to attract them back to your brand, your business, and into your sales funnel.
In order to jump over this visibility hurdle, you have to be everywhere that your target audience hangs out.
(Need to know who your target audience is? Grab our social media digital bundle.
What I want you to remember is you can do whatever you want with your social media. You can be wherever you want to be. And you can make your own darn rules to follow!
It's ok if you're thinking "There's no way I can be everywhere. I can't post on Facebook. And then Twitter. and Then Instagram. And Then YouTube. Ahhh….That's going to take too much time! Overwhelm central!" (I've heard this alllll before but stick with me and I'll help you with that)
The secret to being everywhere is in setting up a SYSTEM to make this happen for you without having to manually make each post on each network.
How does that sound?
I'm a huge fan of setting up systems to run my business on autopilot – so much that I have a free email course on how to set up a sales funnel on autopilot. You can grab that right here.
You're going to learn how to set this up and exactly which tools you can use to do the work for you. It requires a bit of set up in the beginning but once you're  set up – it runs For-ev-er.
Let's Dive In!
First thing you're going to want to do is start your post on Instagram. You'll add in your image or video, write a kick butt description, and then you'll post it to Instagram.
Tip – Don't put your hashtags in the Instagram photo description. Put your hashtags in a comment instead. This keeps your description nice and clean and by placing your hashtags in the comment, you still get the exposure from the tags.  Posts on Facebook that have hashtags get less engagement! 
After you post your content to Instagram, you're going to share it to Facebook. Posting from Instagram to Facebook gets 23% more engagement than posting to Facebook alone.
Tip – To set this up, go to your Instagram profile. The top right gear icon will take you to your settings. From there, you'll scroll down until you see Linked Accounts. That is where you can connect your Instagram account to your Facebook PAGE. You don't want your updates going to your personal profile. You're building a business here – use your Facebook page. 
Sharing to Facebook is easy. After you post on Instagram, under each image there are 3 little dots…you can then select "Share" and you'll be able to choose Facebook. (Since we set this up in the last step, hitting share automatically posts this to your Facebook page)
Now, you've already posted to Instagram AND Facebook.
Here's a quick testimonial from a Marketing Solved group member who used this technique and saw great results! Nice work Maryann!!!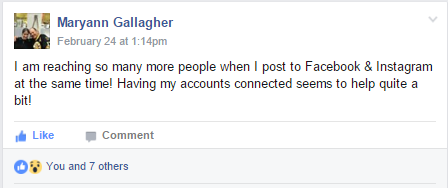 Next, we're going to connect your Facebook page to your Twitter profile.
Tip – Set this up by going to Facebook.com/Twitter. You can then connect your selected Business page to your Twitter account. 
After you set this up…any post you make on your Facebook page, will automatically be shared to your Twitter account.
This is going to help bring people back to your Facebook page and will help grow your following!
This means, you've posted to Instagram, shared to Facebook, automatically shares to Twitter.
3 networks, a couple of clicks!
Next, it's time to add Pinterest into the mix.
If you haven't heard yet, I make a majority of my sales using Pinterest. This is why it's CRAZY important to get your content there.
You'll start by going to IFTTT. If This, Then That.  This is an amazing tool that might change your life. You can set up "recipes" that tell this system "If this happens, Do This" – or in our case…"If I post on Instagram, automatically Pin it to my Pinterest board" You can find this exact recipe here.
While you're in IFTTT, you should peek around and see if you can find other recipes to set up and automate your life. It's a huge favorite of mine.
You've successfully taken ONE post and shared that  across FOUR social networks – in just a few clicks and a little back end set up.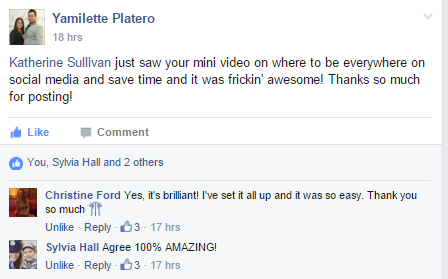 Now, I'm going to share a few more FREE  tools that are going to help you keep your content flowing consistently out to the world to draw more traffic, more fans, more subscribers, and more sales to your business. 
Tool #1 – Revive Old Posts. This is a wordpress plugin that will automatically rotate your blog posts and share them on social media. Don't let your blog posts die off, use this tool to share them with your audience, over and over again. I don't use this to share on Facebook but I do use it to share to Twitter since Twitter moves so fast. It's a great way to consistently share content and get your business in front of your ideal audience.
Tool #2 – Board Booster. This is a tool for Pinterest that will automatically loop your content. If you're low on time and don't have time to pin hundreds of pins every day, this will help! Set this up to loop your board content and bring old pins to the top of your pin boards. You can set this up so every day you have pins and content in the feed. Pinterest will drive massive amounts of traffic if you are consistently sharing your content on the platform. Create a board of all your blog posts and content and loop that board to share your pins every day. Voila!
If you're here for the video, watch below and see the magic formula explained in one of my FIRST periscopes I ever did.
(As evidenced by the freeze frame) If the video doesn't play, use this link to view.