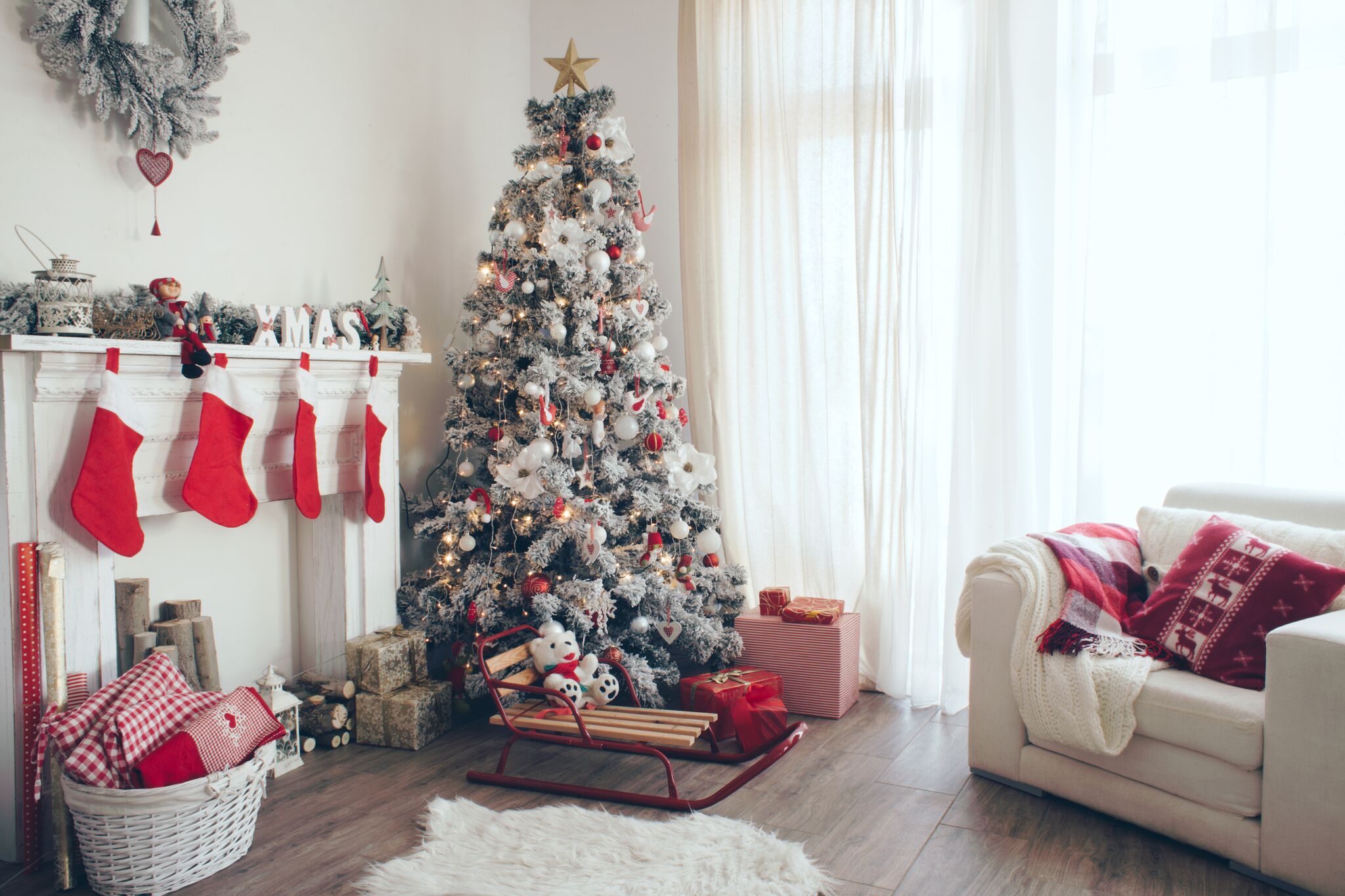 Are you gearing up for your Fall and Winter promotions or maybe you need a few ideas to get creative this holiday season? Well grab your favorite cozy drink and notepad because you're going to be inspired after you read this.
November and December are THE months that you need to really focus your efforts your on sales. But you already know this, that's probably why you're here.
However, knowing every single business out there is offering a "traditional sale" – it's important for you to do something that is going to help you STAND out. This list is going to give you some different ideas that you can test with your audience to kickstart your holiday sales and promotions.
We didn't just put together any list that you can pull from Google, these Holiday Marketing and Promotion Ideas For You To Kickstart Your Sales are ideas we have tried, tested, and proven to work. Don't forget to save the guide to help you this holiday season.
Let's Get Started!
1. FLASH SALES– These are quick sales you can send out that are usually unexpected but can push quite a large amount of sales. The beauty of a flash sale is you can offer any type of discount like 20%, 30%, 40% off AND the urgency of it being a quick – limited time sale – usually gets people to take action and make their purchase. Test out a quick flash sale with your audience and see what the reaction is like. We usually do these around birthday's, milestones, or holiday's. They can add a nice source of revenue to your bottom line.
2. LIMITED TIME OFFERS – Make an offer that's only good for a short period of time. These are very similar to a flash sale but they're not limited to a discount. A few examples:
Buy One Get One Free For a Limited Time
BONUS with Purchase For a Limited Time
20% Off For a Limited Time
$10 Off For a Limited Time
The best part about running a limited time offer is the sense of urgency. This can be combined with almost any other offer to get people to take action during the offer period.
3. DISCOUNTS – Running a discount is an easy promotion to run during the holidays. SO – if you're going to run a discount, think of how you can set your discount offer apart from the others. Can you combine the discount with a free gift with purchase? Can you offer multiple discounts?
Think of a way to set an ordinary discount apart so people won't want to miss out.
This is a great example you can borrow to offer a discount to reward people for spending more.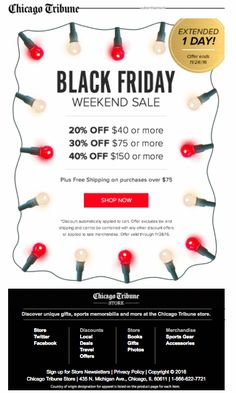 4. BUNDLES – We LOVE selling bundles. It gives you a chance to put multiple products, programs and deals together to give someone a HUGE amount of value at an affordable price.
One of our most popular bundles was packaging 8 workshops together and selling them for one low price. We've modeled this several times and have always found them to be a very popular way to package our courses and programs.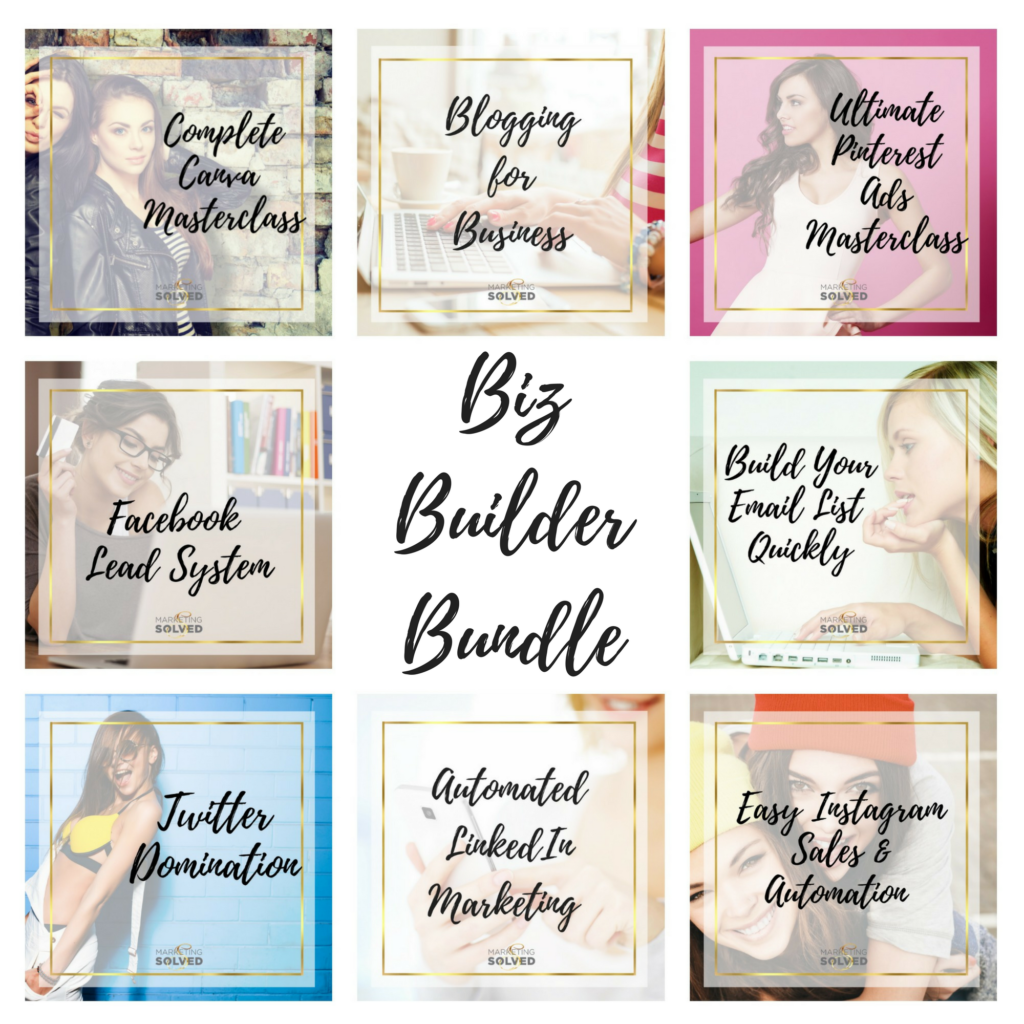 Bundles work for service or product based businesses. Remember, it's important to think outside the box and create an offer that really stands out.
Ideas for bundles: 
Strategy Blueprint with Consultation Call
Necklace with Bracelet Bundle
Courses + PDF Guide Bundle
Coaching Call with Course Bundle
Software with Consulting Call and Course Bundle
There's really an unlimited amount of options you can use to help you create the perfect package people won't be able to resist 😉
5. BONUSES  – This is another incentive that gets people to take action. Remember, people are being bombarded with offers every day. Why not throw in a BONUS if people make a purchase?
BONUS ideas: 
Free product with purchase (could be a pen or a tote bag, even a t-shirt)
Free mini course with purchase of big course (We've done this with our 20k in 20 days course, people LOVE it) 
Free guide with course
Free coaching call or consultation with purchase
Each purchase enters someone into a giveaway for free program product, even a gift card (Another one we've tried that is really popular)  
Free Training with Purchase
Free Ticket with Purchase
6. BOGO (BUY ONE GET ONE FREE) – This definitely gets people to take action. If you're a product based business, you'll have to ensure you don't lose revenue on a deal like this. If you're in the digital program business (like we are) this can be a big incentive to get people to take action.
Take this one step further and mix it up
BUY TWO GET ONE FREE
BUY TWO GET TWO FREE
BUY ONE GET ONE HALF PRICE
7. EVERYTHING IS ON SALE – Want to spark a frenzy of buyers? This works every time. In fact, we ran this last year and it was our most successful deal of the entire year. There's different ways you can run this offer.
Again, be creative and give people something EXTRA to help them take action.
8. TRIPWIRES – This is more of an "internet marketing" term but let me explain the offer you can be making. A tripwire is a purchase someone can make from you immediately. For example: If someone signs up for a discount or coupon, you could redirect them to a low price product offer. This helps spark a sale and they may want to keep shopping around.
Here's an example of how we use it.
We drive traffic from our blog or social media pages to a free gift. This is a free calendar we offer to incentivize people to opt in.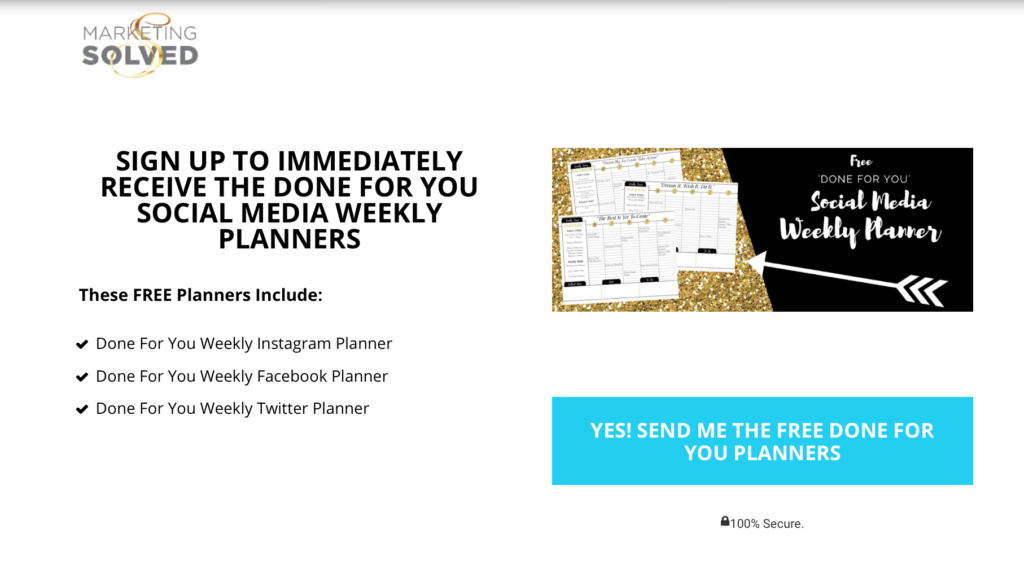 After they enter their email address – we automatically redirect them to an offer page. This offer gives them a chance to get one of our $99 courses for only $9 if they purchase right then.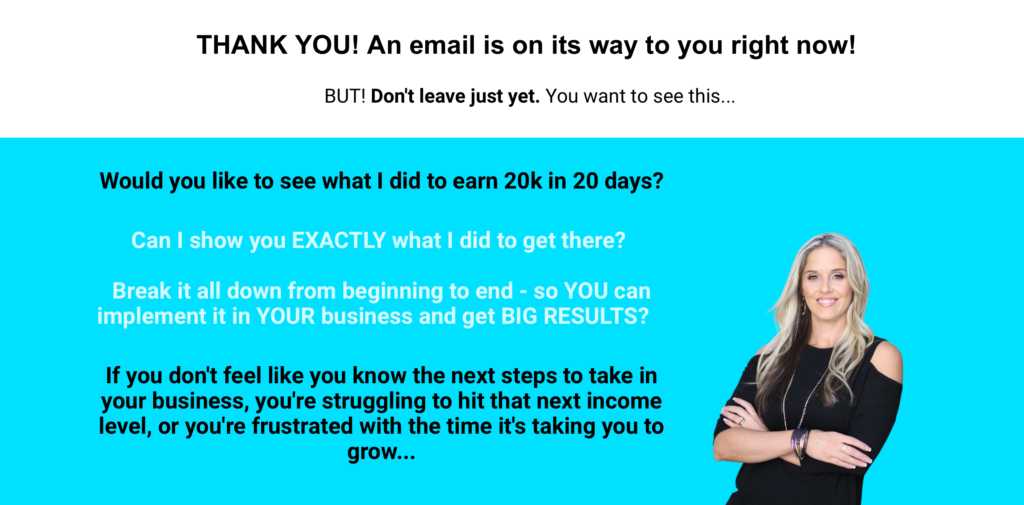 The conversions on this type of an offer are usually very high due to the low cost offer and the sense of urgency.
9. BUY BEFORE THE PRICE GOES UP – Obviously, this type of promotion is only going to work if you're increasing the price of something.
You could run it if you're increasing the price to your coaching program, software, courses, membership sites, or even products.
Here's a great example from Appcues: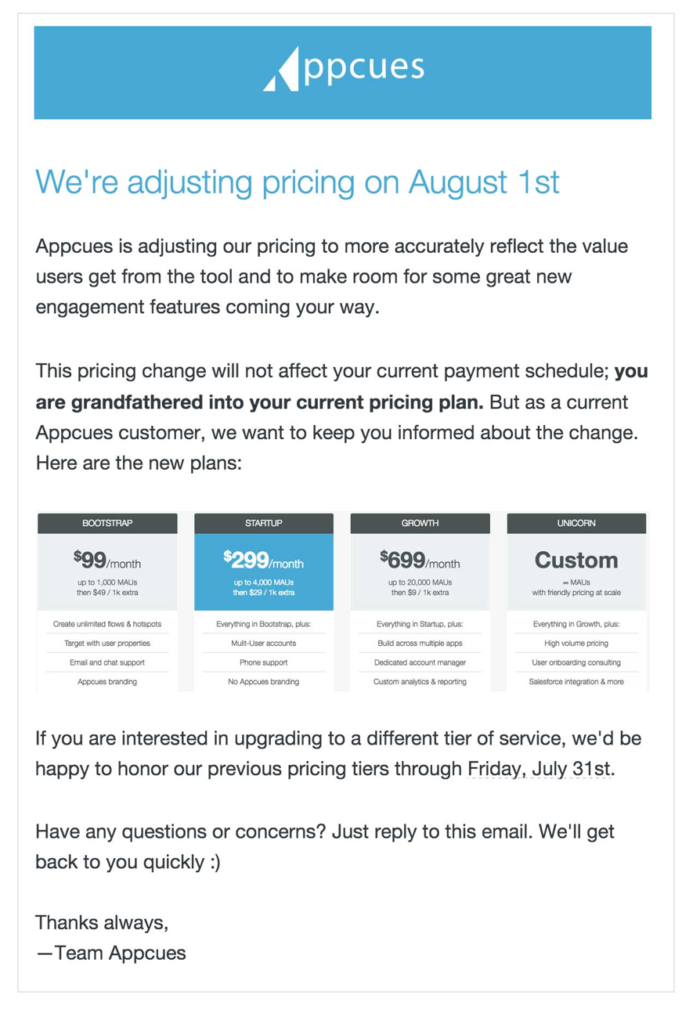 10. ENTER TO WIN – This is one of my favorite ways to incentive purchases. You can enter everyone who makes a purchase during a promotional period into a drawing to win a prize.
The prize could be free product, gift cards, personal consulting or coaching with you, credits to use in your business, or anything you think they would want to win.
We just add a little snippet at the bottom of our emails and social media posts that let people know how to enter the giveaway after they make their purchase.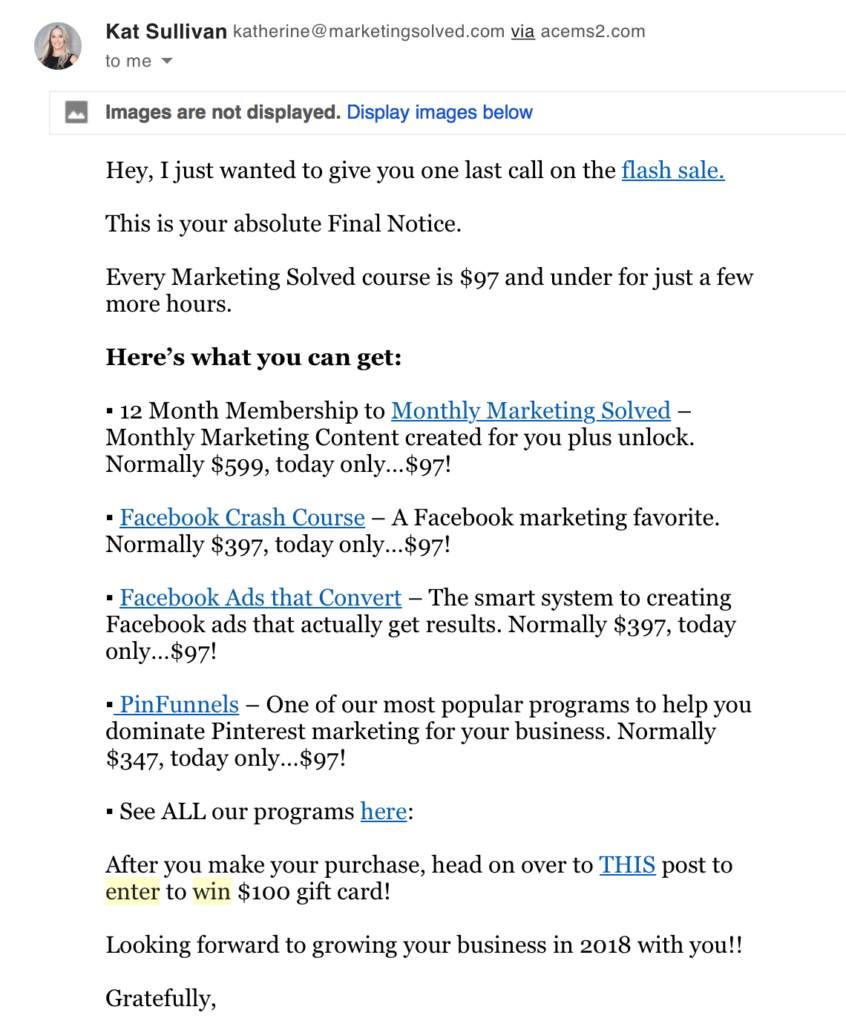 11. DAYS OF DEALS – This is a GREAT idea for the holiday season. We are running a 10 Days of Deals promotion – each day putting together a brand new promotion your audience has never seen. You could pick a number of days to offer deals and each day, send your audience a new deal every day.
You can get REALLY creative here. See exactly what we put together so you can get some ideas here. 
Here's a few things we did and ideas for you to run Days of Deals. 
Rotate Through Discounts, Free Shipping, Reduced Prices, BOGO, and host a different type of promo each day. Example: Day 1 could be a 20% off, Day 2 could be Free Shipping. Etc…
Package or Bundle programs together. Have a few products that work well together? Sell them as a bundle.Example: Day 1 could be Book Bundle, Day 2 could be a Course Bundle. If you sell products, think of products that pair well together. Boots and Sweaters, Headphones and Portable Phone Chargers.
Offer Something New! For us, we pulled a few workshops out of another program and put them together in a new bundle. We ran another bundle and added in a LIVE workshop for new buyers.The point here is to give them something they haven't seen before and they will be encouraged to purchase!

12. GIFT GUIDE – Remember the old days where you'd get a catalog in the mail filled with products to buy for the holidays? Make one. A digital version and call it your Holiday Gift Guide.
A gift guide can showcase all the products you want to highlight for holiday sales. You can do this as a blog post or even as a digital magazine. Link to the products you mention and promote that to your social media audience, email list, and even run an ad behind it.
BONUS TIP: The early bird gets the worm with Gift Guides so if you're going to do it – do it sooner, rather than later.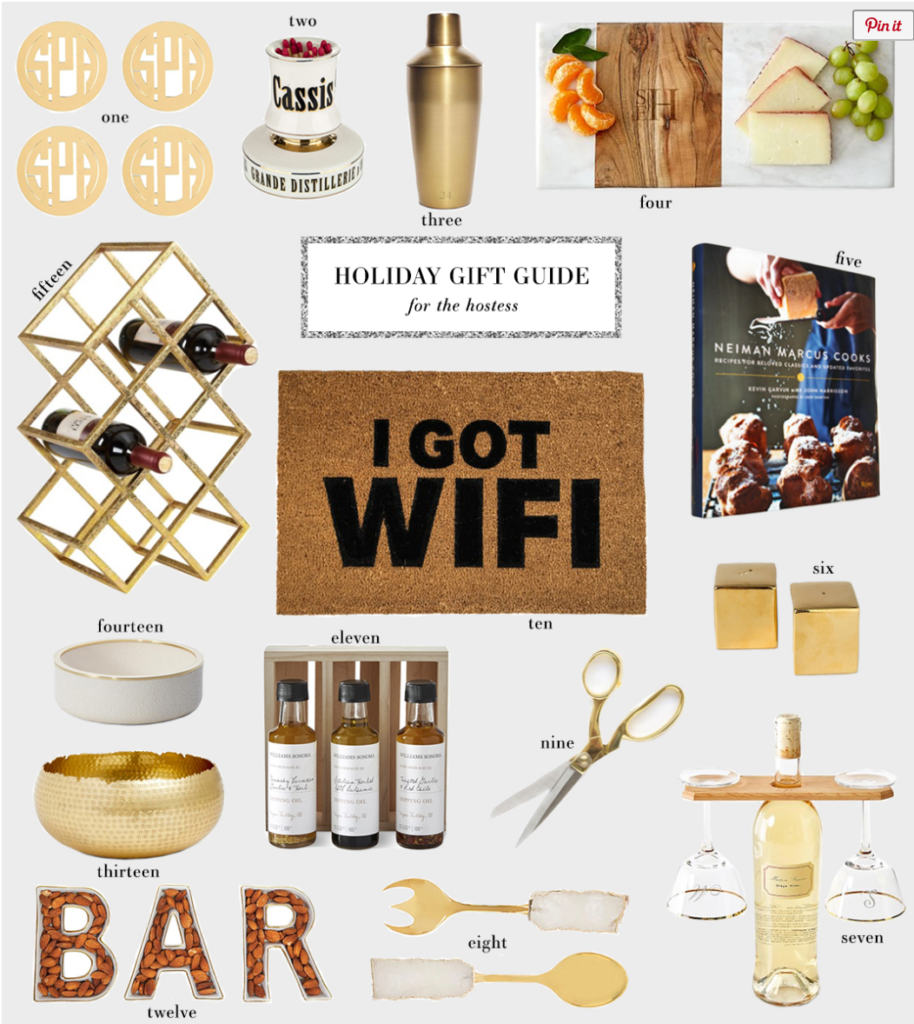 There you have 11 Holiday Promotion Themes and tons of examples and ideas to start implementing right away. Before you start overthinking about which one is going to work the best – pick one to try out! The only way to know what your audience is really going to love the most, is to test it.
A few tips to make the most of your promotion:
BE CREATIVE
DO SOMETHING DIFFERENT
MAKE IT SO THEY CAN'T SAY NO!
If you need more ideas, click this button below to get 207 Marketing Ideas to help promote your new offers!