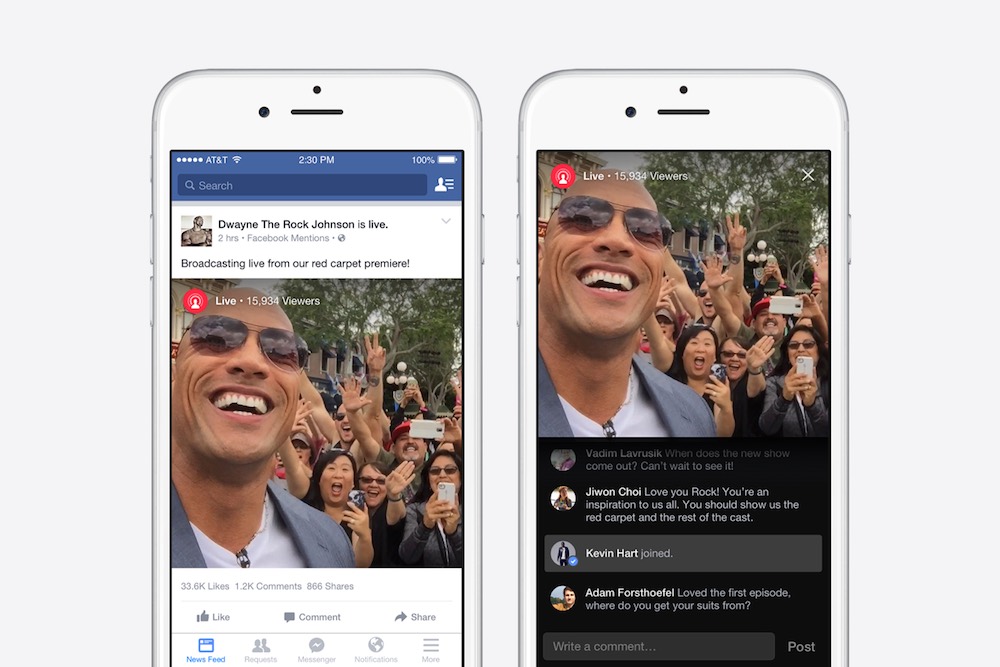 Image Credit: Facebook Newsroom
A little over a year ago, Facebook introduced their video streaming service that will let anyone broadcast live right into the newsfeed.
Now, Facebook Live has become a prominent part of Facebook real estate that has changed this platform forever.
Facebook live videos are estimated to peak to 64 billion views per day!
With those views, we've also seen a tremendous jump in engagement with viewers watching live videos longer than pre-recorded and 10x more comments.
Millions of users are now live streaming on Facebook, and they are letting everyone see what their real life is like. This gives brands and public figures an easy way to connect with their audiences.
For an average business owner, this has become a perfect and simple way to utilize the power of video to reach out to their fans and build relationships and engagement much easier. And it's a lot more fun!
Even though this is a simple and a powerful concept, there is a lot to be learned about Facebook live. Here are a few best practices to implementhttps://www.marketingsolved.com/wp-content/uploads/2018/03/GRAB-YOUR-2.png with your next Facebook live so you can truly connect with your audience and maximize your efforts.
Announce When You Are Going Live 
If you have a huge fan base, make sure you always announce when you are going to broadcast live. This is a great way to build anticipation and a way to reach more people.
You can even preschedule your Facebook live to get people prepared for your broadcast so they can attend live.
Test Launch
Before you launch your live video, you can test it out and make your post visible to yourself only. This gives you the opportunity to eliminate any possible mistakes, double check your audio and video, and ensure you're ready to go when it's time to go Live.
Create a Good Balance
Even though Facebook Live broadcasts are important and effective, that doesn't necessarily mean you should be focusing all of your efforts on that platform. You should be spacing out live videos with other types of media and content.
This is being done to ensure your video gets maximum exposure. Also, Facebook live videos tend to rank higher according to the Facebook algorithm, so if you publish something of a high importance just after you have published a video, it is not going to be visible to a large amount of people from your fan base.
Use Catchy Descriptions
These will capture your audiences attention and let people know what your live broadcast is about. Keep it brief but compelling! Don't forget to include a call to action to get people to watch.
Related: Why Engagement Is The Key to Social Media Success
Always Introduce Yourself, And Reintroduce Yourself
You might assume that your fans know who you are because they are following your page but it's always a good idea to introduce yourself. You may have some followers who are unfamiliar with you and you may have some new viewers from friends or fans who have shared your broadcast.
At the beginning of every Facebook live video you are doing, briefly introduce yourself and say what your video is going to be about!
A great trick you should be doing is the reintroducing process. If you have never done the live video before, remember this- not everyone jumps on right at the beginning. As the video runs longer, you'll have more people viewing and it's critical to reintroduce yourself and the purpose of the broadcast several times throughout the video when you see the number of viewers increasing.
Stop Worrying About Mistakes 
Easier said than done, I know. You can rehearse as many times as you want, but the key is not in memorizing everything you are supposed to say in the video. The secret is spontaneity. When you go live, a ton of unexpected things can happen. In fact, anything can happen! You can lose your thoughts, stutter, your equipment can break, or your wifi can crash. None of those are the reasons you should stop going live.
Be In The Moment
Instead, of being frustrated, learn how to adapt to any of these situations and act spontaneously. What people specifically love about Facebook live videos is that it's LIVE! It's fun and entertaining. Things will happen and you have to be real. This makes you relatable and viewers will connect with you.
Things are not going to be perfect so don't expect them to.
Encourage Everyone to Like and Share
You want more viewers right? Make sure you are asking your audience to like and share your broadcast. This will reach their networks and help you expand your reach. Your goal is to show up in each, and every one of your fan's news feed and find your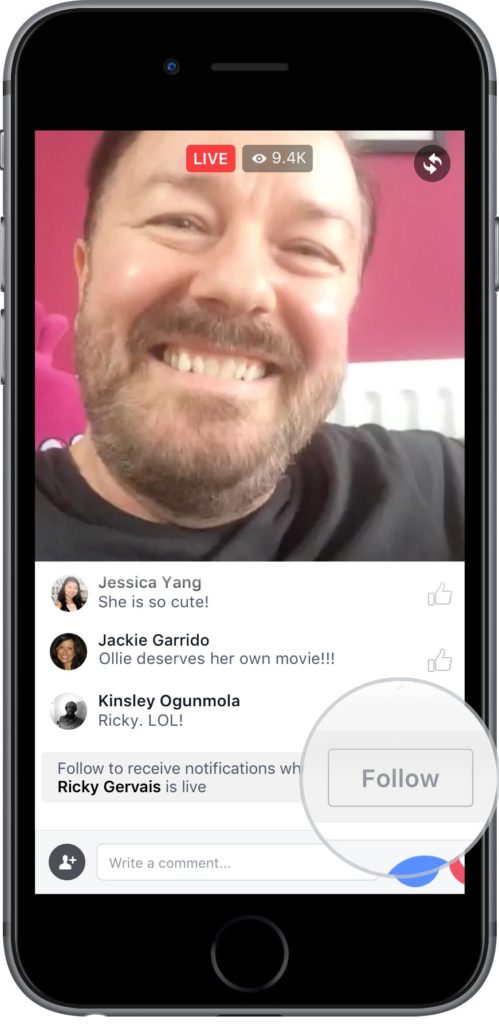 way in front a new audience by simply asking for a share.
If people enjoy your broadcast, they'll want to share! Don't be scared to ask.
Remind Fans to Subscribe
You want to give fans the call to action to tap the Follow button so they can get notifications the next time you go live.
Engage With Viewers Live 
Respond and interact with your viewers! This is how you will naturally increase engagement and build more relationships with your fans. The more comments you have, the higher your Facebook relevancy score, which affects how you appear and rank in people's news feeds.
Encouraging people watching to interact in comments, ask questions and give instant answers.
One trick to really help you connect with your audience is to call out each viewer by their full name. They will be honored to have you mention them directly and it will motivate them to hit that share button, like the video, and leave more comments.
Share Your Broadcasts Everywhere 
Once your recording is done, you can share it to different pages you manage, your personal profile, groups, email it to your subscribers, and you can embed it directly on your website!
This ensures you'll get more views and draw more people in to your Facebook live channel.

Now you are set to use Facebook Live to truly build a connection with your audience. It's time to get out there, break through the fear and start building relationships with your viewers!