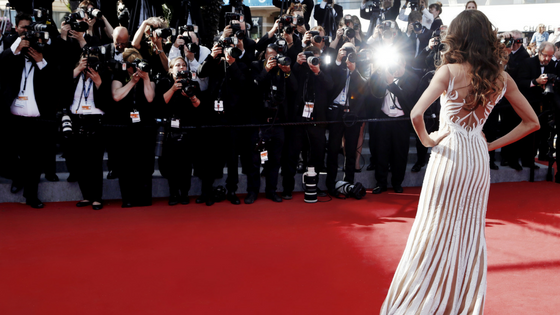 It's no big secret that there are some celebrities who are simply crushing it with their social media. Now, you may think that it's automatically because they have millions of fans and unlimited exposure – and you're right, that is a major contributor to their success.
However, the fact that not all celebrities have established the same level of social media success leads us to believe that these celebrities know what it takes to build a true and engaged fan base that others haven't quite figured out.
Here's 11 Celebrities Who Use Social Media Better Than You & What You Can Learn From Them
1. Dwayne The Rock Johnson – Starting off our list is "The Rock" who I've had the pleasure of seeing at a filming of Jimmy Kimmel. One of the best in his industry using social media. He walked out on to the set with his Instagram set on record for his 85 million fans.  (If you peek closely, you can see me in the front row ;)) His unique ability to connect and speak direct to his fans through his social media, certainly increases his appeal to so many followers.

2. Ellen Degeneres – With 27 million Facebook fans and 45 million on Instagram,  you could say Ellen has social media figured out. Her iconic Oscar selfie was one of the most retweeted tweets OF ALL TIME. (Until a very recent beat out from #NuggsForCarter). Ellen knows how to entertain and keeps her fans coming back for more, every single day.
If only Bradley's arm was longer. Best photo ever. #oscars pic.twitter.com/C9U5NOtGap — Ellen DeGeneres (@TheEllenShow) March 3, 2014
3. Oprah – The Media Mogul.  Everything she touches turns to gold, her social media is no exception.
4. George Takai – Best known for his role in Star Trek, he's become a widely followed, consistent presence on social media. Sharing everything from comedy to politics, he calls himself  "a believer in, and a fighter for, the equality & dignity of all human beings" which is a message millions of people seem to relate to.
5. Joel Osteen – This popular pastor has over 15 million Facebook fans and growing daily. He consistently shares his branded content and is using his social media brilliantly to continue growing his brand.
Related: 12 Facebook Pages that Have Branded Graphics & How You Can Leverage This In Your Business
6. Beyonce – Queen Bey herself shocked her 102 million fans when she announced her pregnancy with this photo, quickly making this photo the "Most Liked Instagram" of all time. Her approach is unique and simple. Only sharing posts sparingly, she creates major excitement from her followers. It's also been reported that one post from Beyonce values over $1 million each. Now, that's impressive.

7. Miley Cyrus – This singer is a natural with social media. It's clear she publishes a lot of the content herself and gives you a behind the scenes look at her real life – the good, the bad, and the ugly.
8. Ryan Reynolds – Dubbed one of the "Funniest Dads on Twitter" – found a way to offer a lot of comedy in a short, 140 character limit.
My daughter's only 6 months old and already drawing. I'd hang it on the fridge but honestly, it's absolute garbage.

— Ryan Reynolds (@VancityReynolds) June 19, 2015
Went to Disneyland because my daughter's obsessed with Mickey Mouse. She was so excited when I got home and told her. — Ryan Reynolds (@VancityReynolds) January 30, 2017
9. Candace Cameron Bure – Well known for her childhood role on Full House, she's made her way back to TV.  From co-hosting on The View to most recently, starring in a sequel: Fuller House, she's shared all of it on social media.

10. Lauren Conrad – The reality star turned fashion designer has cleverly used social media to showcase her brand. Her perfectly chosen Instagram images appeal directly to her audience.
11. Kevin Hart – This comedian and actor uses his social media brilliantly to market his movies, a recent book launch, and other ventures. He keeps it real with fans by sharing personal videos and sprinkles in pictures of him with his star studded network.
There you have 11 Celebrities who are leveraging social media to the fullest capabilities.
What can you learn from them?
Look at what they ALL have in common. 
Fans want to see behind the scenes. Fans want to see REAL LIFE. Fans want to feel included and connected.
THAT is what sets these celebrities apart. They talk directly to their fans! They include them in their daily life and give them a peek at what it's like in their shoes. This creates instant reliability and attracts more and more fans in each day.
If you're struggling with your social media – think about what you're sharing.  REALLY THINK ABOUT IT.
Are you talking at your fans or are you talking with them?
Are you asking them questions and encouraging them to comment and engage?
Are you making them feel important and included?
Are you sharing content that stands out and is different from everyone else?
Are you too salesy? or Are you overly promotional?
Take a few tips from these celebs and their millions of fans. Social Media is not a platform for you to advertise your business and yourself – constantly. It's a place to be "SOCIAL" and that means it's a two way street.
Did we miss any celebrities that are crushing it on social media? Let us know in the comments below!
Need Some Marketing Ideas? Here's 207 for FREE!