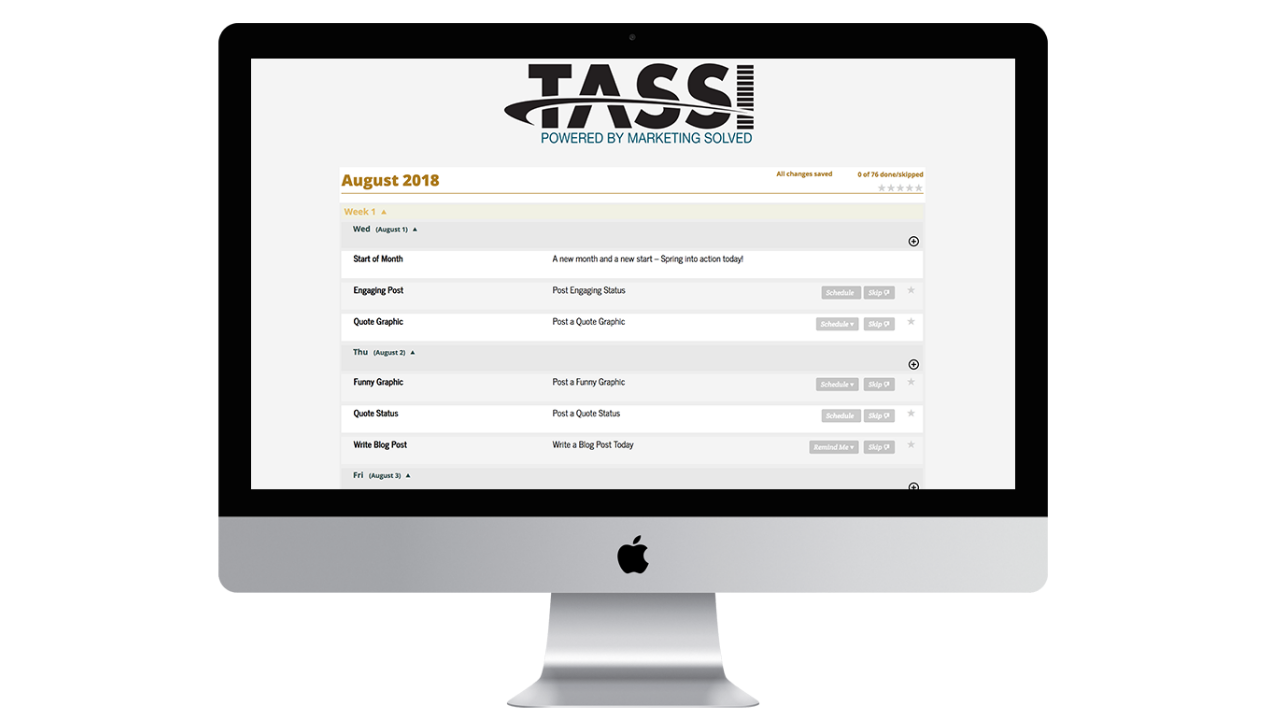 As a small business owner, you're finding out everyday that there is a lot more to owning a business than most people think. You're discovering problems and headaches like trying to figure out how to organize your projects in an efficient manner, or learning the best method possible to keep your receipts and manage your business finances.
It doesn't feel like you're simply wearing a lot of hats at different times, it feels like you're going through 16 costume changes per day. But after managing your project workflow and finances all day, you start to realize that you're going to be needing to manage your marketing, which not only takes just as much effort, but throw in some needed creativity and you have a recipe for burnout.
Arguably, keeping up with your business' social media presence is the most cumbersome marketing task since social media posting and customer interaction frequency has become so demanding. Some platforms will have you posting everyday for good practice, but also require your posts to be engaging.
How are you supposed to keep up with that with all of the other items on your plate?!
Fortunately, in today's world, there is automation. And when it comes to automation of your social media posts, there are no shortage of auto-schedulers out there. There's just one problem, auto-schedulers don't create the posts for you, you still have to do that. Which means you still have to take a day out of every week or so and dream up the next 5-7 days of posts across all of your social media profiles.
That's why we developed TASSI to what we believe is the best social media scheduler for small business owners.
What is TASSI?
TASSI is a social media scheduler designed specifically with the small business owner in mind. Creating a schedule for your social media posts and having them automatically post at specific times is only half the battle when it comes to social media marketing.
The other half is actually creating the post. And if you're a creatively challenged introvert, like myself, then this is probably the most annoying and often neglected part of your online marketing strategy.
That's why we've designed TASSI.
TASSI not only gives you the standard capabilities that other social media schedulers offer, but also creates the posts for you!
Yeah, you read that right…
It creates the posts FOR you!
Interested? Read on!
The Best Social Media Scheduler
If you've made it this far into this post, I can only assume you're interest has been piqued.
But before I go off making assumptions on how TASSI is the best social media scheduler for small businesses on the market, we have to first iterate what TASSI is designed to do. It isn't designed to provide in depth social media analytics, engage with your user base or run multi-platform ads through (at least not yet).
It's designed to make creating your social media strategy easier by automatically generating content each day that can simply be modified based on your goals. But it isn't just random content, they're engagement posts that have proven effective even on our own Marketing Solved Twitter and Facebook pages.
Because TASSI doesn't have all the fluff of mega-analytics or multi-level analytic reports, that is exactly what makes it the best social media scheduler for small businesses. It's simple and easy to use.
Weekly Calendar
One of the coolest things about TASSI is that it's organized in a linear calendar type fashion. One of my struggle with auto schedulers was looking a a paper calendar or even another calendar app on my my computer, then having to look back at my auto scheduler to select a date to post to. TASSI takes care of that and puts everything in a clear order, eliminating the need to look at another calendar.
Staring off, you'll see TASSI has the weekly calendar for the month right in front of you.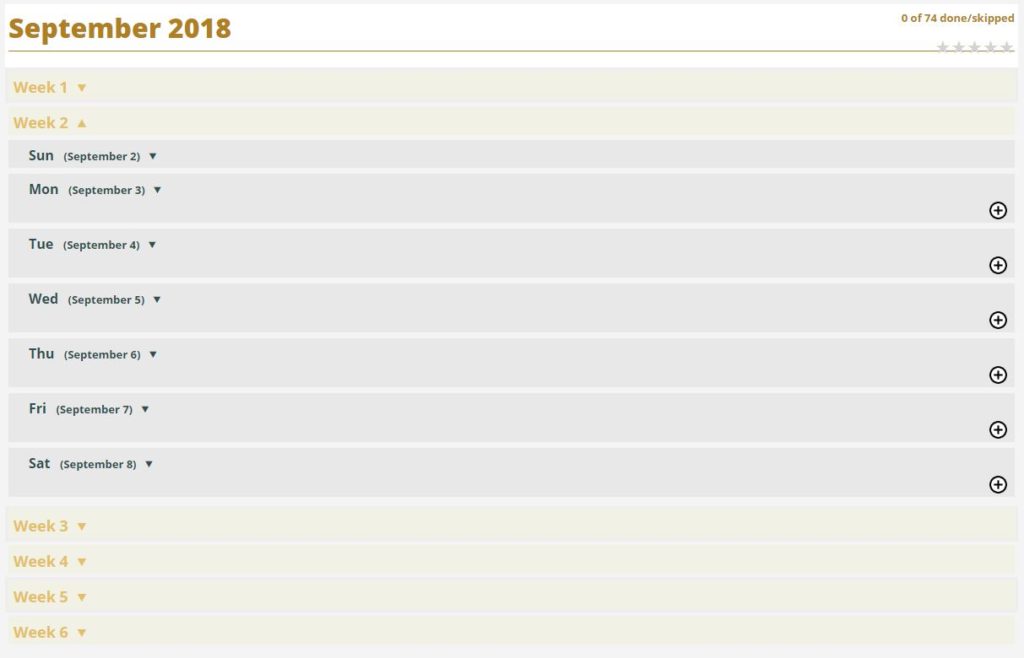 Keep in mind, there aren't actually 6 weeks in September. The weeks in the drop down calendar on TASSI reflect the number of lines on a calendar month. For instance, the first week only contains Saturday, while week 6 only has Sunday, which means weeks 2, 3, 4, and 4 are four actual full weeks.
Auto-Suggested Posts
Okay, but the coolest part of TASSI is the auto-suggested posts. My biggest issue isn't figuring out WHEN to post, but figuring WHAT to post. TASSI takes care of that for you.
After you select which week you want to post for, simply click the drop down arrow and you'll be prompted to post something recommended, edit the recommended post, or just skip it.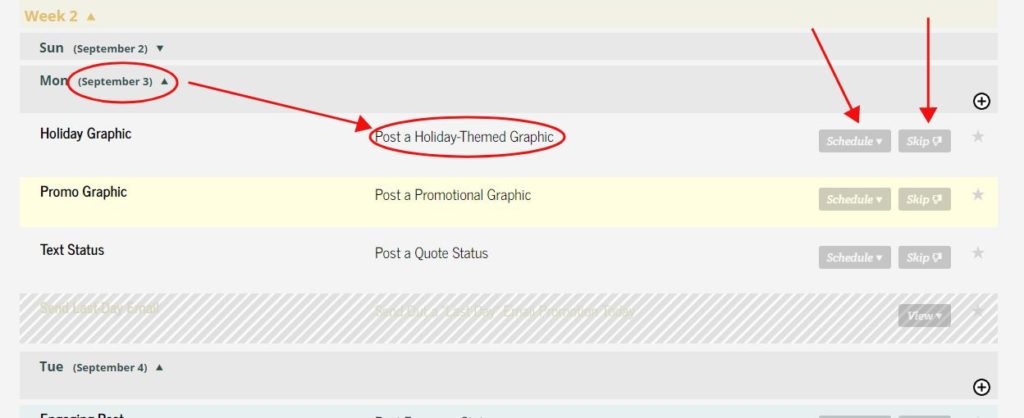 In the example above, notice how on Monday (September 3rd), it gives a recommended post for a Holiday theme post. It isn't coincidence this day happens to be Labor day. Holidays are built into TASSI so you never have to miss an opportunity to wish your customers a happy whatever.
Even if you didn't want to post this, you could simply hit the 'Skip' button and move on to the next post. You can skip all the posts this day, or none of them. It's completely up to you.
You can even select a pre-written post body for post types like, "Engagement" like this one:
Select an engagement type post and the scheduler automatically inputs a proven post body that generates engagement with your followers.
If you don't like it, no problem, you can select a different one or edit anyone you select.
Post Image Database Segmented by Post Type
With TASSI, you no longer have to create your own images using Canva or any other easy image creator. Although you still can, TASSI provides a complete database full of custom images segmented by the post type. For example, on Labor Day, if you were to click on the "Add Image" button, you would see a full selection of Labor Day based images.
Same thing for Thanksgiving or New Year's.
Want an engaging post with an image and a quote? No problem. Just select the "Quote" option for your image and get instant access to a full database of images with amazing quotes on them.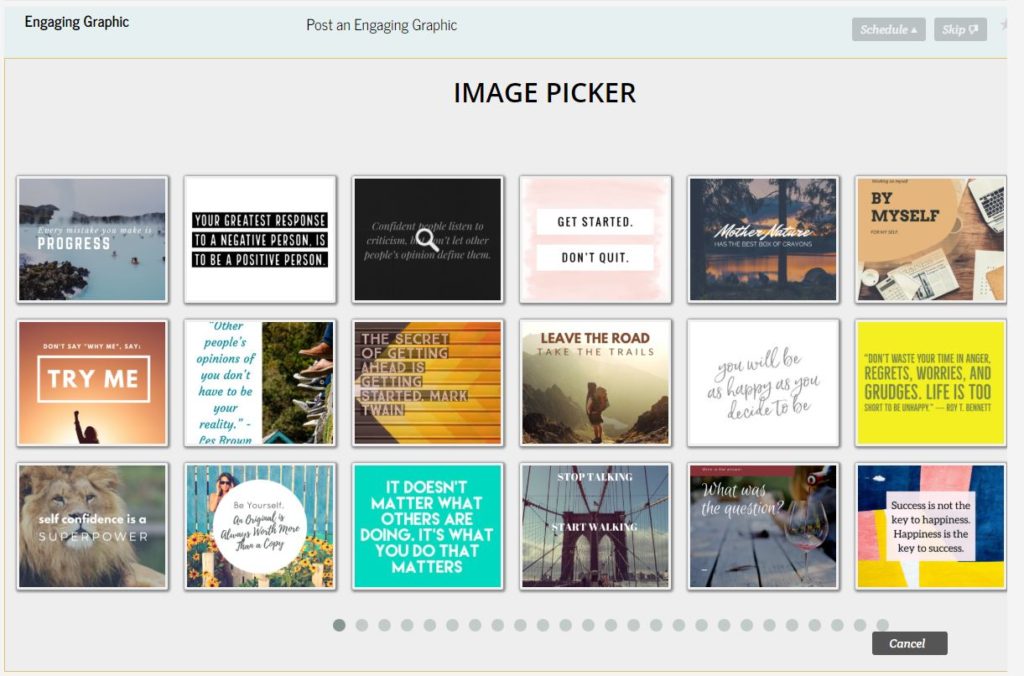 Customizable Images
One of the best parts of TASSI is the ability to brand yourself by editing images. With TASSI's image editor, you can add your own custom text. The most classic case of this would be adding your own logo directly to the image within the scheduler without having to download an image, add your logo to it in an editor like Canva, then re-uploading it.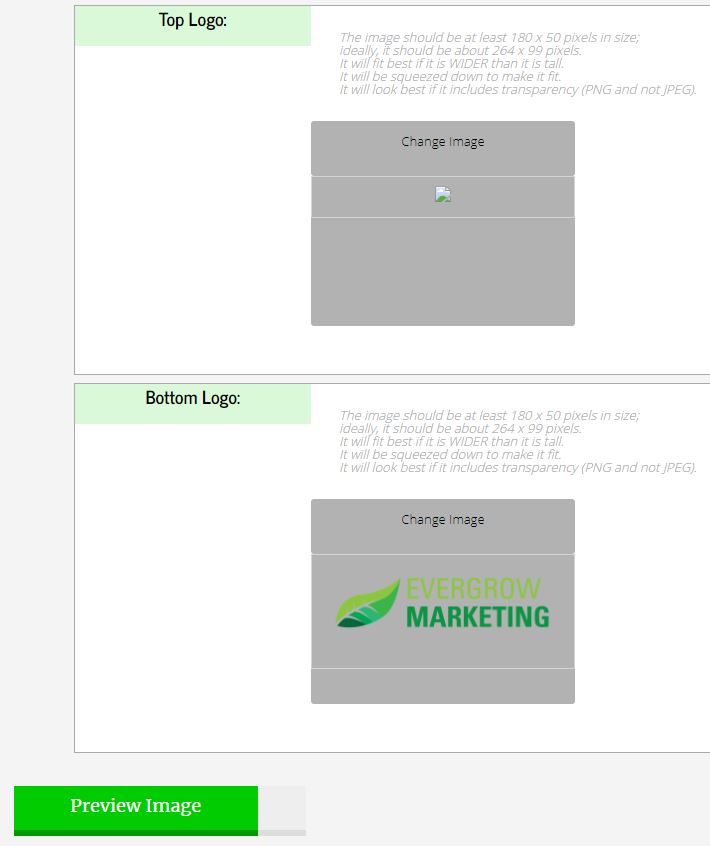 Post Scheduling
Last but not least, what would a social media scheduler be without the ability to automatically schedule your social media posts. Just like any other social media scheduler out there, every post in the month can be scheduled out each day at any hour you want.
This proves to be extremely helpful in determining which hours of the day your campaigns receive the most engagement. Schedule a couple posts throughout the week at a specific time, then schedule similar posts the following week at a different time.
Summary
Easy to understand calendar, access to a crazy amount of pre-designed images, pre-written statuses and posts, all built into an auto-scheduling system? It almost sounds too good to be true. But it isn't.
We understand that running your business takes a lot of time, especially with all the hats you have to wear. Auto-schedulers only save you the scheduling portion of your time, they don't take care of the creative aspect that goes into it. That is exactly why we designed TASSI.
Interested? Go to gettassi.com and see how TASSI can save you hours per month on your tedious social media presence while maximizing engagement!