Hey Friend!
Thanks for joining me on my own little space on the web. I'm Katherine Sullivan, CEO/Founder of Marketing Solved.
I've been in digital marketing for 7 years and never anticipated life would take me to where I am. You see, I had no real plans of ever owning my own business. I liked the idea of being a successful business woman (working for someone else) until I actually did it. It was clear, I was not a corporate girl.
In my past life, I was a Branch Manager for a Financial Services company and it was anything but fulfilling. During this time, social media had started evolving. Anyone remember MySpace? When I first started on MySpace I LOVED it. I loved the interactive nature and convinced every one of my friends to create their own. Still working my corporate gig, it was draining and the area I worked in (collections, finance, repossessions – not fun!) was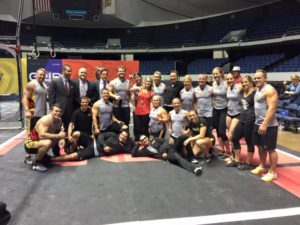 starting to wear on me. And then one day…the whole stock market shabang came crumbling down and I was given the axe. Ironically, the same day I found out I was pregnant with my first bebe.
So there I was, one minute climbing the corporate ladder, getting promotions and honors for my work, to unemployed and pregnant. Interesting how things always work out huh?
My husband and I decided to change it up and we left town to a smaller town where we could live comfortably on one income. From there, I started a blog. Before everyone had a blog. And that little blog, grew and grew and grew. Once I started blogging, social media started expanding – Hello Facebook, Pinterest, Twitter, YouTube! I instantly started connecting the two – my blog & social media and that's when things really started figuring themselves out.
I went back to school to complete my bachelor's degree and we expanded our family again. I ended up graduating with a 4.0, Summa Cum Laude degree and received the "Outstanding Student Award" for my class. (Nerd Alert 😉 )
My blog was growing, I had amassed 8k followers on Facebook and 12k followers on Twitter in about a year…just blogging about life! Once I saw how connected these two elements were, I really started educating myself on how to make it work even more and turned that little Mom Blog into a pretty nice paying gig. People always wanted to learn how to duplicate that success so without knowing, I started coaching people on their blogs and social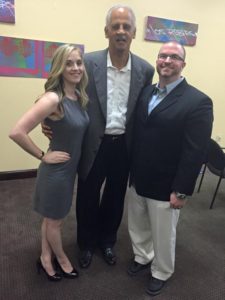 media and turned that…into a full grown business. The minute I decided to take on clients, I had 3 paying clients by the end of the week.
As the years went on, we have taken on several amazing clients and I've had the opportunity to meet and work with some of the most incredible people around.
From Stedman Graham, Tim Ferriss, Tar'Lese & Matt Trainer, to the San Francisco Fire and the GRID League. These are the reasons I LOVE what I do.
Marketing Solved came to me as a way to share everything I learned with people who wanted to create their own business. Whether they're bloggers, network marketers, small businesses & entrepreneurs, I know how to use online marketing to grow your business. Email marketing, social media, or advertising, I've done it all and have developed crystal clear strategies that are easy to implement to achieve results.
I believe there is success for everyone if you have the desire and determination to achieve it. Stick with me and I'll show you exactly how you can take your business to the next level, find ways to monetize your business and turn your passion into a full time job that you love. I've done it and I know you can too.
Now that you're here, let's stay connected! Get a free gift & sign up for weekly training, resources, and inspiration plus get access to our amazing community of entrepreneurs here.