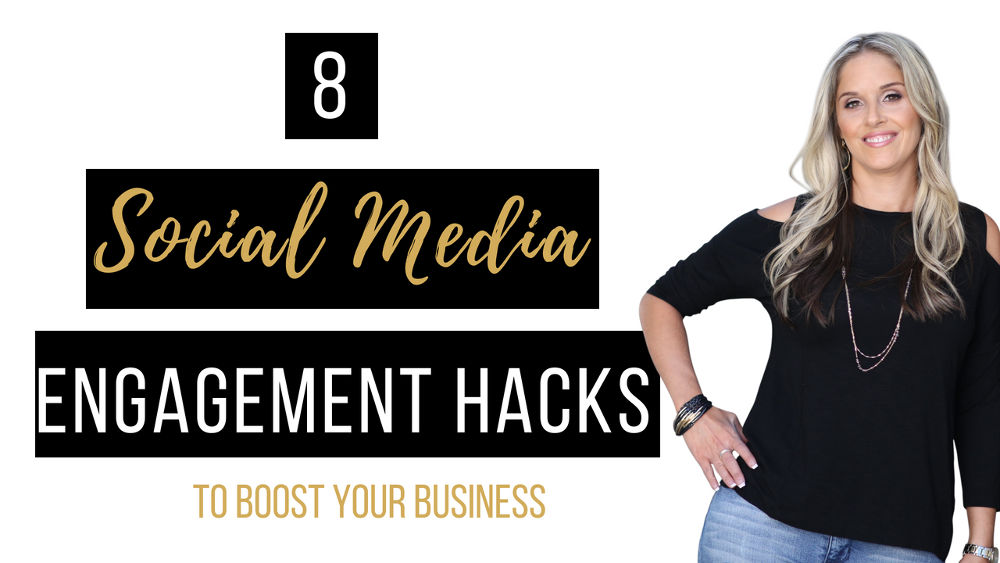 We all know that social media is a non-negotiable when it comes to marketing for your business.
However, sometimes it can be frustrating to craft the perfect post, schedule it at the right time, once it publishes…you hear crickets…NO ENGAGEMENT. #sadface
Has that ever happened to you? It's disappointing!
Each social network has their own way of determining how many people see your content. Back in the day – there was no rule. MOST of your fans and followers would see your posts. Over the years, that has dwindled lower and lower – as organic content and paid content becomes the priority.
The more popular the networks are (adding thousands of new members daily, and the more competition you have – it's even harder to compete in the feeds!
The good news is, there is A LOT you can do to increase your engagement.
Social Media Engagement is SO important.
The more engagement you get on your content, the more people will see your content.
The more people that see your content, the more people see your products and services, the more people are going to buy from you. 
I put together my favorite 8 Social Media Engagement Hacks, Strategies & Tips to Boost Your Business in this post for you.
Here's the video that will break down how each of them work, plus examples, so you can implement asap and start hacking your way to the top of the social media news feeds.
Below we'll break it down even further for you!
Let's dive in to the social media engagement hacks to get you seen by more people.
Engagement Hack #1 : CONSISTENCY
I know, I know, you've heard this before. Maybe you've even heard me say it before…
But that's because LACK of consistency KILLS your reach. If you posted once last month and once this week – you'll see a huge drop in the amount of organic reach you get. You're telling the social networks, you're not very active on the platform. Therefore, they don't give you preference in the newsfeed.
You have to post consistently to not only hack your way through the newsfeed, but to be seen by more people.
Favorite Tool for Social Media Consistency: TASSI – You'll know what to post, when to post, AND you can even use the content that's already created FOR YOU and ready to be personalized to your business.
Engagement Hack #2: LEVERAGE YOUR PERSONAL PROFILE
For the most part, business should be done on your business profiles and personal should be done on your personal profiles.
Sharing your business posts to your personal profiles is a genius way to hack your way to more engagement.
This simple technique sparks higher reach for your post and if you get some engagement, it's going to then expand your reach and engagement even further!
If you want MORE engagement ideas, grab our FREE Welcome Pack of Resources, including done for you engaging status ideas!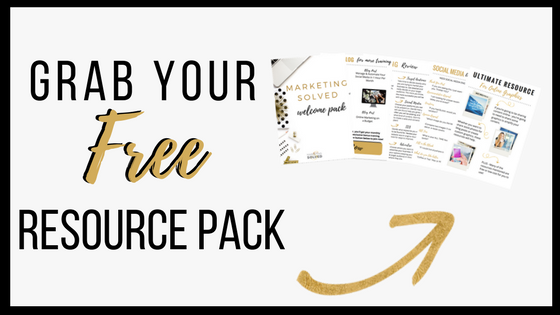 Engagement Hack #3: ENGAGE FIRST 
This is one of my favorites and one of the most EFFECTIVE.
Here's how it works: the social networks know your behavior. If you're simply a "passive user" just scrolling through the networks – NOT engaging, well, guess what happens when YOU post something?
You're not going to get any engagement!
You have to be engaging with other people to show the networks that you are an "active user" and then when you post, you'll be seen by more people.
Take 15 minutes before you post something important and go engage with other people. Leave thoughtful comments, like a few statuses, and be engaging! Then, when you post your content – you're telling the networks you're active and you will get your engagement on YOUR posts.
Now, watch the video training below and tune in to the 5:26 minute mark for a NINJA HACK on how to choose who you get in front on with your content.
Engagement Hack #4: COMMENTING AND INTERACTING AS YOUR BUSINESS
If you want more exposure for your business – get out there and interact as your business! You can do this easily by engaging as your business profile. You can do this on Facebook, Twitter, Instagram, Pinterest, & YouTube!
As your business profile – you'll want to engage first. Leave thoughtful comments, like posts, and even share.
This brings awareness to your BUSINESS profile and will start attracting people back to your business profile – where they can then connect with you!
While most of the networks – you'll have a business profile…
Here's a quick tip on how you can easily switch profiles on your Facebook page, to choose how you interact.
At the bottom of any post, you'll see a little circle option – this lets you choose what profile you're going to interact as.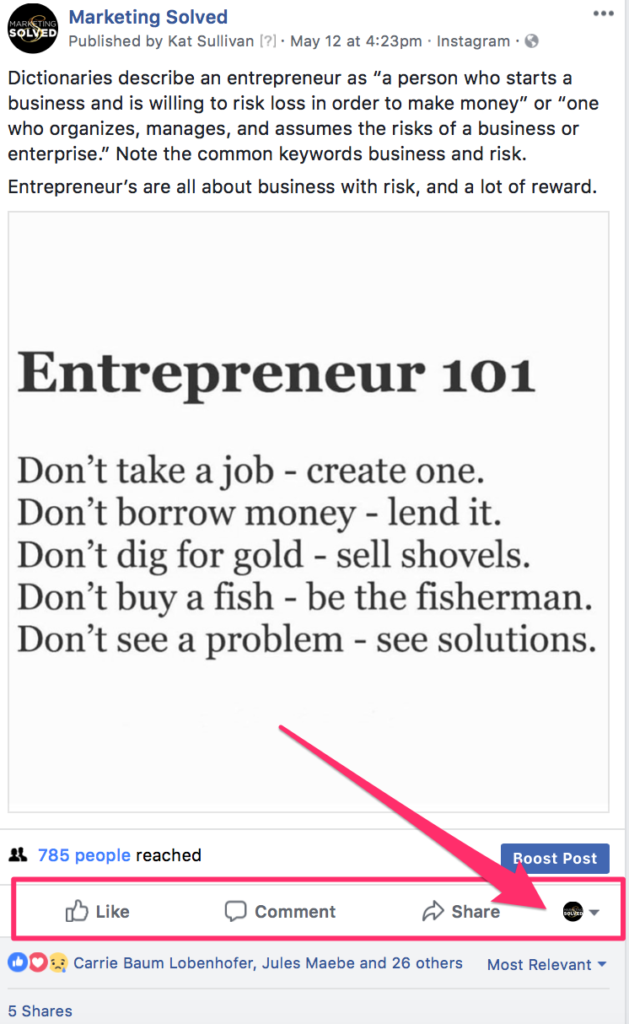 Once you select this, the dropdown menu will pop up and you can choose whether to interact as your personal profile or any of your business pages: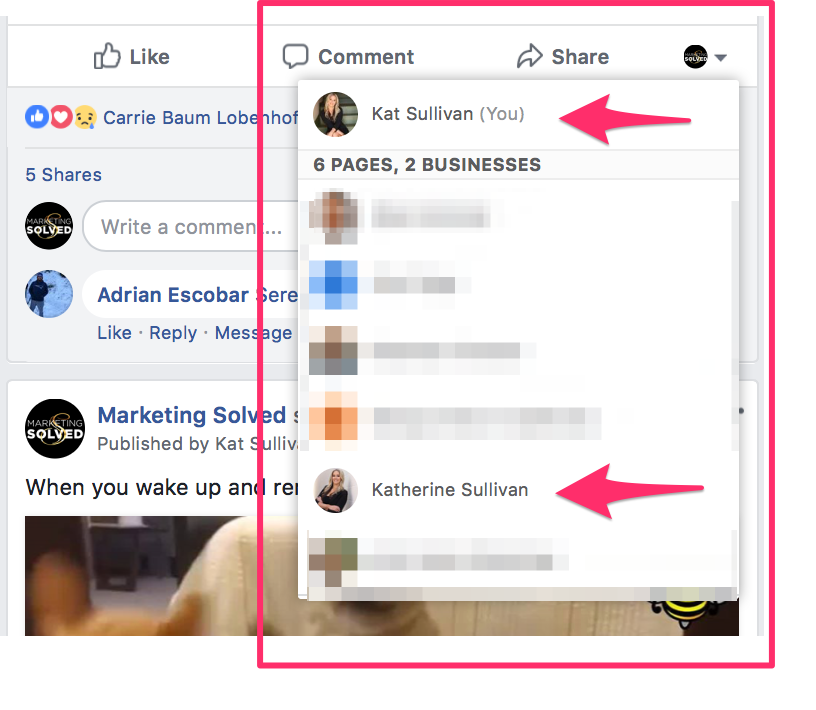 Now, watch the video training below and tune in to the 6:25 minute mark for another awesome tip about how to use this as a business to grow your influence!
Engagement Hack #5: FOLLOW THE FOLLOW 
This is a tip that's great if you want to grow your following.
The idea is that you take the first step in attracting followers back to you. The key is to identify the right type of followers to attract. Do this by focusing on industry influencers or brands that ALREADY have the followers that YOU want to get in front of.
If you are a fitness coach, you would look for accounts that are interested in fitness coaching. You might even consider brands like Lululemon or Nike. Then, you would follow the followers of those accounts. The fact that they're following Nike and Lululemon – tells you that they're interested in fitness. By following them FIRST, you attract them back to your profiles where they can follow you back and see all the amazing content you have waiting for them.
Perfect strategy to get targeted fans for your business! The more fans you have, the more engagement you'll have.
Engagement Hack #6: TALK TO PEOPLE, NOT AT THEM
Listen up – if you take anything of importance from this post – THIS IS IT.
You have to BE SOCIAL, on SOCIAL MEDIA.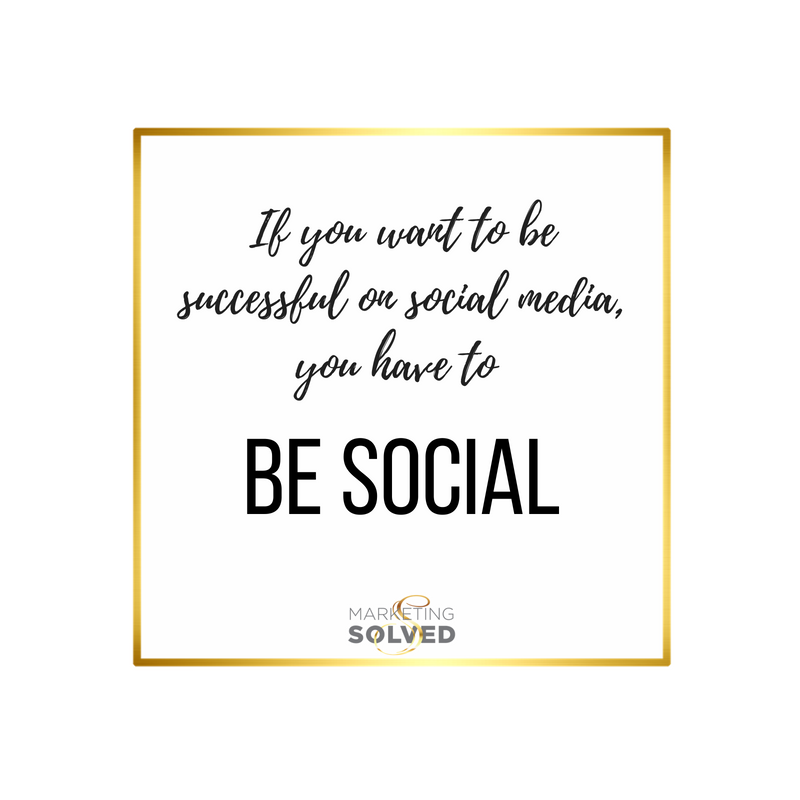 It's literally the most important part of your success.
This means to talk to people and with them.
Key Word there is "PEOPLE"
They may be "fans" and "followers" on social media but they are humans. Humans who want to be recognized, noticed, and appreciated. Click To Tweet.

When you are posting on social media – I can assure you, if you're not opening up the conversation for them – you are killing your engagement.
This means, posting with open ended questions and giving them reasons to comment, like, and engage.
TOOL TIP: TASSI gives you TONS of engaging statuses and graphics each month to help you really spark some engagement with your social media communities.
There's a PERFECT example of this on the video at mark 9:21 so you can see exactly how to implement this in your business.
Engagement Hack #7: COMMENT BUMP
One thing to understand is that each post you put on social media has a lifespan. A very short lifespan.
If you time your comments and responses right, you can double and even TRIPLE the amount of organic reach you get and engagement on each post.
Instead of commenting and replying right away – wait.
Wait until the lifespan of the post is almost up…then go in and start replying to the comments.
This actually bumps your post back up the newsfeed showing it to even more people – so more people can like and comment.
All by strategically timing your responses.
Try it – you'll be surprised how this can increase your engagement and reach…for FREE.
Engagement Hack #8: LEVERAGE FACEBOOK GROUPS
Very much like leveraging your personal profile – you can leverage Facebook groups in the same way.
If you're looking for a smart way to increase your engagement, share your posts into Facebook groups. This could be your Facebook group or a group you're a member of (Like the amazing Marketing Solved Group – JOIN HERE)
By sharing posts into groups – you immediately expand your audience and reach… and engagement.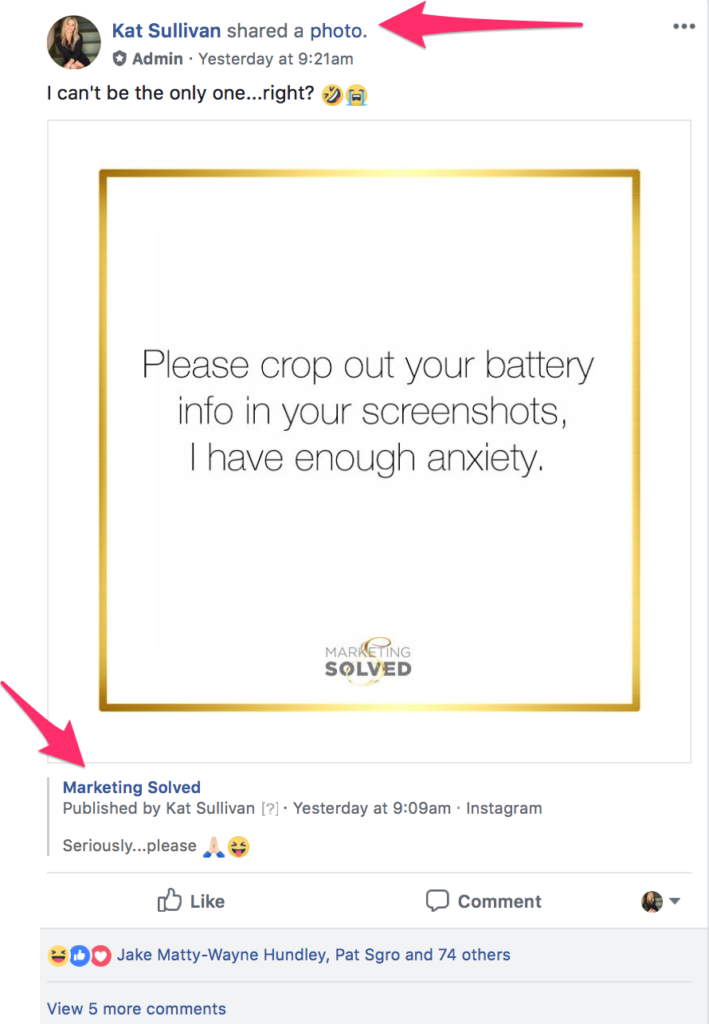 See how simply sharing a status can expand reach? Organically?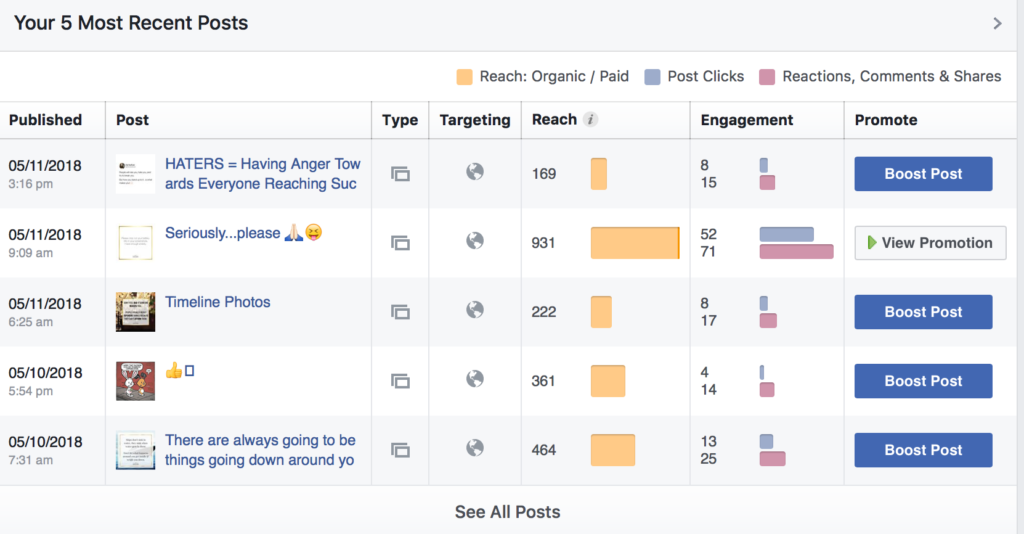 Leverage ALL the assets you have available to get more engagement on your content.
Now, you've seen all 8 Engagement Hacks – here's the video that shows you more examples, tips, and strategies on how you can implement them
Be sure to let us know which social media engagement hack was your favorite!
If you want MORE engagement ideas, grab our FREE Welcome Pack of Resources, including done for you engaging status ideas!