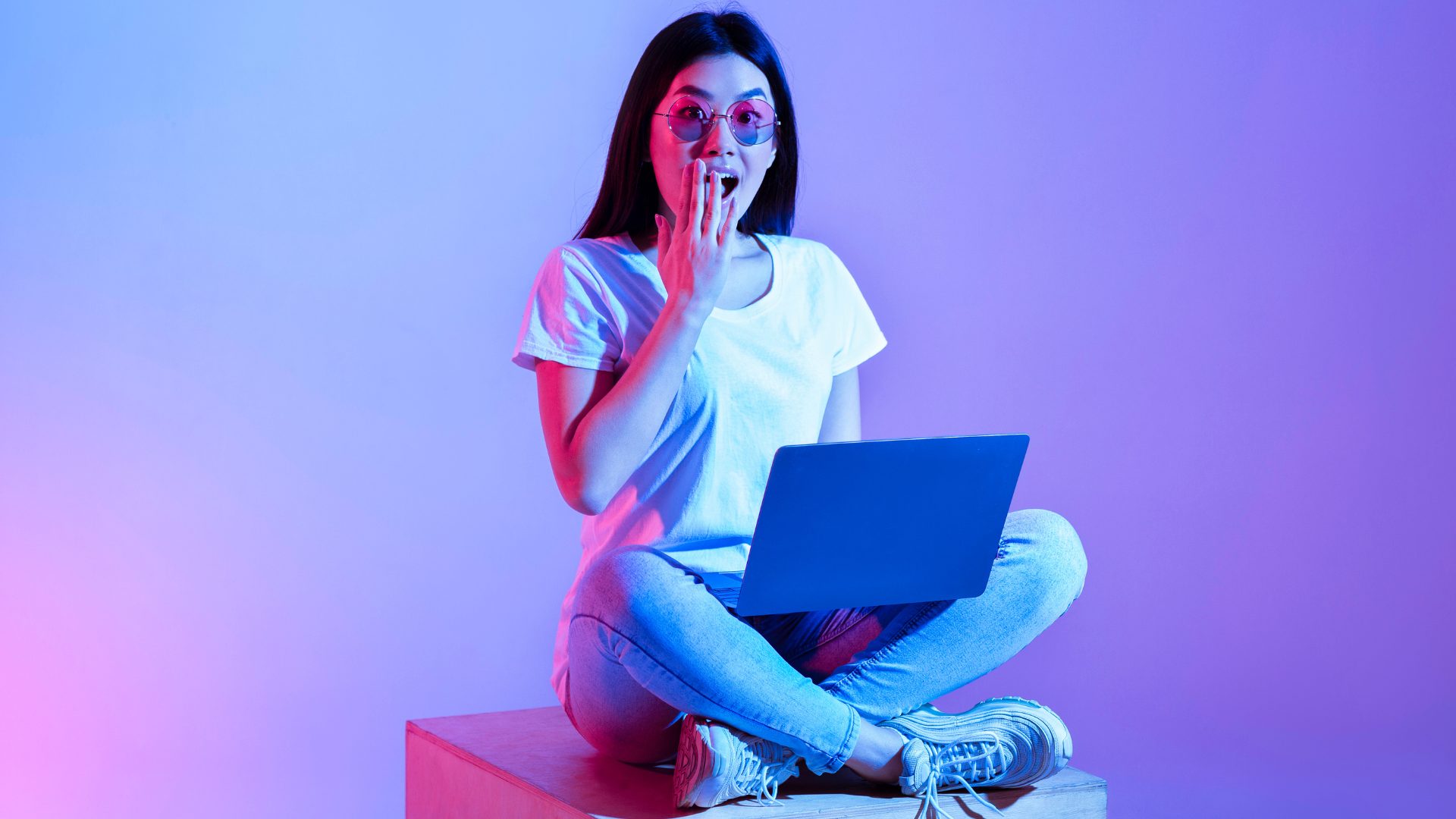 Selling digital products on social media is a great way to make some extra money. Whether you have an established business and are looking to create new products to sell, digital products are the way to go. A main reason we support selling digital products is because they are created at no cost and can be sold an infinite amount of times. Meaning, higher profits! Before we dive in to the 50 Digital Products to Sell on Social Media, here's a little background on the first two products we ever sold here at Marketing Solved, that were digital products.
The first digital product we ever created was a  5 Day Social Media Jumpstart guide, created, designed, and wrote – in Canva. The second was a masterclass recorded with powerpoint slides, a webcam, and a screen recording software called Screen-cast-o-matic. As a result of these digital products, we have generated hundreds of thousands of dollars. In other words, we are firm believers in their success.
What is a Digital Product?
If you're unsure what a digital product is, it's basically an intangible product that can be sold in a digital format. These can be created digitally, sold digitally, and downloaded by the customer. For now, think of products like ebooks, courses, and templates as good examples of digital products that are popularly sold on social media. Once a customer pays for a digital product, they receive a link to download it. Many digital products are delivered via email. Customers can also access their purchase through a website or app. Additionally, many sellers offer bonuses with the purchase of a digital product. These bonuses may include PDFs, audio files, or video content.
Therefore, digital products are a phenomenal product to sell on social media. Social media has truly changed the way we do business. In the past, businesses were largely reliant on traditional marketing techniques to reach their target audiences. However, with the rise of social media, businesses now have a whole new platform to sell their products and services. Not only is social media incredibly efficient, but it's also extremely effective – especially for digital products because of how easy it can be to reach wide audiences. In other words, if you're looking to boost sales, then selling digital products on social media is going to be a great option for you.
We have a 100% FREE Guide that shows you how to automate the entire process of selling digital products online!
Download the Ultimate Guide to An Automated Online Business Here
Ready to start creating digital products to sell on social media?
50 Digital Products to Sell on Social Media
1: E-books (Cookbooks, Fictional, Non-Fiction, Educational)
Probably one of the most common as there is a wide range of E-books to create and sell. Canva has free templates you can use directly in their platform. Or, write an E-book in a word processing program and have a freelance designer from Upwork or Fiverr, format the word document into a digital e-book format.
A HUGE benefit to creating E-books is that they can also sell on large marketplaces, like Amazon. Giving you an opportunity to get in front of a limitless audience. This simple search showed over 70,000 results covering a wide array of e-book topics.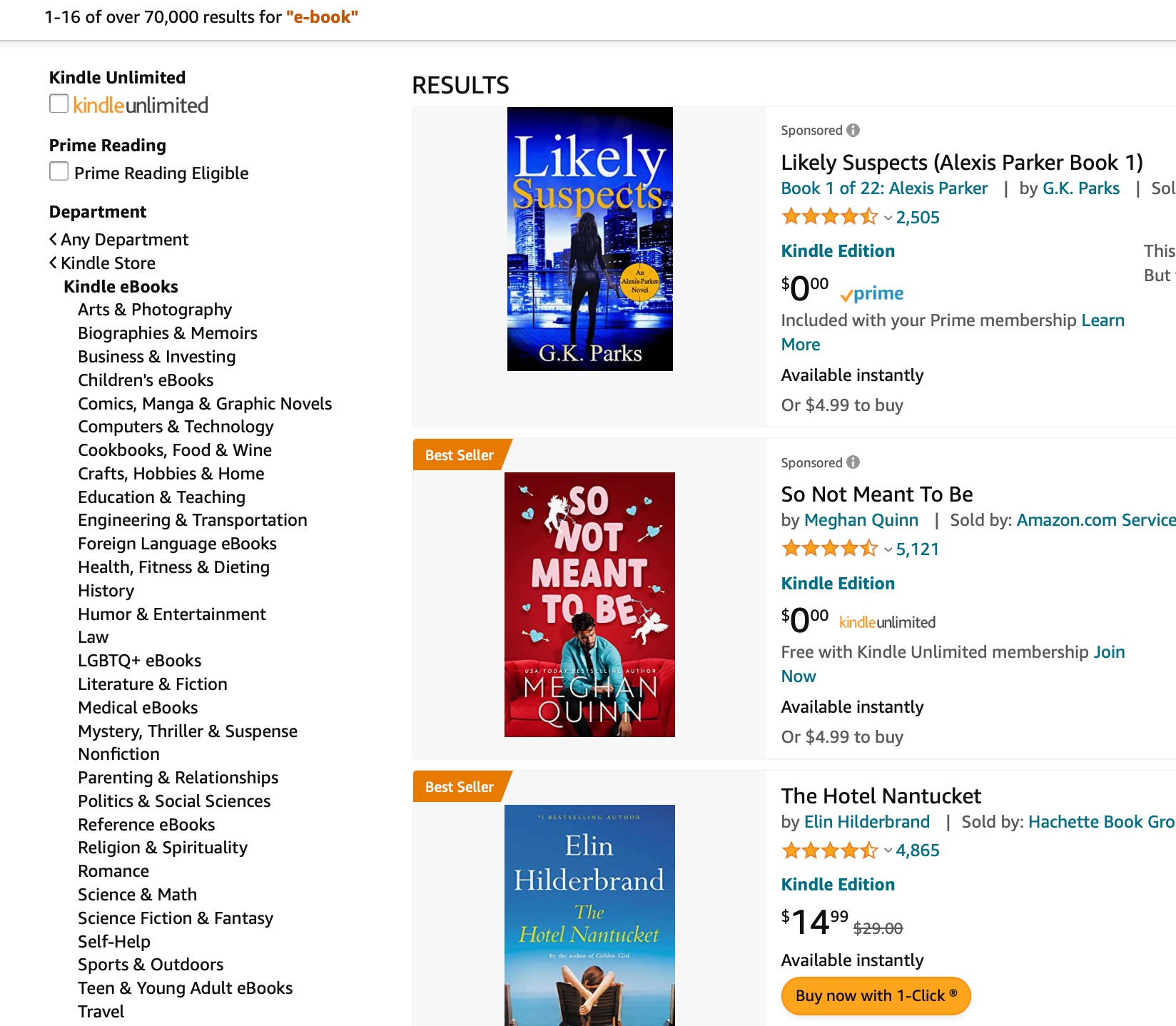 2: Guides (Travel Guide, Nutrition Guide, Social Media Guide)
Guides are another favorite because of how easy they are to create. As mentioned earlier, our 5 Day Social Media Jumpstart Guide was one of my first digital products and it brought in thousands of revenue.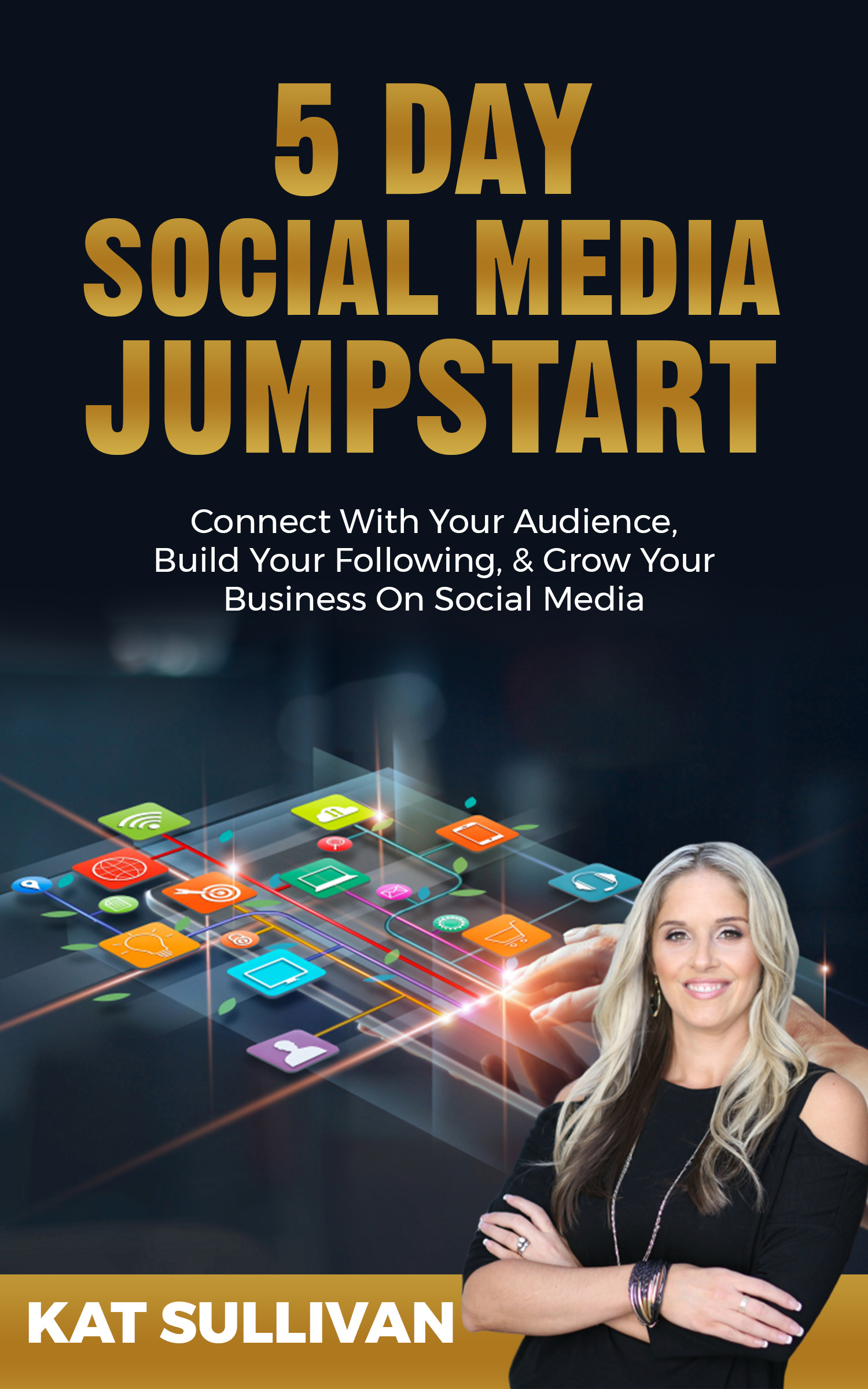 Get creative and create a bundle of guides to sell together. For example, if you're in the health and wellness space, create a bundle including a Shopping Guide, Workout Guide, & Nutrition Guide. Giving someone more value while increasing the price…and profits.
3: Online Courses (How to Invest in the Stock Market, Learn Online Marketing, Starting a Podcast)
As you can see from our programs page, we are huge fans of creating and selling online courses on social media.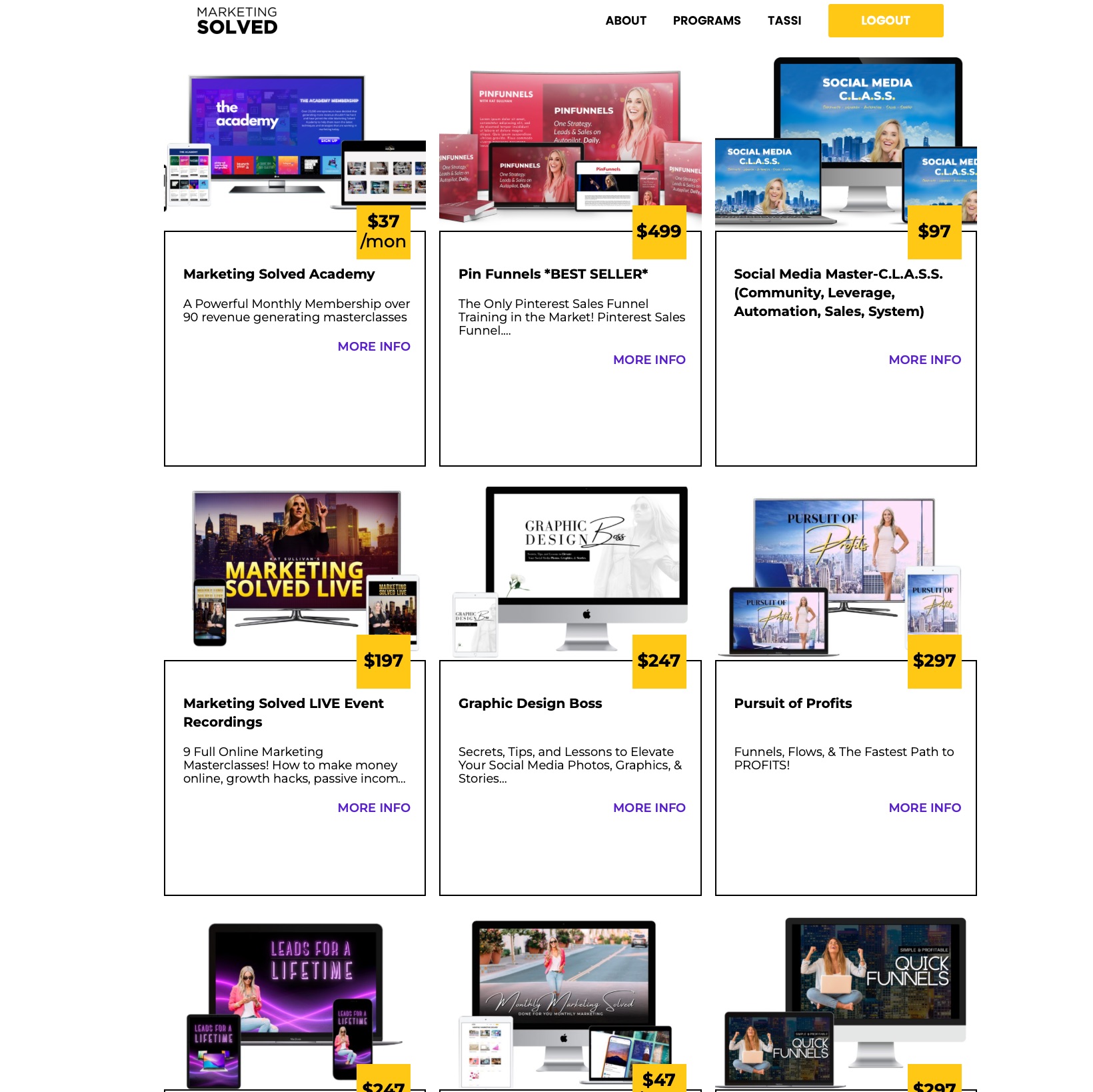 There are a lot of reasons to create and sell online courses. First, teaching at your own pace, on your own time, and from the comfort of your own home. Not to mention, online courses are often more affordable than traditional courses, giving access to a wide audience of buyers. One of the best things about teaching online courses is the ability to tailor the experience to your own expertise and passions.
4: Video Masterclasses (Guitar Lessons, Marketing Lessons, Manifesting Videos)
Video Masterclasses are a perfect digital product to sell on social media. They are the great way to learn from the experts. They average between 45-120 minutes and are typically highly informative, engaging videos, to  provide an in-depth training for a particular subject. Whether you wan to teach cooking, photography, or web design, there's sure to be a video masterclass to create and sell online. And best of all, with the power of social media, these classes can be sold anywhere in the world.
Take a look at the example from Fender below. They provide a membership selling a bundle of lessons (masterclasses), that cover a wide variety of instruction.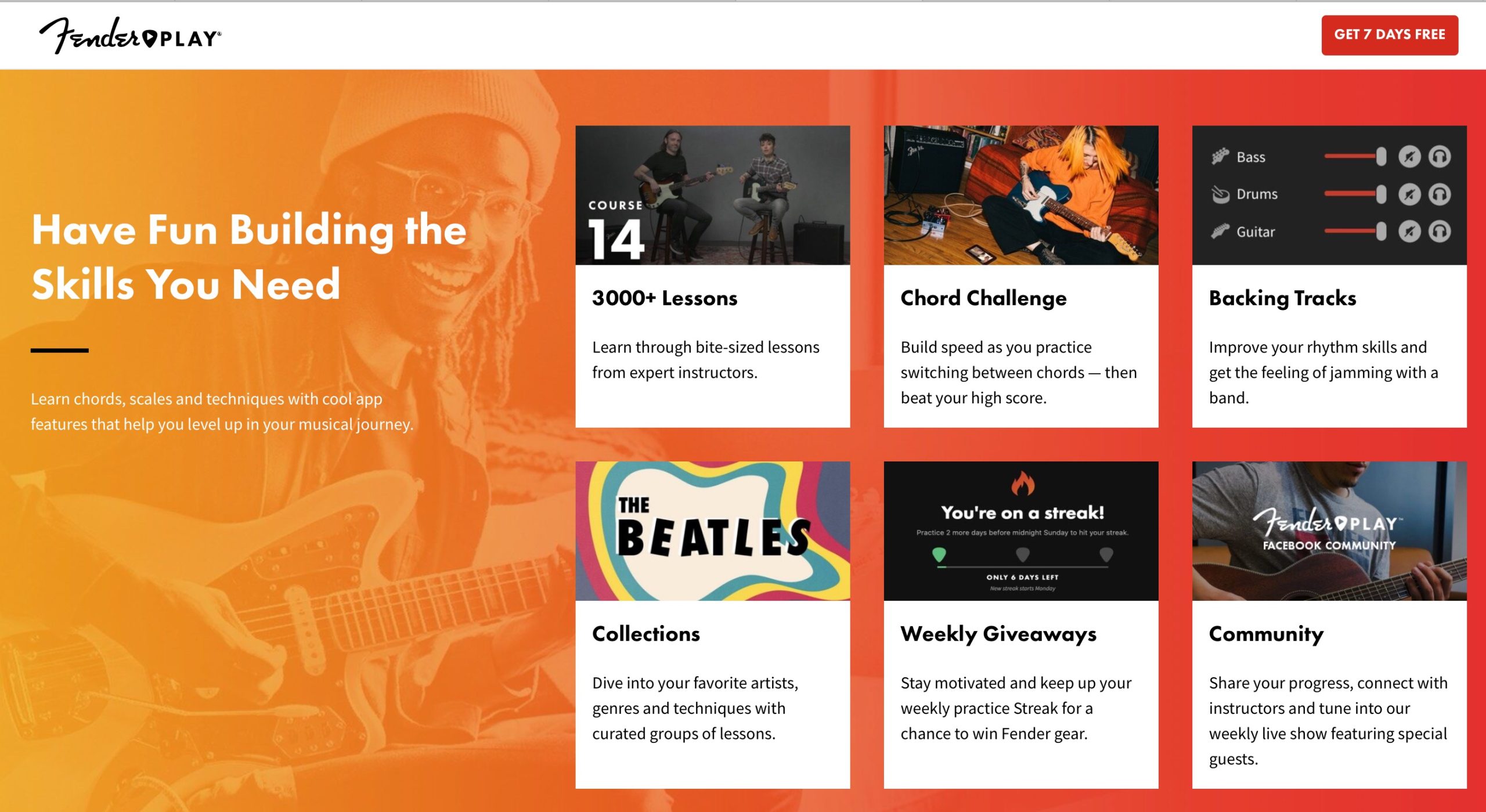 Members can dive right into the speciality they are eager to learn. Sell these individually, or as a membership, or even as a bundle. There's a lot of opportunity to sell video masterclasses on social media and make a profit.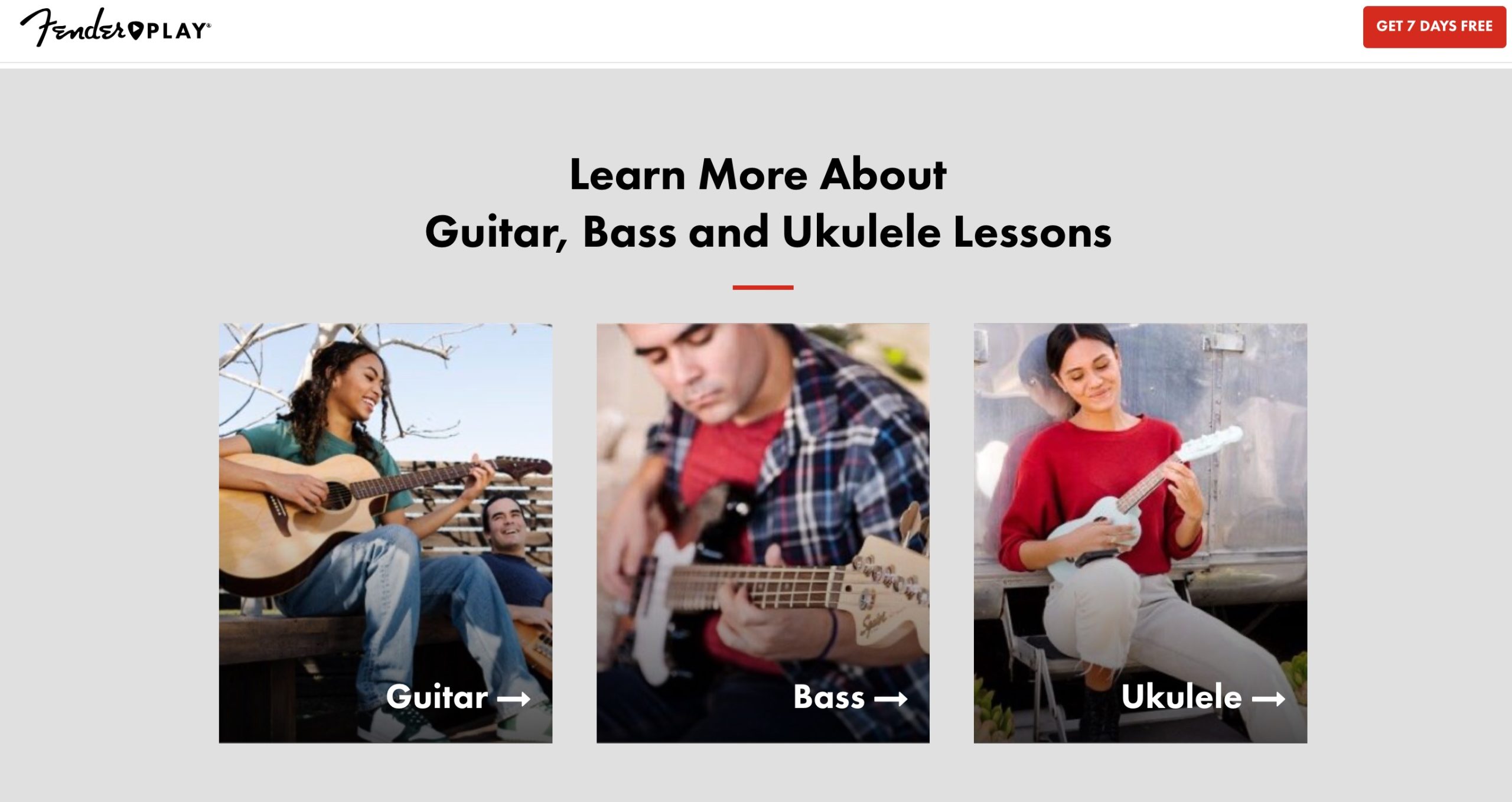 5: Video Tutorials (How to Use Excel, Makeup Tutorial, Organizing Tips)
Here's a great example from Udemy, on creating and selling a video tutorial. This could technically be considered a masterclass, but this focuses more on a step by step, "how to" format that teaches how to use something. They're also very affordable and power packed instructionally.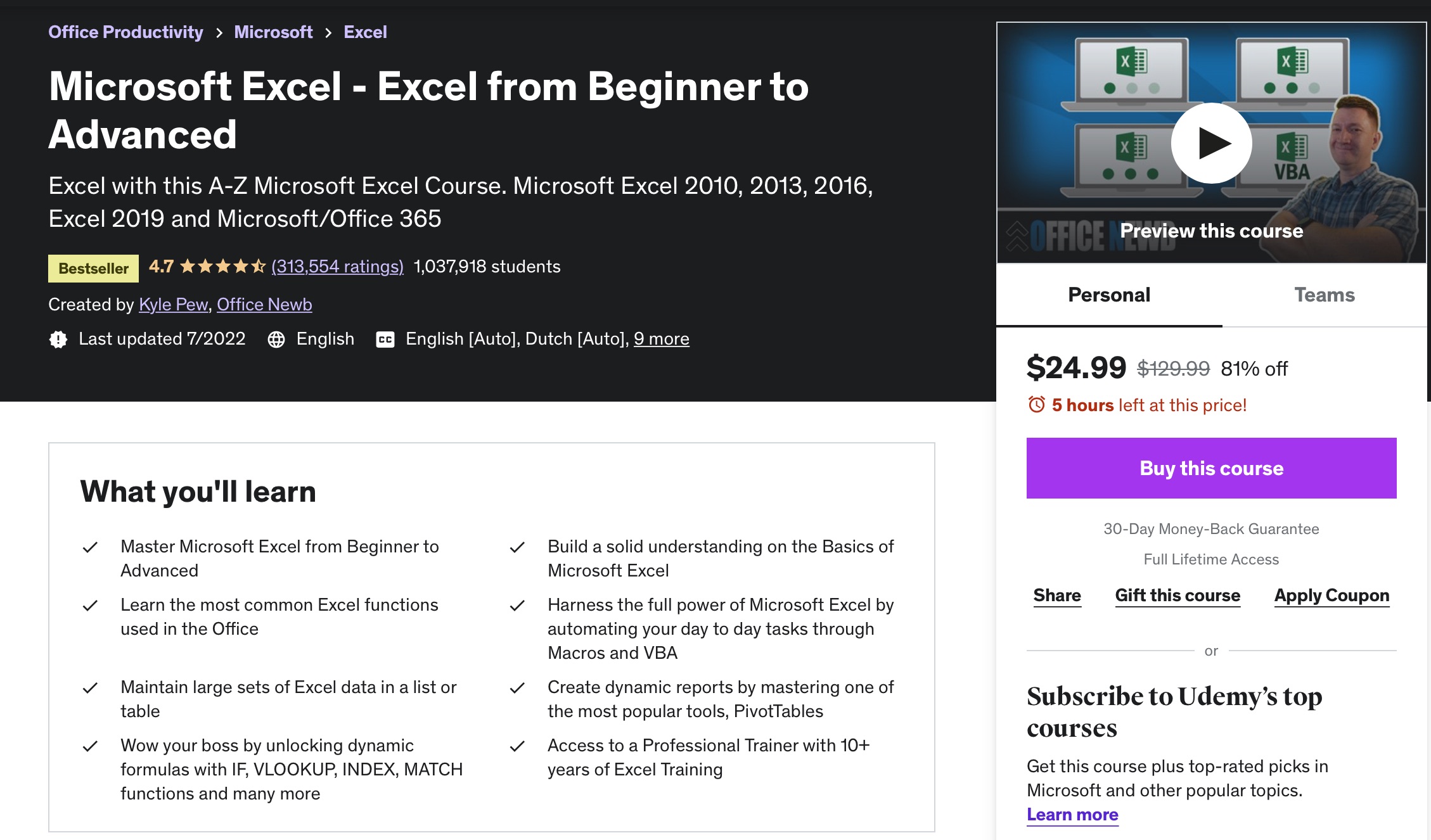 6: Video Series (How to Lose 7 Pounds, Get Out Of Debt, Build Your First Website)
Want to deliver information over the course of a few days? That's where video series come in. A video series is a collection of videos that are related to each other, typically around a central theme or topic. These are created by individual creators, organizations, or partnerships. Decide if the video series should be released at once dripped out over a particular time frame. Video series are an excellent option to teach a new topic, educate about a new hobby, or just be entertained. These are easy to create with a simple webcam and recording software.
7: Lists (Packing Lists, Shopping Lists, Organizing Lists)
Are you organized? Do you love lists? Can you help someone else with your list skills? Well, creating lists might be the perfect digital product for you to sell on social media. These are easy to create with Canva or Photoshop and can be designed across a WIDE variety of niches and topics.
Etsy is a fantastic marketplace for digital products. These are created by people like me and you, you can promote them on social media, drive traffic to your shops, where you can complete the transaction automatically with digital delivery. It's a great option because you can create these once and sell them limitless times.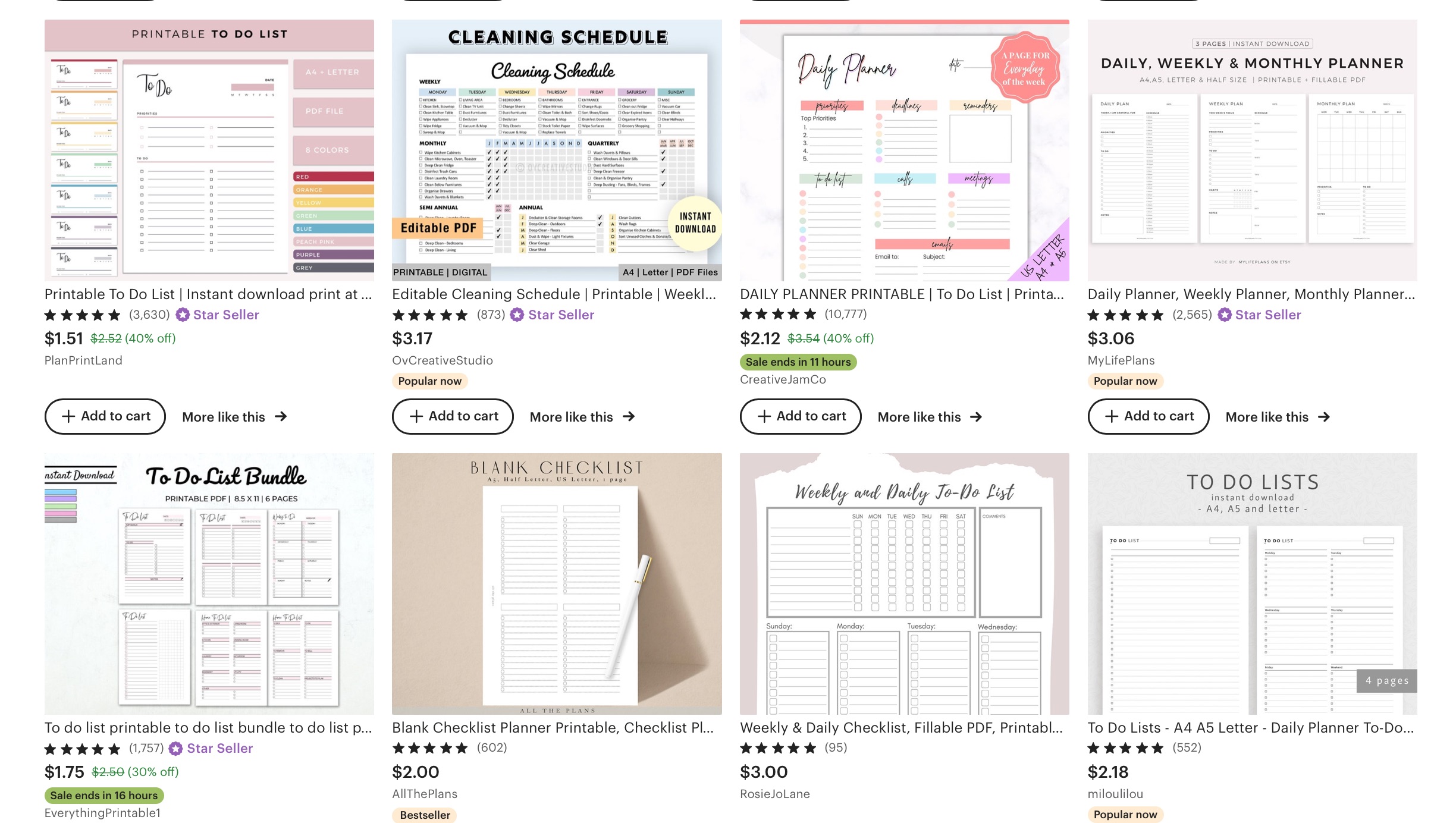 8: Templates (Social Media, Planning, Canva Templates)
Templates are one of the most popular digital products to sell on social media. With a little effort, creators can put together unique designs for a variety of needs, that people will be happy to pay for. Basically – the creators design and format templates and then sell it. The buyer can customize the template for their business.
There's no need to worry about inventory or shipping – once you've made your sale, the buyer can download the file and print it out at their convenience.
Creative Market is a great starting point and has an extensive marketplace filled with templates that can spark some inspiration. Once you've got the hang of it, it's surprising at how easy it is to create professional-looking designs. And, with a little practice, creators can turn this one skill, into a full-time income!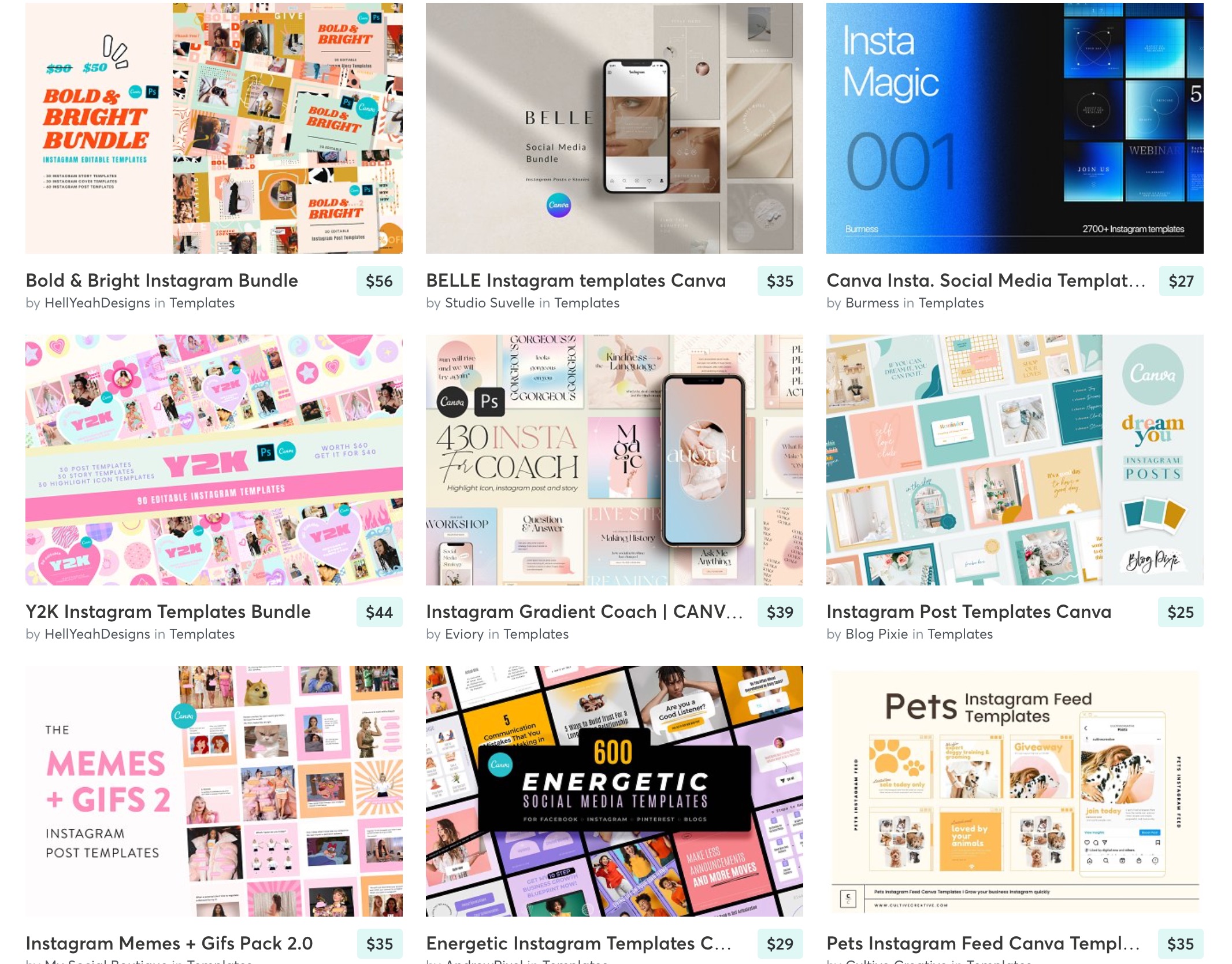 9: Social Media Graphics (Done For You Packs, Infographics, Banners)
Another one of my favorites is the "Done For You" graphics. Our most popular program when we started on social media, was Monthly Marketing Solved. A collection of 1000+ Done For You Social Media Graphics, Pre-Written Social Media Statuses, Promotional Content, and so much more.
This is a huge time saver for clients which makes it an easy sale.
10: Worksheets (Homework Worksheets, Handwriting Worksheets, Therapy Worksheets, Financial Planning)
For educators, teachers or tutor looking to make a little extra cash, selling worksheets on social media is a great way to do it! There are millions of teachers and parents searching for quality educational resources online, so there's a huge market for these products. And the best part is that it's easy to reach a global audience with just a few clicks. Just create an account on a popular social media platform, upload the worksheets, and start promoting!
11: Printable Planners (Food Planners, Workout Planners, Marketing Planners, Shopping Planners)
Even though we live in a digital age, there is still something to be said for physically writing down your plans and thoughts. This is where printable planners come in! By providing digital versions of well-designed planners, customers can get the best of both worlds- the convenience of being able to print out their planner at home, and the freedom to choose which version works best for them.
The examples below display a Life Planner, Wellness,  Book Journal, Meal Planner, Passion Planner…and this is just a snapshot.
Printable planners are a great way to stay organized and on top of ever changing schedules, and selling them as digital products is a great way to make some extra money!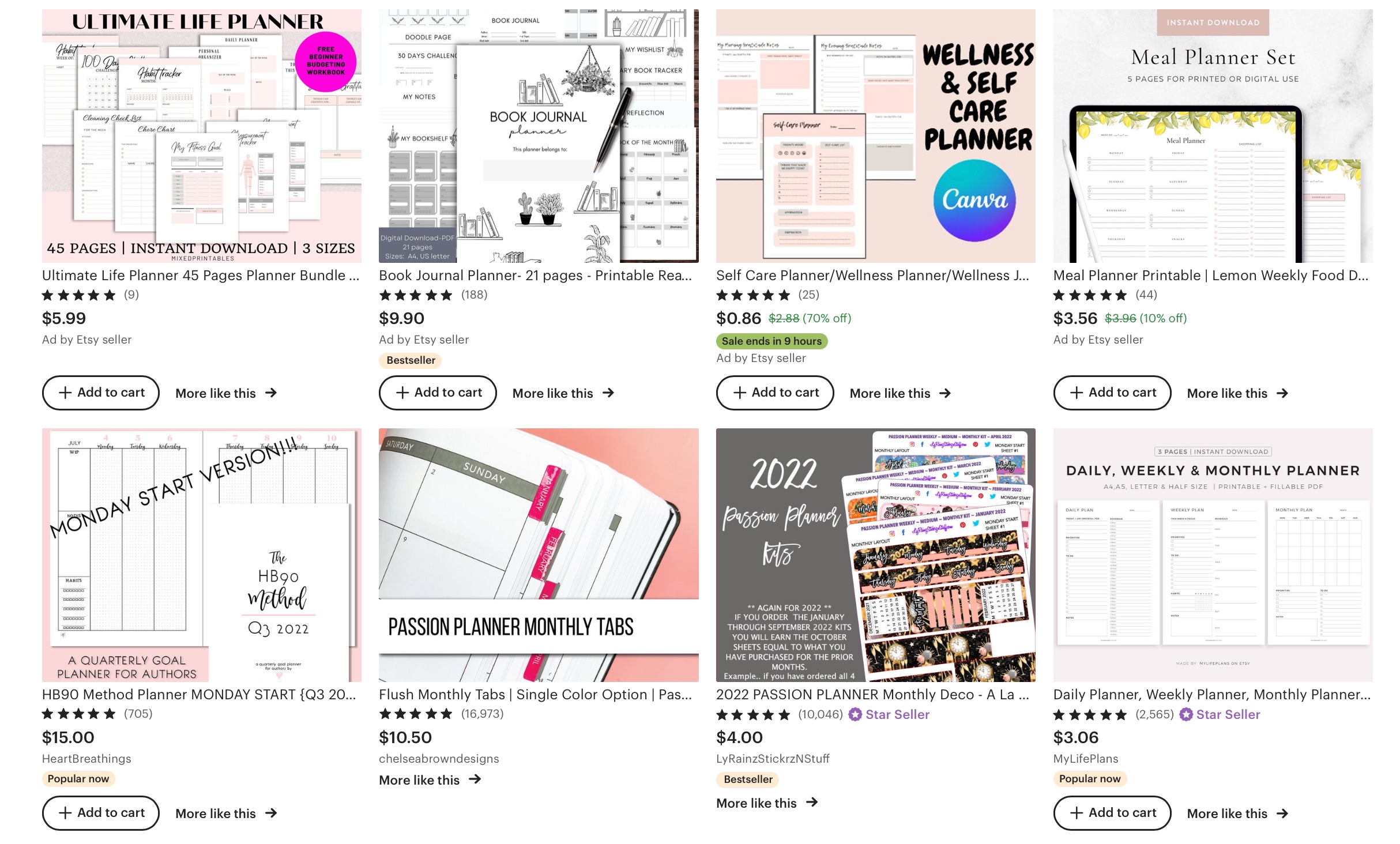 12: Printable Journals (Manifestation, Personal Development, Financial)
Similarly to the Printable Planners, you can also design and create Printable Journals as a digital product to sell on social media. If you want to stand out from the competition, create bundles of your digital products to include multiple items in one bundle.
13: Email Templates
A lot of businesses don't have time to create and design their own email templates. This is where selling Email Templates comes in. Whether you're selling a simple newsletter template or a more complex marketing email, you can create a variety of templates to suit your clients need. And best of all, creating templates is very affordable.
14: Idea Sheets (Social Media Statuses, Blog Post Titles, Email Subject Lines)
These are done for you pieces of content where experts can brainstorm ideas for a particular niche or client. Can you come up with 50 ideas for a brand to create TikTok videos? Or can you suggest new marketing ideas for a business? Or can you suggest 20 places for families to visit on vacation? There's always people out there looking for detailed information that can help them save time and get more information – without having to do the heavy research. If you're great with brainstorming, this would fill the need for people looking for refreshing new ideas.
Branding & Print Products:
An easy way to break into selling digital products on social media are with Branding & Print Products. Essentially, this is designing a wide variety of printable products, from invitations to thank you cards or logos and branding kits. The best part is that these products can sell without having to invest in any inventory. Creators will need a design software and a computer. Lastly, designers create the assets, list them for sale on sites like Etsy or Creative Market and of course, promote the products on social media. Since there's no overhead costs, keep all of the profits for yourself.
15: Business Cards
16: Style Guides
17: Invitations
18: Thank You Cards
19: Personalized Stationary
20: Branding Kits
21: Logos
22: Notebooks

23: Flyers & Brochures
24: Announcements
25 Printable Calendars
26: Sticker Files
27: Printable Wall Art
28: Coloring Pages
Creative Assets:
Anyone with a creative bone in their body can design and sell their assets online. There are now more opportunities than ever. With the rise of digital platforms and the growing popularity of DIY culture, there is an exploding market for creative assets. These include digital illustrations, digital patterns, digital textures, digital wallpapers and so much more. If you have a knack for creating any of these things, then selling them online could be a great way to earn some extra income.
Marketplaces like Creative Market, Etsy, & Envato Elements are filled with ideas for creative assets you can create and sell on social media.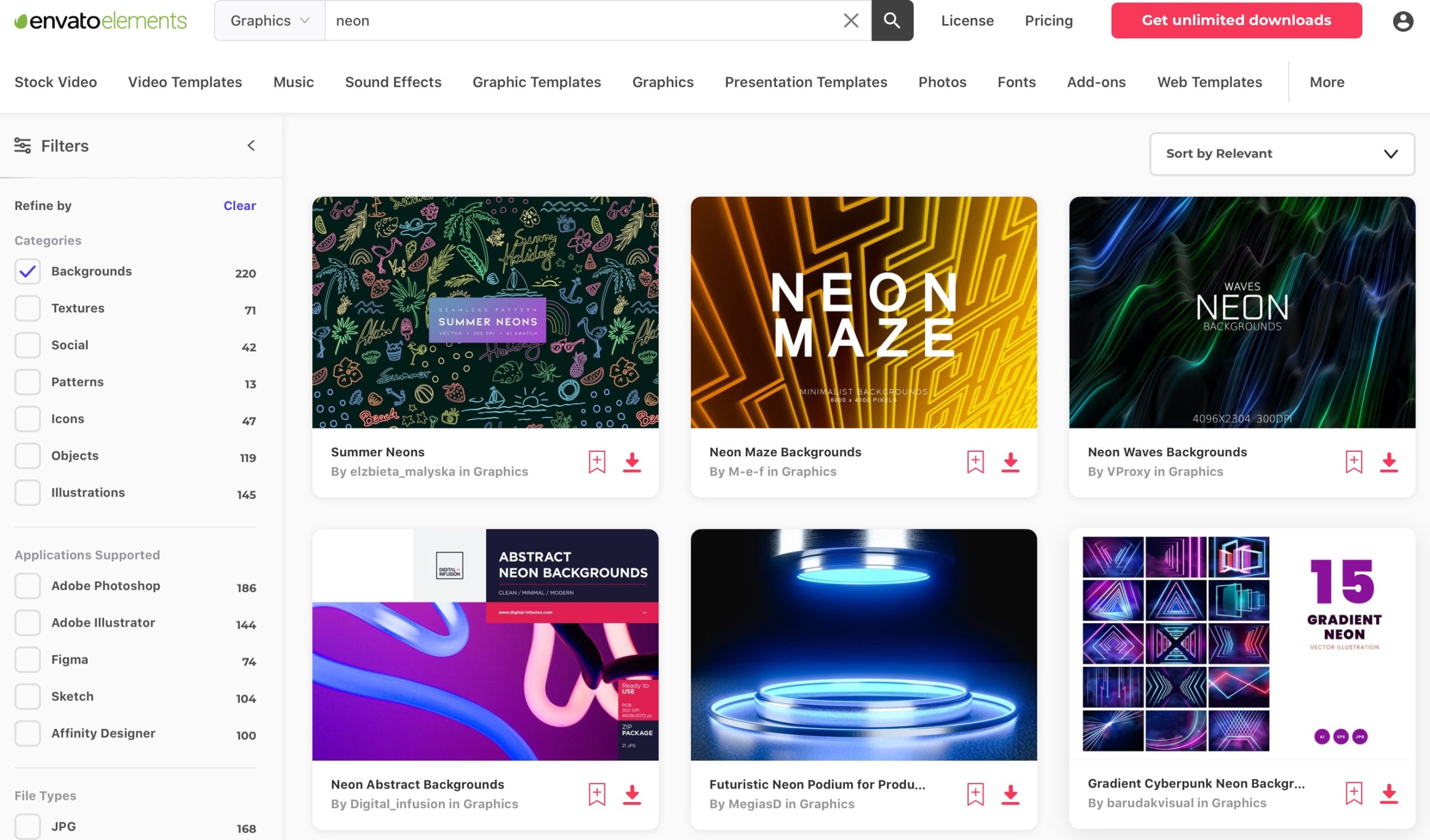 Here are 11 different digital products in this category: 
29: Digital Wall Papers, Zoom Backgrounds, Digital Prints, Digital Artwork
30: Textures
31: Patterns
32: Icons
33: Illustrations
34: Cartoons
35: Frames
36: Backgrounds
37: Fonts
38: Mockups
39: Patterns (Sewing / Embroidery / Quilting / Bracelets)
Done For You Digital Assets:
40: Digital Magazines (And Templates)
41: Ebook Templates, Guide Templates, Workbook Templates
42: Powerpoint
 

& Keynote Presentations (And Templates)

 
43: Homework Worksheets
If you're a teacher or tutor looking to make a little extra cash, selling worksheets on social media is a great way to do it! Millions of teachers and parents searching for quality educational resources online, meaning there is a huge market for these products. And the best part is that you can reach a global audience with just a few clicks. Just create an account on a popular social media platform, upload your worksheets, and start promoting!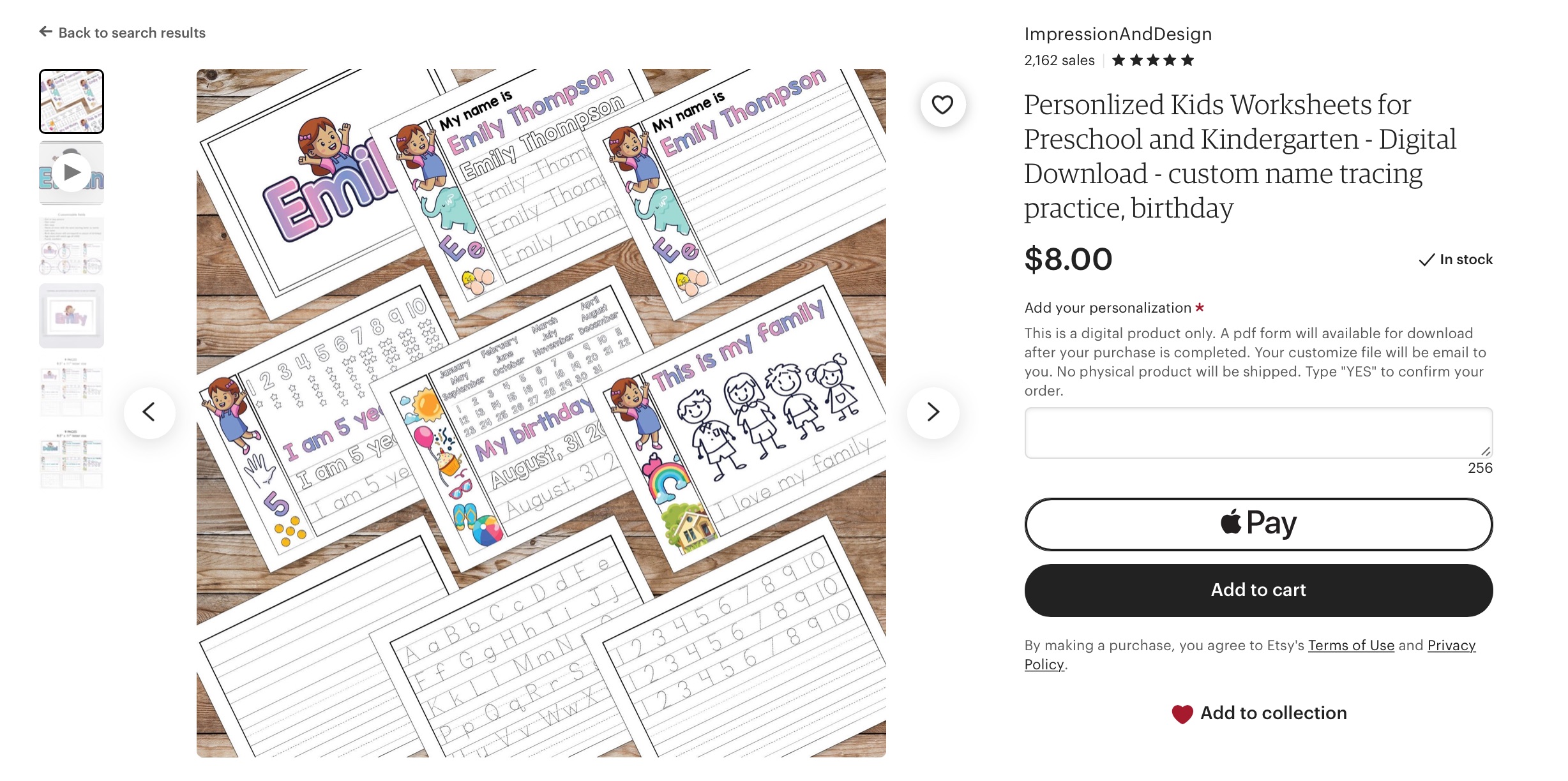 Photo & Video:
Without a doubt, creating photo and video assets is an excellent option for talented creatives. The photo & video umbrella contains quite a few digital products that can be created once and sold multiple times on social media. Decide whether to go with a wide audience like "nature" videos, photos, and sounds. Alternatively, creators can get granular and niche down to "Ocean" videos, photos, and sounds. Use marketplaces to sell these assets or  sell them to larger marketplaces like Shutterstock or Adobe Stock.
44: Stock Photography
45: Stock Video
46: Video Templates
47: Digital Music
48: Sound Effects
49: Presets
50: Video Transitions
There you have 50 Digital Products To Sell on Social Media
If you want to learn how to sell these digital products on autopilot, click here to download the free guide that shows you exactly how to sell these digital products on social media.
In conclusion, the opportunity to turn digital products into profits is endless. To quickly recap the plan for creating digital products to sell on social media: decide which types of products to create, create them, market & promote these products on social media. Join in this 800 billion dollar industry by continuing to add new digital products bulding a suite of assets that can generate a full time income.