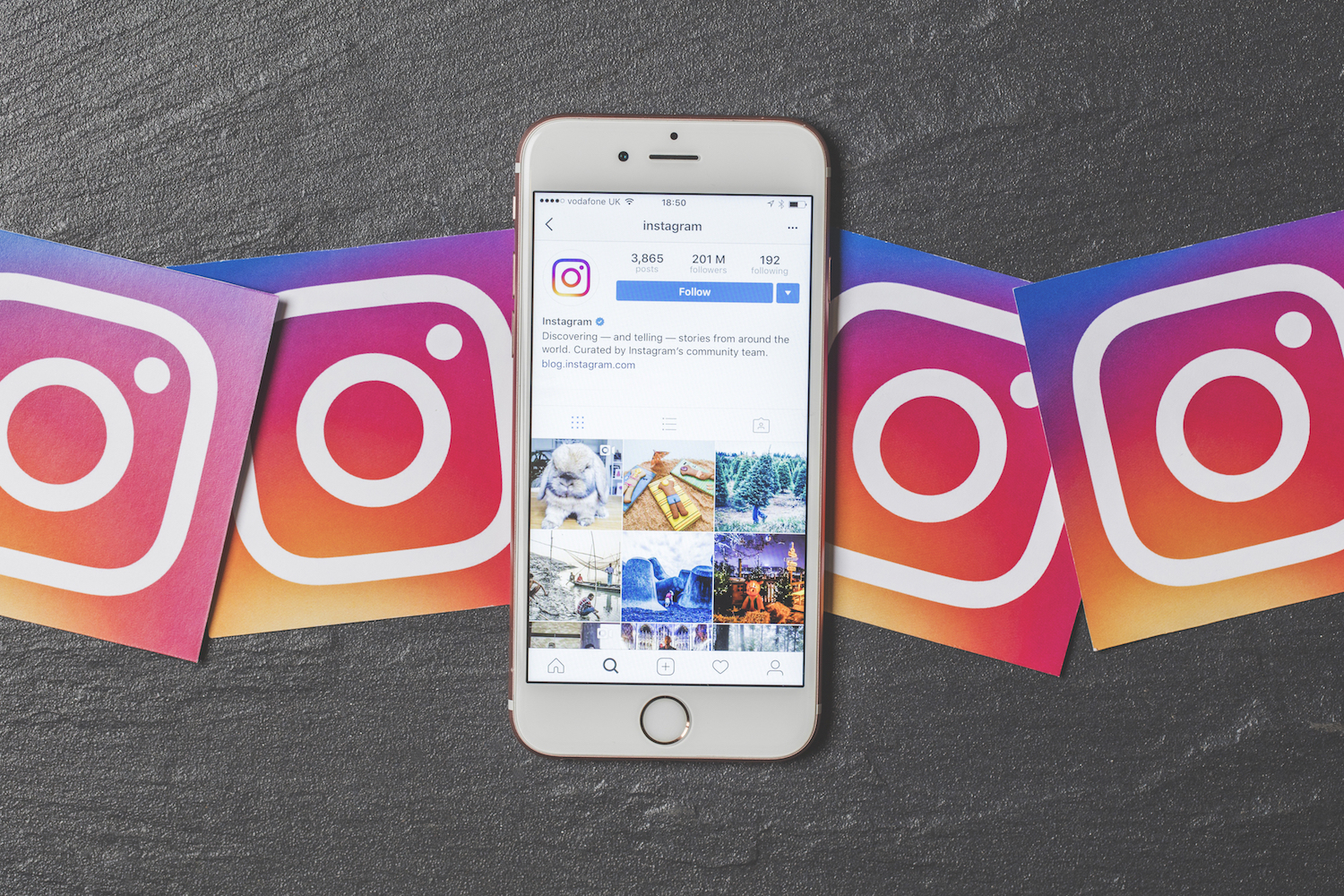 Since Instagram stories broke into the social media world, they've take off in popularity. Literally.
Recently, they surpassed 250 million DAILY users! While it's a favorite for IG users, it's a brilliant new playground for businesses.
They're still the new kid on the block when it comes to digital media, which means there's A HUGE opportunity for you to get in there now, as an early adopter and start establishing your brand as an influencer and a leader.
Now, you might be thinking – NO…not MORE social media content we have to create! Trust us, we get it. We have entire program creating content for small business owners. (You can get in on that right here)
Once you get the hang of Instagram stories, you're going to loveeee them. And, the good news is with a few key content ideas and tools, you'll be able to knock out IG stories like the pro's.
Here's 25 Instagram Stories You Should Be Creating
1. Your BLOG Content! You can definitely leverage Instagram stories to drive traffic to your blog. You can direct people to click the link in your bio or if you have a business account and more than 10,000 followers, you can actually include links directly with your IG stories!
Brit + Co shares their new articles every day with clever templates making it easy for people to decide what they want to read.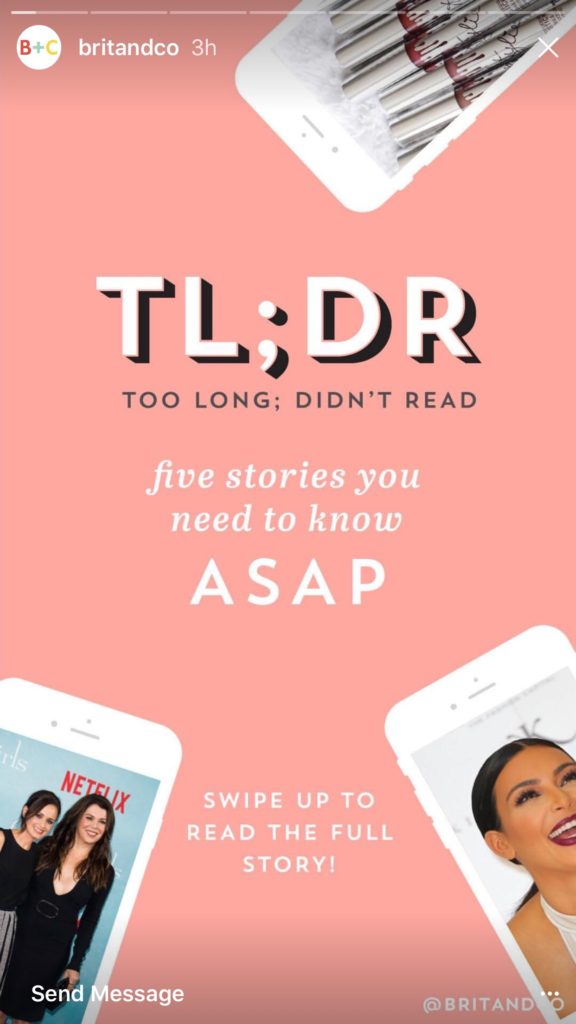 2. Announcements –  Business News, Industry Changes, New Products/Programs/Events this is your chance to share with your fans!
Create + Cultivate used announcements to let fans know where their iconic events would be held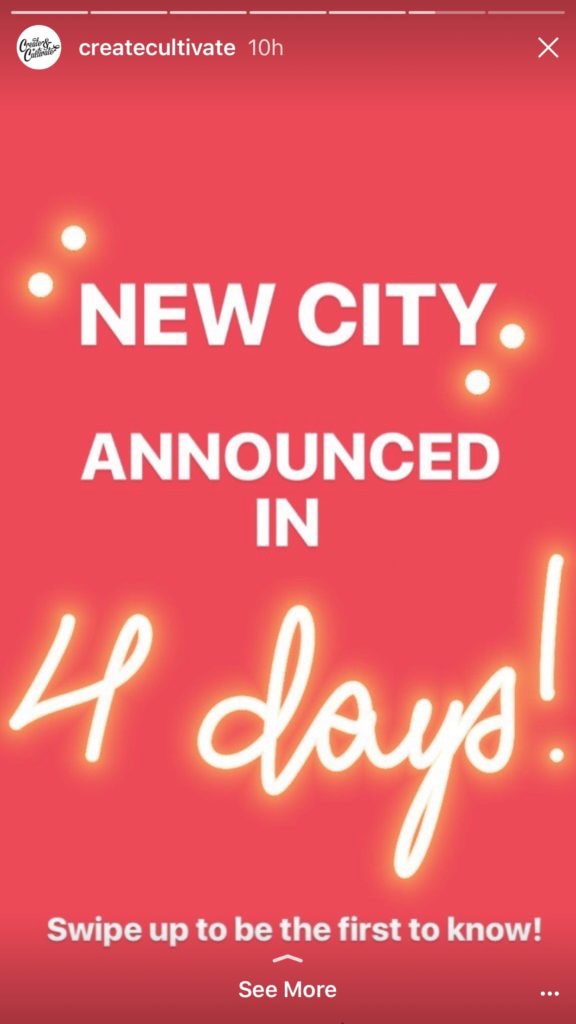 3. Tips + Hacks – No matter what type of business you have, people LOVE to get their hands on bite size tips or little hacks. Share em if you got em! (This is one of the most requested types of content we get at Marketing Solved)
Emily Ley aka the Queen of Simplicity shows how easy it can be to share a quick tip to help her fans with their organization.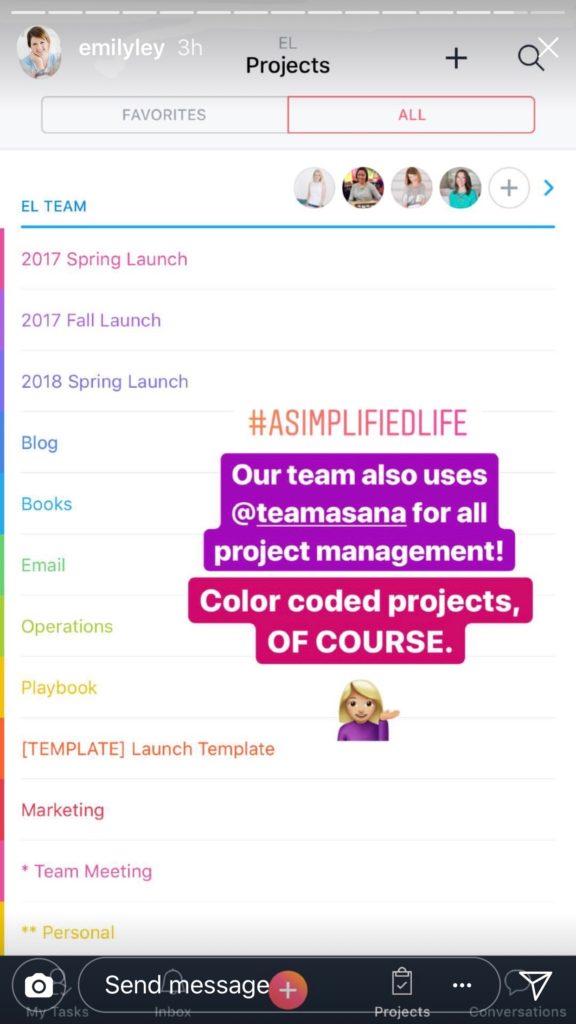 4. Giveaways – This is a FAN FAVORITE that anyone can do. You can either have people enter directly on your Instagram account or send them to your website to enter like thriftsandthreads does in this example.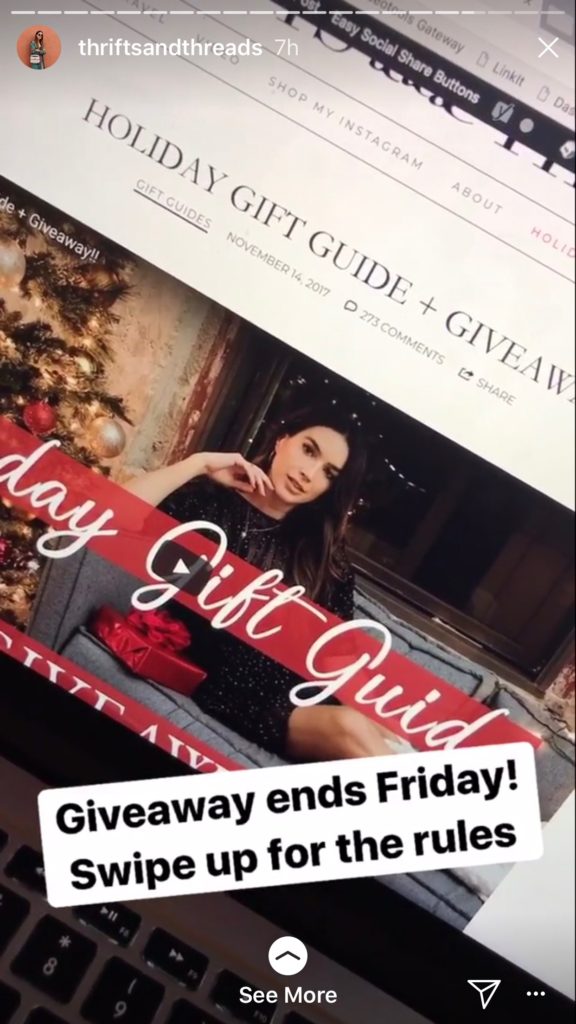 5. Engagement! Instagram stories have a built in POLL feature to make it EASY PEASY for your fans to engage with your content. You can use your polls strategically to learn more about your fans and what they want to engage with, like our friends at hubspot did in this example.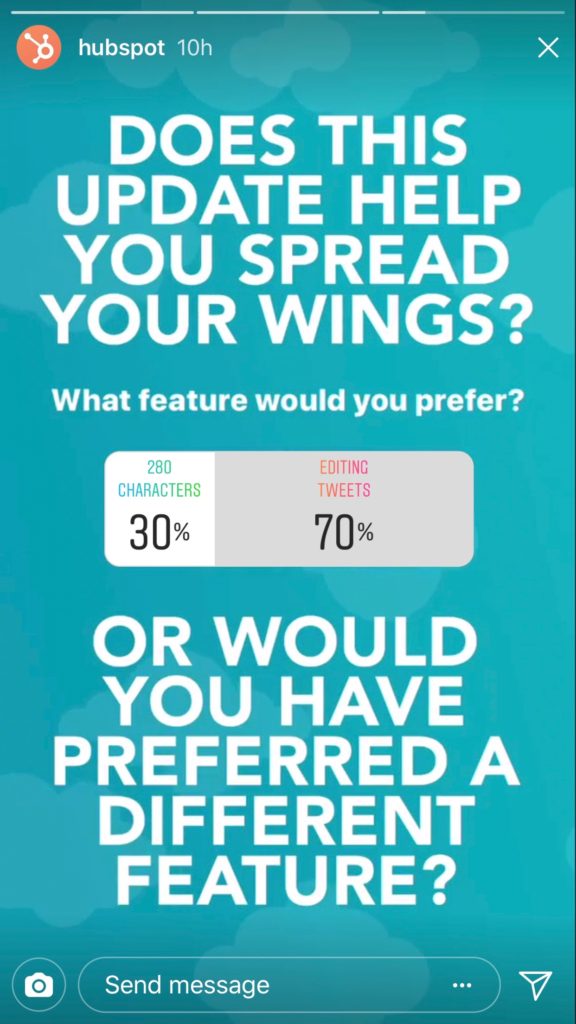 6. Cross Promoting Your Content – The king of social media, Gary Vee is genius when it comes to using his social networks to cross promote content. Here's an example of how he's driving his Instagram fans to watch his videos on YouTube. #WeToldYouHesAGenius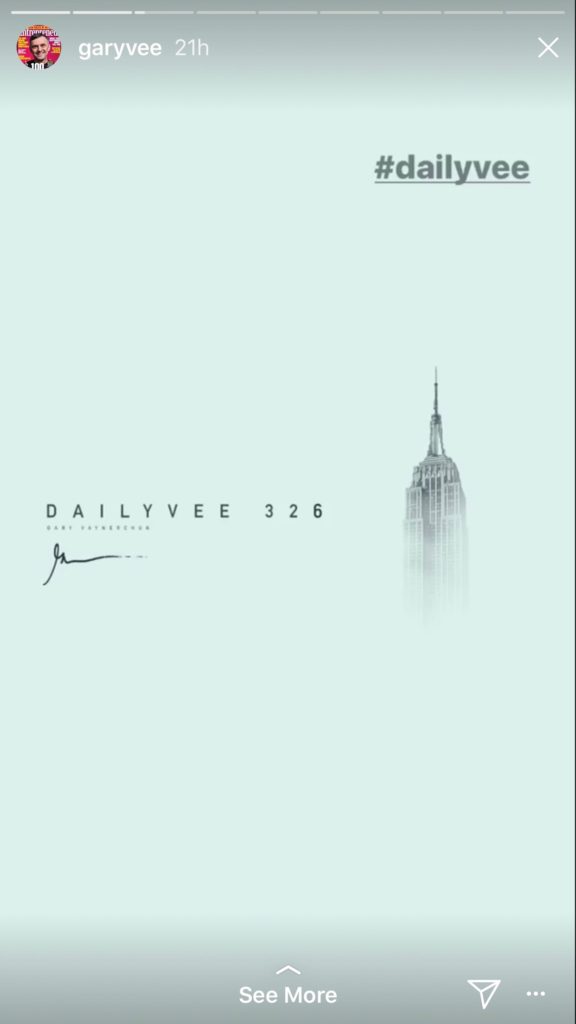 7. Showcase People Using Your Products! Our friends over at heilibridal shared a quick story using our Social Media Weekly Planners. They even gave us a tag and shot out in their post. Because we love seeing people take action, we shared it on our account.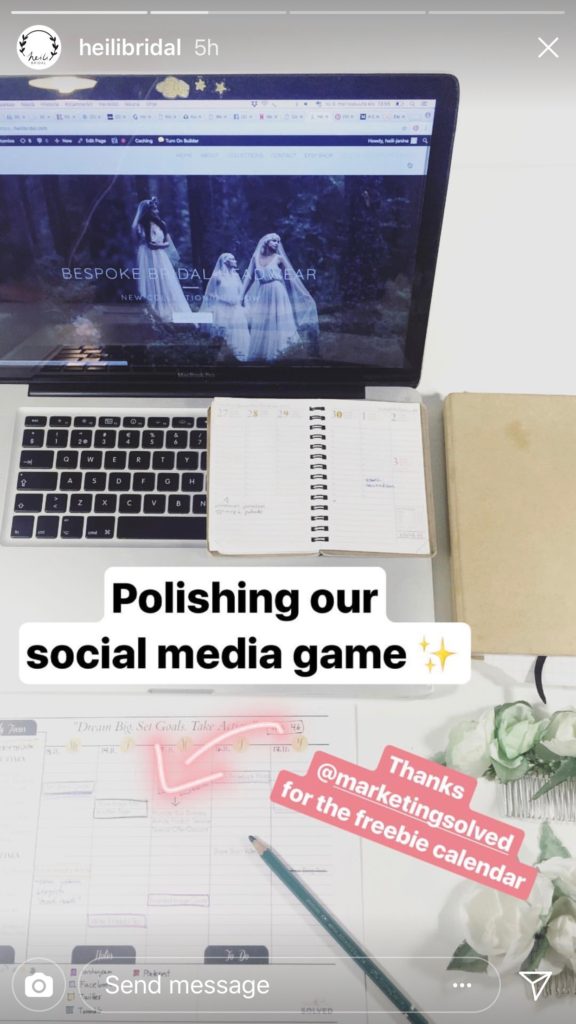 8. YOUR PRODUCTS OR SERVICES – Kind of a no brainer but it can easily be done with Instagram stories. Share your products, people using your products, your products in use, working with your clients, or any way you can showcase what value you provide others.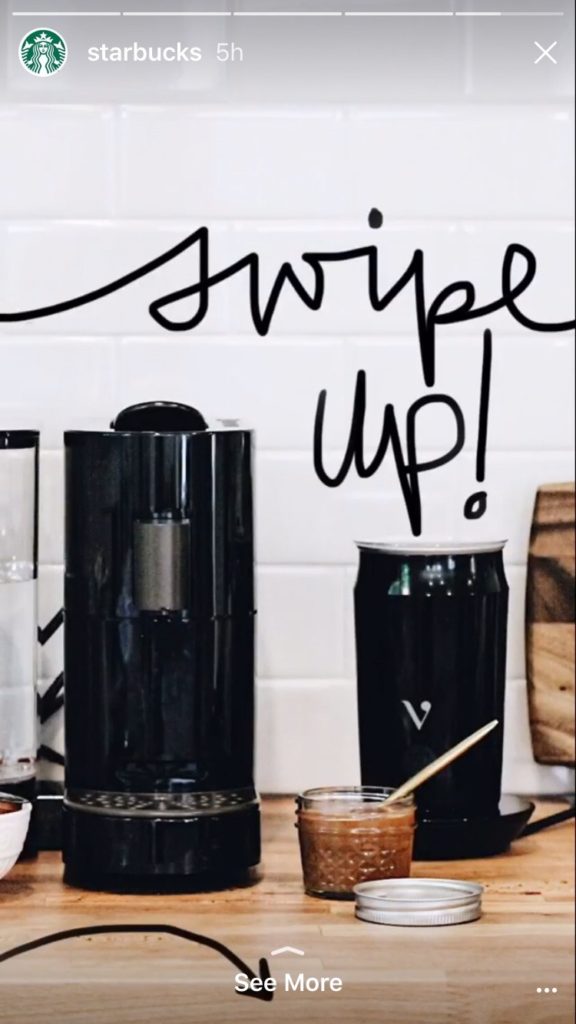 9. Motivation! Easy to create and fans LOVE it. You can brand them specifically to your brand like we did here with the gold.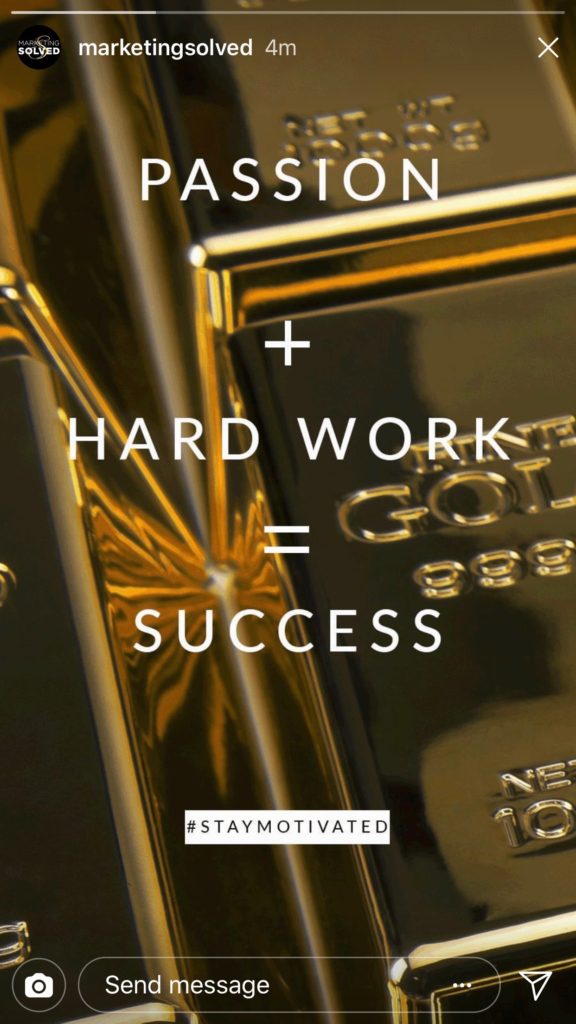 10. Ask Questions – Another one of our favorite ways to hear from our fans is to ask them what they want more of! Give them a call to action and see what they want more of from you. This helps build relationships and grows a fan base that loves you.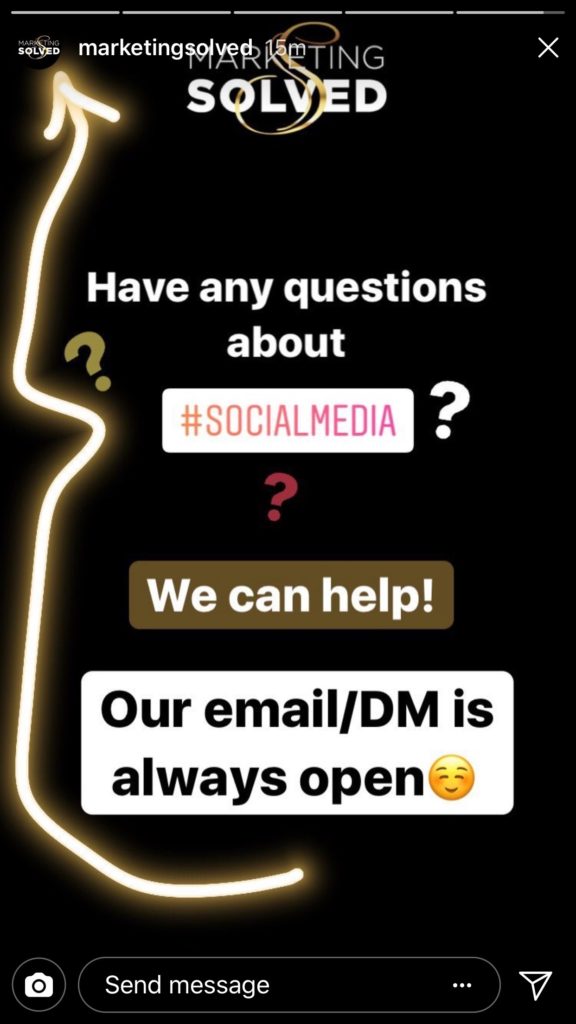 11. Ways to Contact You – As you know, Instagram gives you ONE link in your bio. To get around this limitation, use a cool tool like "LinkTree" to put one link in your bio – that links to all the links you want! 
This could be your website link, other social media profiles, freebies or coupons, products, programs, podcasts, videos, or Facebook groups!
Then, follow AshleyBrooke's example and highlight your link tree inside your Instagram stories!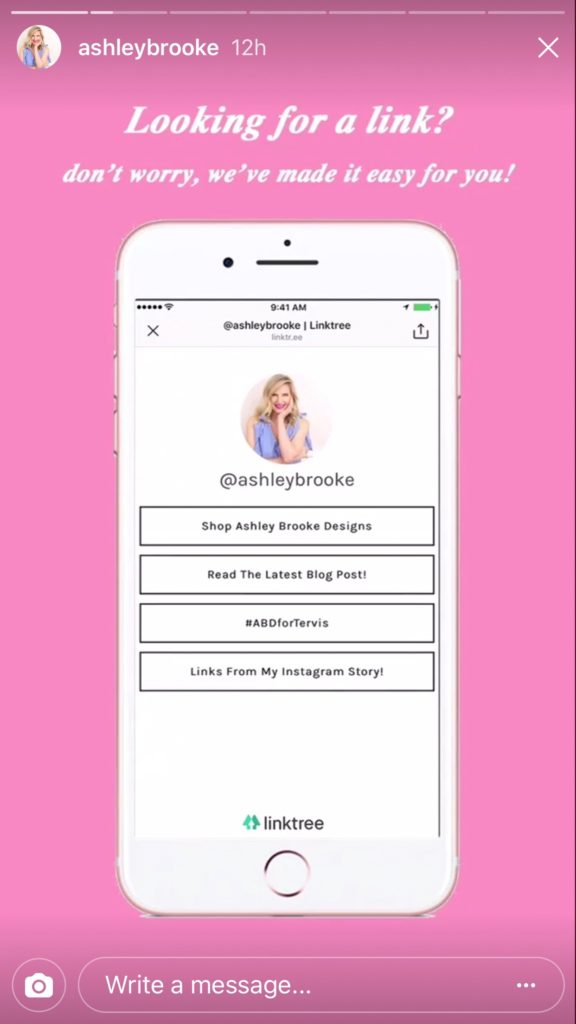 12. Personal Branded Content – If you want people to know YOU and your brand, share personalized content. 
Syatt Fitness shows us how easy it can be to add a photo with a personalized quote and his instagram name at the bottom. Perfect high value content, brand recognition, a great relationship builder with fans.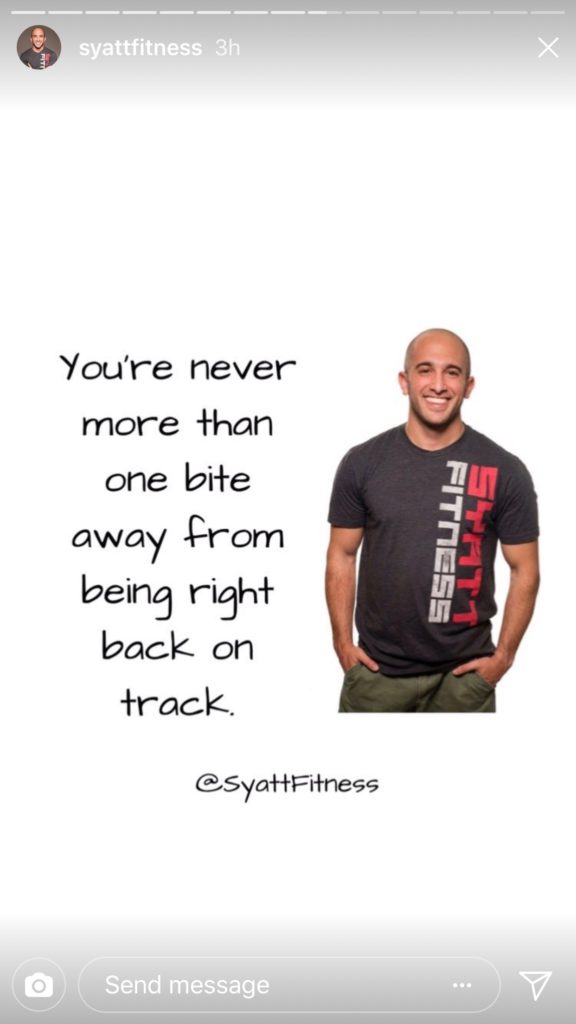 13. Discounts and Specials! Just like any other social media content, sharing discounts and specials on Instagram stories is a MUST.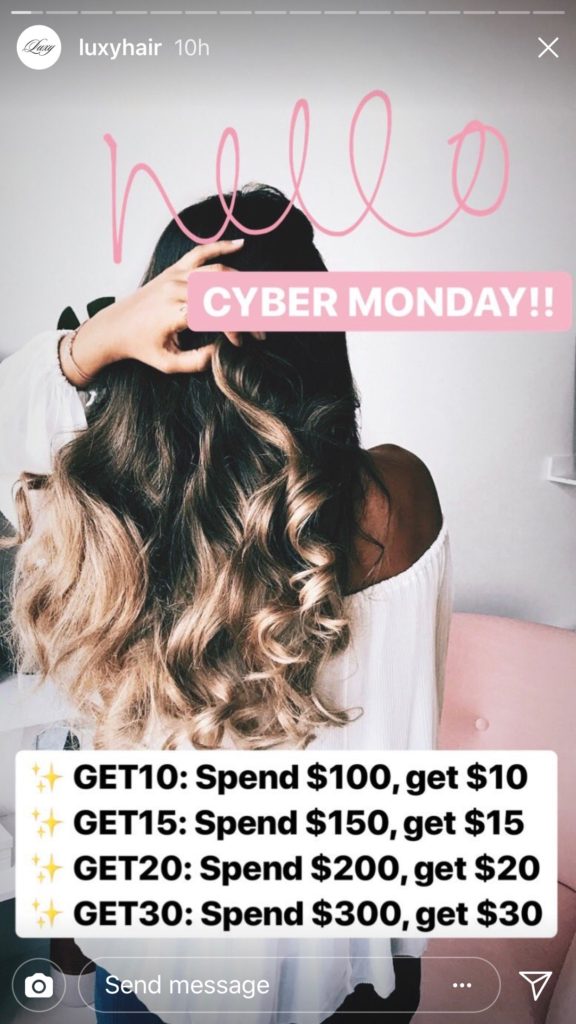 14. Highlight Older Content – Don't let good content go to waste. If you have podcasts, videos, articles, or social media posts that have been shared already, why not share them again?
Mumswithhustle show how easy it can be to direct your Instagram fans to your content in a beautiful way.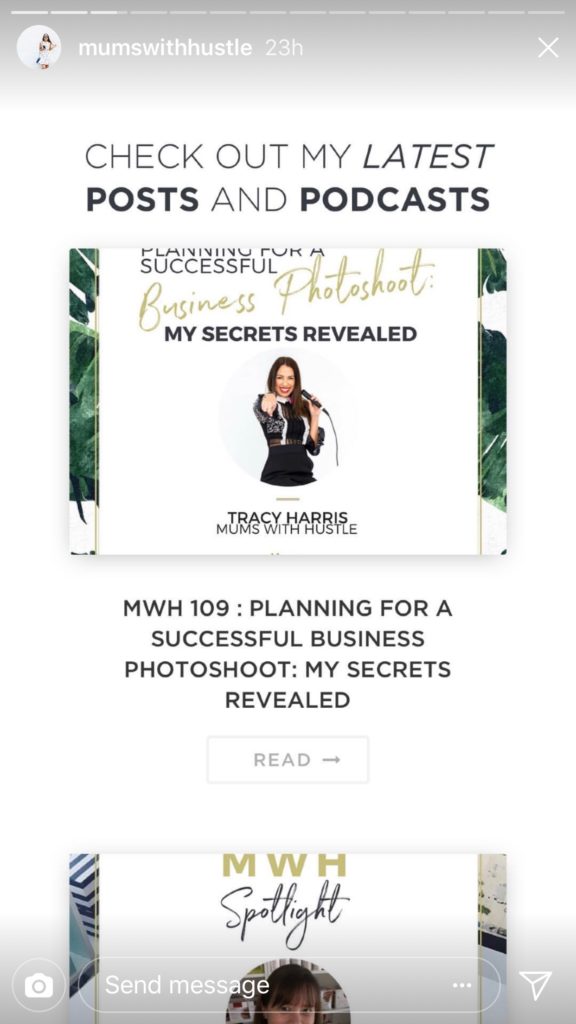 15. LIFESTYLE – Show people who you are! Give them a behind the scenes peek at you, your business, your brand, your life. This is how people start to connect with you.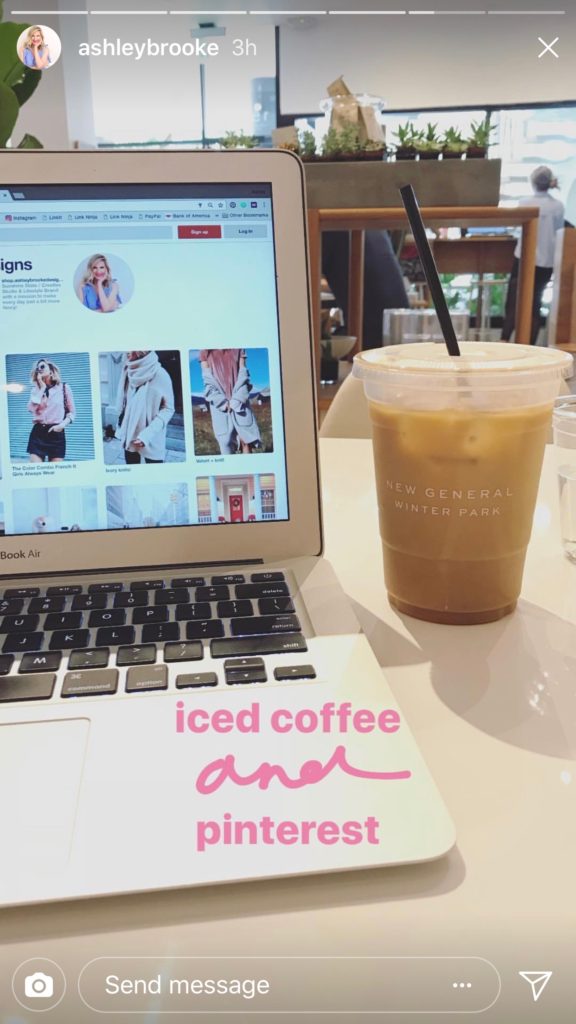 16. Shotouts & Mentions of Other Brands – This type of outreach can pay off HUGE. Mention other influencers, brands, or people in your stories. Whether you're trying out their product, giving them some kudos, or sharing their work with your fans – there's no better way to get exposure than to give it.
Andy Frisella, the MFCEO and top Instagram influencer shows how natural it is for him to give a shot out to a popular brand that does great work and that he loves.
Here's a few more ideas on content you can share on your Instagram stories…
17. Personal Wins – Have you had a breakthrough, got an award, or hit a goal? SHARE IT!
18. Highlight your business team members – Share a few fun facts about your employees to let your fans get to know your business on a closer level.
19. Humor – You can't go wrong when you make someone laugh or smile!
20. Your Favorite Things – Show your fans what you love, brands you're digging, or products that are your fav!
21. Other IG Accounts to Follow – Find a few other people with related niches and create a community of IG Story tellers that cross promote each other on IG stories!
22. Behind The Scenes – Another fan favorite! Show people a peek at what goes on behind the scenes.
23. Sneak Peeks & Teasers – Gearing up for a launch? Get people excited about it by dropping hints before it's ready.
24. Trainings + Lessons – Do a few Instagram stories back to back with 1 – 5 tips or steps on how they can do something that you specialize in. (How to organize your closet in 5 steps, How to Create Online Graphics in 3 Easy Steps)
25. Share Stories – That's right. Tell a story using Instagram stories. This could be a series of pictures or a cut video.
TIPS + TOOLS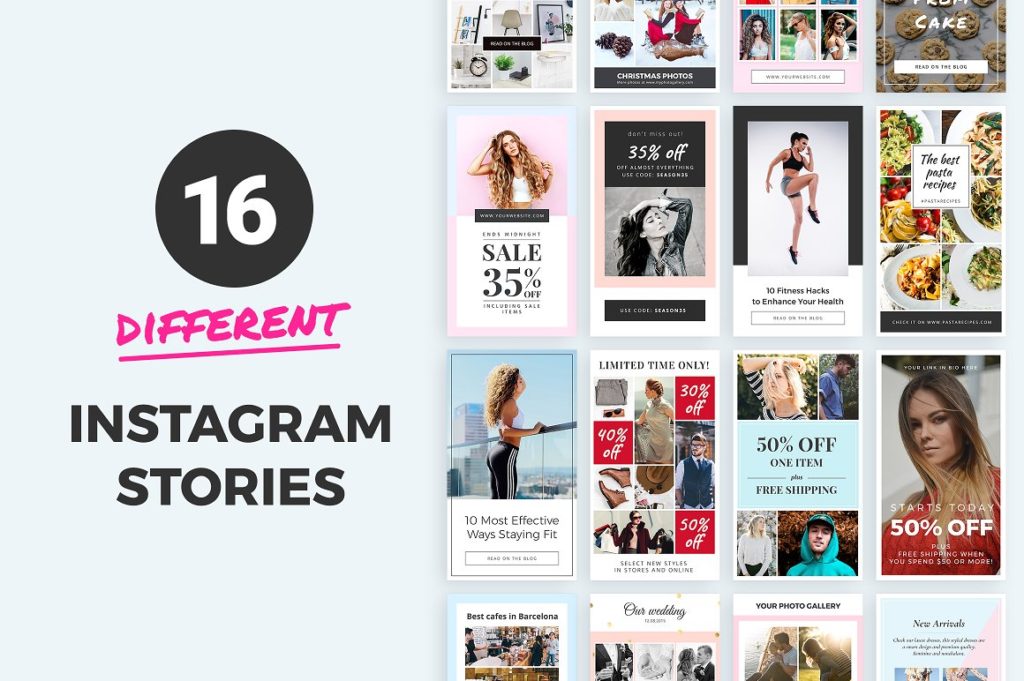 Use Pre-Made ANIMATED Instagram Stories Templates! These video templates are a great way to up level your Instagram stories. Here & Here are great bundles!
Mix Your Media – Mix Videos and Images. Use the Boomerang, StopMotion, Hyperloop, & Rewind features inside Instagram stories to create unique video
Do you have any favorite Instagram stories tips or accounts we should be following?
Pin the Graphic Below to Save it OR
Click HERE to Download the FREE PDF for Inspiration!