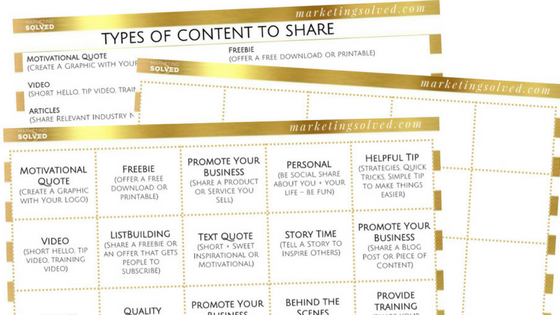 What do I post on Social Media? The most common question people ask when they get started building their business online. It can seem quite overwhelming when you first start out.
How much do I promote my business? What do I share? Do I share my own content? What do people like?
The answer is: You have to mix it up.
Starting with the form of content: Articles, Images, Video, etc…
Provide a mix of media. Since social media isn't a one size fits all. You likely have a variety of different fans and who each have their own learning styles and preferences and will appeal to different types of media.
For example: Visual people will appeal to images and video. Auditory learners appeal to video and audio.
So, in order to cater to everyone, it's best to mix it up!
(IF you're looking for a solution, check out a Done For You Service like TASSI. 
Now, what types of content do I share?
This is where people overthink the process. It doesn't have to be complicated because there is truly an unlimited amount of content you can share.
Just to name a few, you can post expert advice, articles, images, videos, quotes, stories…and of course: BUSINESS PROMOTIONS.
Yes, it's A-OK to post about your business! Some business owners fear personal promotions as they think they will lose fans, whereas others promote their businesses far too often.
Remember to post with a balance.
Go with the 80/20 Rule. 80% of the time you post valuable content for your fans. 20% of the time you promote your business.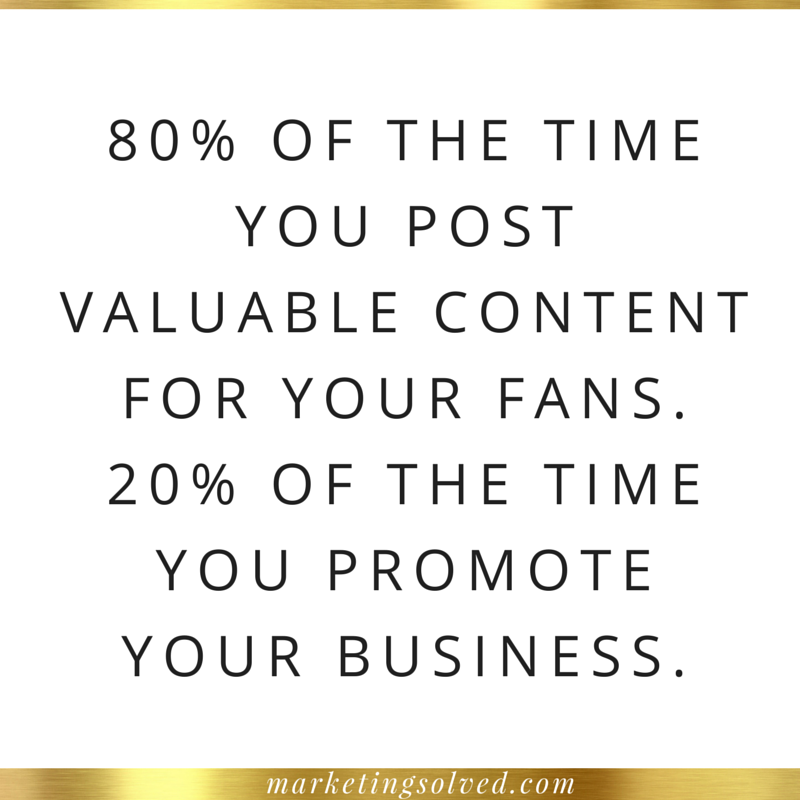 If you lose fans when you promote your business, that's a good thing.
If they're not interested in your product or service, you're better off without them. This makes room for people who are truly interested in what you're offering and you're more likely to engage with them and do business with them. Social media is a tool for your to create a community -AND- market your business.
Now, if you came here looking for types of content to share on Social Media, you're in the right place. Because there is an endless variety of content that can be shared online, and to make it easy peasy…we broke it down so it's easy to understand and put together a calendar that simplifies the process.
There is a Done For You Social Media Content Calendar that gives you a variety of content to share for every day of the month.
You'll also receive a "Types of Content" resource which will be helpful if you want to create your own calendar. This way you can pick and choose the types of content relevant to your audience. PLUS, you'll receive a blank calendar that you can input your own content and schedule on. All in one easy and FREE download.
If you're ready to simplify your social media and need a done for you calendar, click the link below to receive your free social media calendar.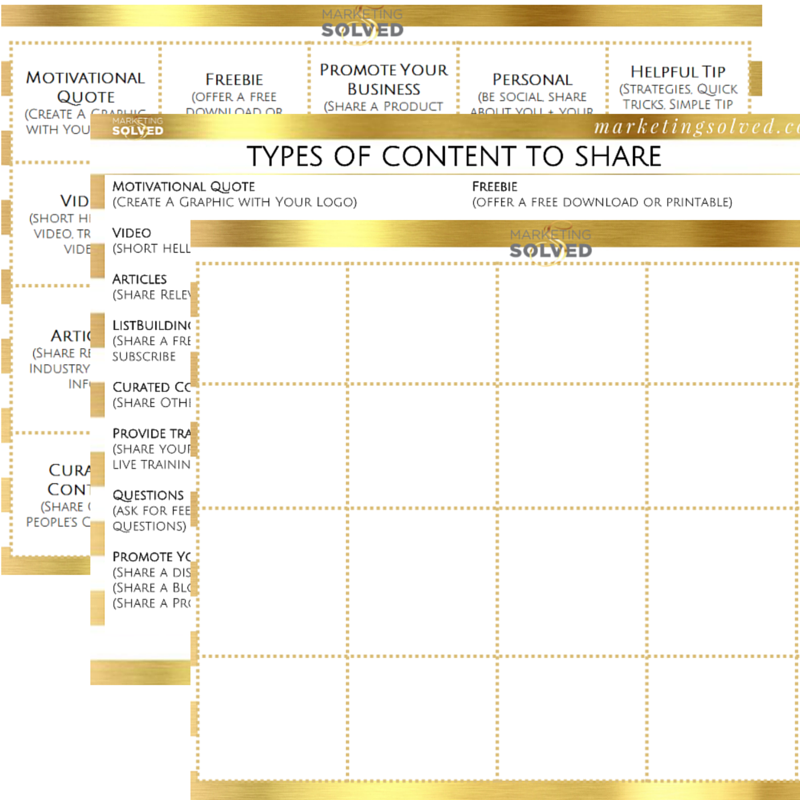 IF YOU'RE LOOKING FOR A SHORT CUT, YOU SHOULD CHECK OUT TASSI. THIS WILL TAKE A LOT OF THE GUESSWORK OUT OF HOW TO MARKET YOUR BUSINESS EVERY MONTH. YOU CAN GET A DONE FOR YOU MONTHLY MARKETING PLANNING CALENDAR, DONE FOR YOU SOCIAL MEDIA GRAPHICS SO YOU CAN JUST ADD YOUR LOGO AND POST, EVEN TRACKERS AND WORKSHEETS TO HELP YOU STAY FOCUSED ON YOUR GOALS EVERY MONTH!
Have anything to add? Let us know in the comments 🙂